SoFi Stadium- Everything You Need to Know About the Super Bowl LVI Host
Published 09/21/2021, 1:43 PM EDT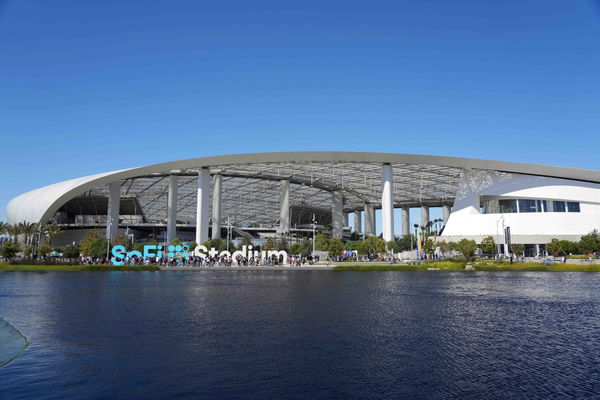 ---
---
Opened in 2020, SoFi Stadium can be considered as one of the Wonders of the sporting world. This modern marvel serves as a home to the Los Angeles Rams and the Los Angeles Chargers. And will host the Super Bowl LVI in 2022.
ADVERTISEMENT
Article continues below this ad
This $5-6 billion estate belongs to StadCo LA, LLC, Hollywood Park Land Company, LLC and a joint venture of The Flesher Group and Stockbridge Capital Group. Which covers an area of 298 acres.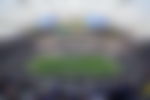 A masterpiece in creation
ADVERTISEMENT
Article continues below this ad
The construction of this masterpiece started on November 17, 2016, and was completed four years later, on September 8, 2020. This stadium and entertainment complex in Inglewood, California, was passionately engineered by Henderson Engineers Inc. and creatively designed by HKS Inc.
SoFi is the fourth stadium and second to be in current use since the 1970 AFL-NFL merger to be shared by two NFL teams, the Rams and the Chargers. And is the largest NFL stadium sitting at 3.1 million square feet with the biggest video screen in the NFL. It is also the first indoor-outdoor stadium to be constructed. And the stadium is surfaced with Matrix Turf.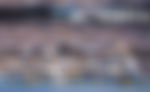 St. Louis Rams were the first ones to be approved by the NFL to commit to the stadium, as they relocated to Los Angeles in 2016. And the stadium was then built by the Rams' Owner/Chairman E. Stanley Kroenke.
The future belongs to SoFi Stadium
This marvelous state-of-the-art stadium redefines the spirit of sport to an extreme level. SoFi is said to accommodate up to 70,240 spectators, which is expandable up to 100,240 people during major events like the Super Bowl. This place gave the fans the ultimate experience when it hosted its first-ever NFL game in the first preseason clash of Rams vs Chargers.
ADVERTISEMENT
Article continues below this ad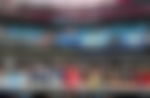 SoFi Stadium is about to host a number of significant sporting events in the coming few years. The very next year, the stadium will be hosting the Super Bowl LVI in 2022. Talking about College Football, the stadium will host the 2023 College Football Playoff National Championship. In the near future, the stadium is also said to host the FIFA World Cup in 2026, and will also accommodate the Summer Olympics in the year 2028.
It is a must-visit destination for all the NFL fanatics, as the experience of watching a match in this colossal edifice is just out of the world.
ADVERTISEMENT
Article continues below this ad