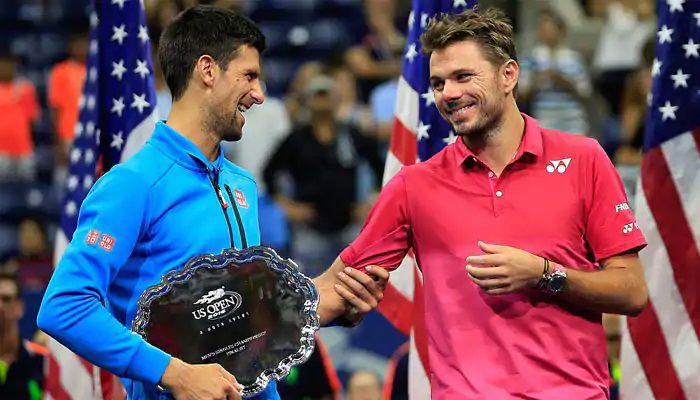 Serbian star Novak Djokovic and Swiss Maestro Stan Wawrinka have been great rivals on-court. They have played each other so many times and have also played some of the most entertaining matches. That being said, they are also great friends off-court and that is why Novak can make fun of Stan as he has done in a recent Instagram post. Check it out.
Novak Djokovic Trolls Stan Wawrinka
As you can see in the above Instagram post, Novak Djokovic has talked about the shorts he is wearing. He has asked fans to ignore the shorts he is wearing as he has just come from the beach. He also said that some players wear those kinds of shorts to official tennis matches.
Stan wore such beach shorts back in 2015 at the French Open which is what Novak is referring to. However, Stan will not mind him making fun of him as he won the 2015 French Open. And coincidentally, he beat Novak in the final in what was probably his best performance in a tennis match.
Read More – "Both of These Guys Are Legends" – Novak Djokovic Hails Roger Federer and Rafael Nadal
The last time Novak and Stan played against each other was last year at the US Open. The Serb sadly had to retire due to a shoulder injury after Stan had won the first 2 sets of the match. He will definitely be looking to get his revenge the next time they meet.
They could meet at this years' US Open but that can only happen if they play the tournament. Many players including Djokovic were not comfortable with the restrictions at the US Open. They even threatened to skip the tournament because of this.
Hopefully, this will not happen as the US Open is one of the biggest tournaments in tennis. Despite the restrictions, players like Novak and Stan can make the 2020 US Open an astounding success and also, have a rematch from last year which is something everybody will be looking forward to.