Sophia Floersch Vows to Bounce Back After Horror Crash
Published 11/26/2018, 9:32 AM EST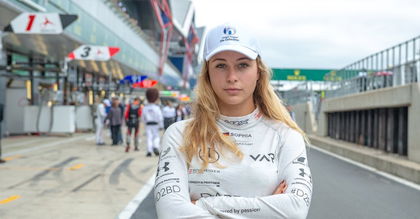 ---
---
Sophia Floersch will be leaving the hospital in Macau and return to Germany.
ADVERTISEMENT
Article continues below this ad
The German, has spent the last eight days in the hospital recuperating from her horrific crash during the Macau Grand Prix
Sophia Floersch has been recovering from an operation on her spine that lasted several hours last Monday to mend a fracture sustained in the shunt.
ADVERTISEMENT
Article continues below this ad
On social media, she wrote, "Today I am flying back home. Really happy to see all my family and friends in the next days again. I am still overwhelmed by all the support I got from you fans all around the world. A big thank you goes to all people in Macau especially the guys in the hospital, Dr. Lau, Dr. Chan, Mr. Lei Wai Seng, Maria Elisa Goncalves, angel Sulanir Goncalves Pacheco and all wonderful nurses."
"The complete Macau GP organisation, Patrick, Dr. Ceccarelli, HWA and Mercedes did a perfect job just by helping so friendly in every kind of way. I celebrated my 2nd birthday on the 18.11.2018 in Macau. Now a new chapter starts and I can't wait for it to begin.
Let's focus on 2019."
The Van Amersfoort Racing driver took to her Facebook page to say that she is returning home.
She thanked the medical staff that took care of her in hospital, as well as Mercedes and HWA AG for the continued support they have offered her.
Flörsch went on to say that 18 November, the day of her accident, was her 'second birthday' and a new chapter of her life starts from here.
She also hosted a press conference prior to leaving the hospital, saying that she is already walking and that she will work hard to return to Macau next year.
Prior to her crash, the belief was that Floersch will race in the new Formula 3 championship that replaces the Formula 3 European Championship, on the DTM Series support bill.
ADVERTISEMENT
Article continues below this ad
She joined the grid at Zandvoort, missing the opening three rounds and completed the rest of the series with VAR.
Before her crash she told Autosport.com that she has no interest in racing the new women-only W-Series that joins the DTM support series.
Her team boss Frits van Amersfoort is also keen to keep her as part of the squad for his four-car attack on the series after missing out on an entry for the FIA Formula 3 International Championship.
ADVERTISEMENT
Article continues below this ad