South Africa announce busy 2016-17 home season
Published 11/03/2015, 9:04 AM EST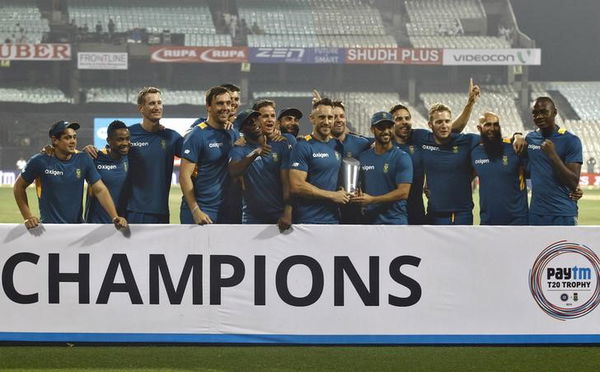 ---
---
CAPE TOWN (Reuters) – South Africa have announced a busy programme of incoming tours for the 2016-17 international season that includes series against Australia, New Zealand and Sri Lanka.
ADVERTISEMENT
Article continues below this ad
The Proteas will start their home test season early in a two-match series against New Zealand in August 2016 to be played in Durban and Pretoria.
It will be the first time test matches will be staged in South Africa in August, still officially winter, and follows the successful hosting of New Zealand for one-day internationals and Twenty20 matches in the same month this year.
ADVERTISEMENT
Article continues below this ad
The tests will be followed by a five-match ODI series against Australia from Sept. 30-Oct. 12, before Sri Lanka arrive for the longest tour of the summer in December that includes three tests, five ODIs and three Twenty20 internationals.
The first five-day match (Dec. 15-19) will be played in Johannesburg, with Port Elizabeth being awarded the Boxing Day test (Dec. 26-30) ahead of Durban and Cape Town keeping its traditional New Year's encounter (Jan. 2-6, 2017).
Ireland will also make a brief appearance on the calendar when they play a single ODI against South Africa and Australia each between Sept. 25-27.
In between the visits by Australia and Sri Lanka, the Proteas will tour Australia for a test series and also visit New Zealand in February and March, 2017.
The specifics of those two tours are yet to be announced.
New Zealand Tour 2016:
Aug. 19-23: 1st Test, Durban
Aug. 27-31, 2nd Test, Pretoria
Ireland Tour 2016:
Sept. 25: ODI v South Africa, Benoni
Sept. 27: ODI v Australia, Benoni
Australia Tour 2016:
Sept. 30: 1st ODI, Pretoria
Oct. 2: 2nd ODI, Johannesburg
Oct. 5: 3rd ODI, Durban
Oct. 9: 4th ODI, Port Elizabeth
Oct. 12: 5th ODI, Cape Town
Sri Lanka Tour 2016-17:
Dec. 15-19: 1st Test, Johannesburg
Dec. 26-30: 2nd Test, Port Elizabeth
Jan. 2-6: 3rd Test, Cape Town
Jan. 10: 1st Twenty20, Cape Town
Jan. 13: 2nd Twenty20, Pretoria
Jan. 15: 3rd Twenty20, Johannesburg
Jan. 20: 1st ODI, Durban
ADVERTISEMENT
Article continues below this ad
Jan. 22: 2nd ODI, Port Elizabeth
Jan. 27: 3rd ODI, Cape Town
Jan. 29: 4th ODI, Johannesburg
ADVERTISEMENT
Article continues below this ad
Feb. 3: 5th ODI, Pretoria
(Reporting by Nick Said; editing by Sudipto Ganguly; nick.said@thomsonreuters.com; Reuters Messaging: nick.said.thomsonreuters.com@reuters.net; +27 83 272 2948)