Southampton:A Good Season Comes at a Heavy Price
Published 08/14/2014, 7:31 AM EDT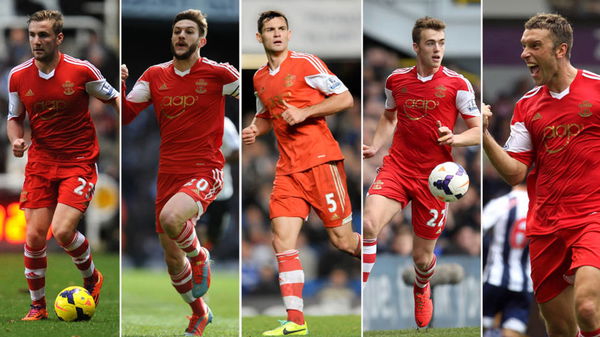 There are two kinds of football clubs. Buying-Clubs and Selling-Clubs. The clubs that belong in the latter category, always know that if they want to have a good season, they're bound to lose either their best players or their manager or a few young homegrown kids. But once in a while, God decides to be a bit more cruel and inflict all of these on one club. The latest victim – Southampton.
Southampton were undoubtedly one of the biggest surprise packages in the 2013-14 Premier League season. They equalled their club record 8th place finish with manager Mauricio Pocchettino earning many plaudits for their fast, attractive and attack-minded gameplay. Academy product and club captain Adam Lallana was arguably their best player and his brilliant efforts deservingly led to a nomination for the PFA Player of the Year Award, the only player outside the top three teams to achieve it. Along with him, teenager Luke Shaw too earned many a praise from critics. England manager Roy Hodgson was a frequent visitor at St. Mary's Stadium and their superb season was well rewarded with 3 players called up to England's World Cup squad.
But, as I said, for clubs like Southampton, these things don't carry over to the next season. As soon as the transfer window started, the south coast club was raided. Liverpool priced away Lallana, Lambert and Lovren, while Manchester United took away Luke Shaw, making him the most expensive teenager in the world. Arsenal too joined in the party later on, taking away 20-year old Calum Chambers. Spurs duly took away the manager, Pocchettino. The Saints are struggling to keep hold of the few stars left like Schneiderlin and Rodriguez. Also, their record signing Pablo Osvaldo is also on the verge of leaving the club, a name that many people forget amidst all the others.
Yes, it is a transition period for them. But, things need not end up badly. Their new manager, Ronald Koeman, is no joke. A decorated player and fairly experienced manager, he is certainly a proven tactitian with Feyenoord over the last three years. They have brought in few players like striker Graziano Pelle and midfielder Dusan Tadic, who have good track records in other leagues. Also, they've captured highly rated Enlgish goalkeeper Forster and taken Chelsea rejected Bertrand on loan. They recently completed a deal for striker Shane Long. Although these are all good players, it might take time for them gel into the team. A new manager, new players, new tactics, a new start.
Over the years, there's no doubt that Southampton's academy has been one of the best in the country. It has been called a 'British talent factory' and even compared to the likes of the great La Masia. From Shearer, Le Tissier and Bridge to Walcott, Chamberlain and Bale to the latest crop of British talent that is Lallana, Shaw and Chambers. These three, just like each one before them (except Le Tissier), were duly plucked away by the Big Clubs, as soon as they ripened. But, I'm sure they will continue to produce such talent. A glimpse of the next batch is already seen in players like James Ward-Prowse and Sam Gallagher. With England coming off a horrible World Cup campaign, English clubs desperately need to start focussing on Academy and grassroots football. And Southampton are a perfect example to follow. In England, they're arguably the closest to being, something that every club in the world aspires to be – a 'Self-Sufficient Club'.