'Something Special to Beat Nadal' – Dominic Thiem
Published 05/12/2018, 2:02 PM EDT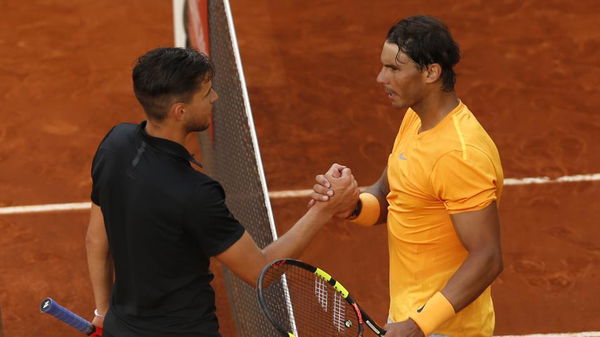 ---
---
Dominic Thiem is currently enjoying a fantastic run at the Madrid Masters. He beat Rafael Nadal in straight sets: 7-5, 6-3 ending the latter's terrific run at the clay court. He was the man to beat Nadal last year as well, only that time it was the Italian Open.
ADVERTISEMENT
Article continues below this ad
Nadal was fully appreciative of the Thiem after the match, claiming that he was 'difficult to stop.'
ADVERTISEMENT
Article continues below this ad
'He's a very powerful player, he has a lot of strength, he strikes the ball very hard, very violently, he added.
ADVERTISEMENT
Article continues below this ad
Beating Rafael Nadal on clay can get any player feel on top of the world. You don't get to do that much often. Dominic Thiem, knowing very well of the severity of the victory, talked about the aftermath of that victory on his morale and confidence.
'I mean, of course, it's something special to beat Rafa, or a guy like this,' he said. 'I mean, you enjoy it for a couple of hours maybe, but then you know, of course, inside of yourself that a very tough match is coming up.
ADVERTISEMENT
Article continues below this ad
'In the same way if you take out a big guy like this, your chances increase to go deep in the tournament. There are many reasons why it's not too tough to keep everything up. 'Of course, it gave me a huge boost of confidence. That's for sure. But in the same time, it was a completely different matchup today. There was also the fact that I never beat him. It was 0-6 before today. Some things were a little bit shaky. 'I was keeping my level up from yesterday, so that was a great thing. The way I started was also well. Even though I played really different, I was returning very far back today. 'Yeah, almost everything worked out. To beat him 4-2, it's a very good result.'
Thiem made good use of his added momentum and confidence against Kevin Anderson, his opponent in the semifinals of the Madrid Masters. He won the match 6-4,6-2 and will now be playing the winner of the match between Alexander Zverev and Denis Shapovalov. The final will take place on Sunday.