Sport's and Tennis' most Ill-Fated Rivalry
Published 06/11/2015, 2:55 PM EDT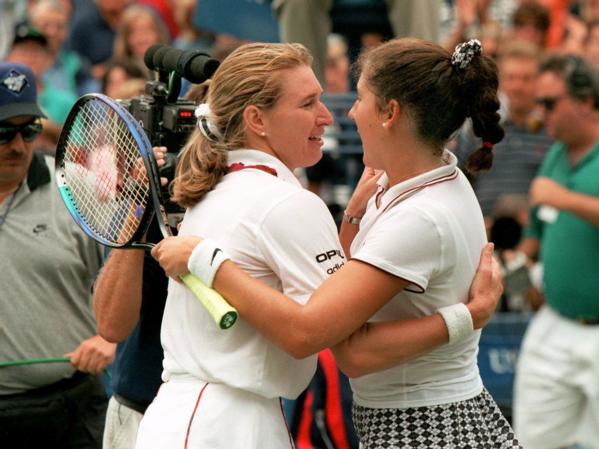 ---
---
"My head whipped around towards where it hurt and I saw a man wearing a baseball cap, sneer across his face. His arms were raised above his head and his hands were clutching a long knife. He started to lunge at me again. I didn't understand what was happening."
ADVERTISEMENT
Article continues below this ad
These were the words of Monica Seles shortly after one of the most ghastly incidents in the history of sport. An incident which perhaps deprived tennis fans of perhaps the most intriguing rivalry in the history of international tennis.
The story of the Steffi Graf- Monica Seles rivalry was a complicated tale. A saga, that appeared poised to give tennis fans a rivalry which would compete against the legendary Chris Evert-Martina Navratilova and Sampras-Agassi rivalries. Well, what ensued wasn't what was expected.
ADVERTISEMENT
Article continues below this ad
These two women dominated the tour for extended periods and were unquestionably the top two players of the time. Between 1990 and 1999, this unpleasant rivalry between the ladies riddled both with injuries and led to a horrific incident which would always be remembered in the minds of tennis fans of the time.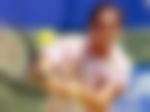 Spring, 1993: 19-year-old Monica Seles was the top women's tennis player in the world. She had dominated the 1992 WTA season, winning 10 tournaments, concluding the year with a brilliant victory over Navratilova. She also went on to win her eighth career Grand Slam in January 1993,  by defeating second-seed Steffi Graf in the Australian Open final.
In the April of 2003, Seles was playing a tournament in Hamburg, Germany  and during a changeover in her match against Magdalena Maleeva, Seles was seated with her back to the crowd.
A spectator ran down from the stands and stabbed her with a nine-inch knife between the shoulders.
The incident shocked the World of Tennis, as Seles screamed and staggered out onto the court, as authorities rushed to her aid and arrested the assailant.
"I remember sitting there, towelling off, and then I leaned forward to take a sip of water, our time was almost up and my mouth was dry. The cup had barely touched my lips when I felt a horrible pain in my back," Seles wrote in her Autobiography – "Getting a Grip"
Security and spectators restrained the assailant before he could stab her again; the slit as only about an inch and half deep, and the assailant had just missed her spinal cord or other organs.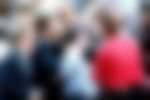 Gunter Parche, an unemployed,  38-year-old German was the man behind this horrendous crime who later admitted to his obsession with Steffi Graf. He sought to end it himself as he wanted to keep Seles from playing at a high level so that Graf would be the undisputed No.1 champion.
Astonishingly, Parche received only a suspended sentence and probation, as the German court charged with a rendering judgement dismissing an attempted murder charge. While on trial in October 1993, he said, "I didn't want to kill her. I just wanted to her slightly so that Monica wouldn't be able to play for a couple of weeks."
Monica Seles fortunately escaped serious injury, suffering only a muscle tear that was expected to take only a month to heal. However, the emotional damage forced her to stay the  next two years out of tennis and public spotlight.
While the tennis world waited anxiously for one of the most the promising teenagers of all time, many were even sceptical of her long absence.
Seles decided to return to tennis in August of 1995, and gave an interview to discuss her two-year hiatus.
"In the dark or light, I didn't feel comfortable leaving the house," she said. " Total depression. I was just reliving that moment. And the knife…." With the help from a psychologist, she began to overcome her fears and approach life differently: "I've got to the point where I live every day of my life like it's my last. Anything can happen. You never know."
ADVERTISEMENT
Article continues below this ad
She began her comeback with a win in her first tournament. Fans expected her to be dominant again in the WTA circuit; she had won a whopping eight Grand Slams around her teenage life. However, while she began to rise high in the rankings; she only won another Grand Slam and always fell one step behind Graf.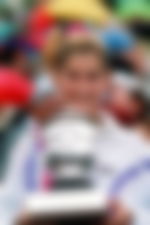 She never returned to the player she used to be. Between 1997 and 1999, she missed four Grand Slams and countless months due to injury. The rivalry between Graf-Seles was definitely over by then.
ADVERTISEMENT
Article continues below this ad
The stabbing in Germany also altered some interesting scenarios: Monica, who was robbed of the chance to become one of the all-time greats – became a sympathetic element in fans' hearts. Meanwhile, Graf will always have her record questioned by fans and pundits. Perhaps Graf would have thwarted Monica Seles in her peak; but we will never know. The German would always have the never-ending "What if" over her 22 Grand Slams.
Keeping things in perspective, it wouldn't be wrong to say that the sports fraternity lost the oppurtunity to witness perhaps the most majestic rivalry of women's tennis.