Sportspersons Speeches That Inspired the World
Published 11/25/2017, 12:37 AM EST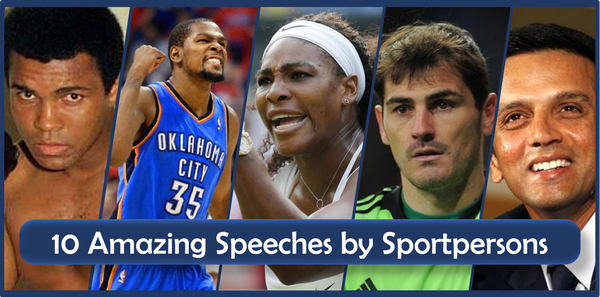 ---
---
Sportspersons have a very peculiar kind of magic. They win fans all over the globe by barely saying anything. They are immortalized and worshipped, by people they will never meet, by sometimes not even speaking a word. "Wordsmith"- is one term they don't need to have in their resume. Yet, they make a huge difference. Their every action has a strong influence and most often their stances are hugely important to swaying public opinion. Actions alone do not define them, sportspersons speeches are enough for anyone to be inspired to pick up that bat, football, racquet, basketball – you get the idea.
ADVERTISEMENT
Article continues below this ad
Sportspersons in general, also possess a kind of flair. An unmatched grace, a skill that is rarely learnt. It seems to come to them naturally. They've also gone through an array of intense emotions throughout the span of their careers, experiencing things any average person wouldn't.
When these athletes are given the mike, they often combine this aura and the grace and the emotions to produce masterpieces. They give us memorable moments, inspiring speeches, and unforgettable quotes. EssentiallySports has decided to compile some of the most amazing speeches given by sportsmen and sportswoman. An ode to the greatest words ever said on and about fields, rings and courts.
ADVERTISEMENT
Article continues below this ad
The slides are in no particular order. The author recognizes that there are many many good addresses delivered outside these few, but has tried to pick the best. A discussion on other options is always welcome
Muhammad Ali – Rumble in the Jungle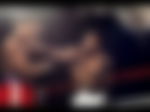 "The Greatest" was as famous for his trash talk as his on court prowess. He would taunt and provoke opponents during and before a match, often hitting them where it hurt.  One such amazing piece of trash talk come before the famous "Rumble in the Jungle" match against George Foreman.
Muhammad Ali was no longer holding the heavyweight title. Foreman meanwhile was quickly moving up the ranks after his 1986 Olympics Gold. At 32, after losing to Frazier, Ali needed to win to show the world he still was the best. Foreman had at 25 wanted to prove to the world that all his big wins were no fluke.
The stakes were high. Ali's pre fight theatrics were always entertaining and this time he would not step back. These tactics had worked against Liston, Terrell and Patterson and the "People's Champion" would not let one of the greatest fights in boxing history begin softly. During the run up to the big fight, Ali delivered this classic.
A poem written to boast about his abilities, Muhammad Ali refernces Zaire, the venue of the fight. He talks about his earlier fights and how he had to wrestle with "alligators and whales" before saying Foreman will "pay his debt". In a time when there barely is any trash talk in any sport, Ali's poem is one of the best build up sportspersons speeches we could have asked for. Here is the full transcript of the speech
Last night I had a dream, When I got to Africa,
I had one hell of a rumble.
I had to beat Tarzan's behind first,
For claiming to be King of the Jungle.
For this fight, I've wrestled with alligators,
I've tussled with a whale.
I done handcuffed lightning
And throw thunder in jail.
You know I'm bad.
just last week, I murdered a rock,
Injured a stone, Hospitalized a brick.
I'm so mean, I make medicine sick.
I'm so fast, man,
I can run through a hurricane and don't get wet.
When George Foreman meets me,
He'll pay his debt.
I can drown the drink of water, and kill a dead tree.
Wait till you see Muhammad Ali.
Ali went on to knock-out Foreman in eight rounds
Kumar Sangakkara – MCC Cowdrey Lecture
One of the most polished batsman in recent time, Kumar Sangakkara was known for his calm nature and also his eloquence off the field. Among the many invaluable knocks he had played for Sri Lanka, one of the most important was the MCC Cowdrey Lecture 2011 he delivered  at Lord's. The youngest person, and the first active player ever to be given the honour, Sangakkara delivered a speech like never before.
Within two years of escaping a near-death experience in Pakistan, Sangakara spoke about the conditions in Sri Lanka and how cricket, as a sport helped the peace process. He spoke about the hope the game gave so many of the island nation's citizens during and after extreme violence. The 2 highest runner left the audience spell bound as he recounted his days of growing up and learning the game. As seen through his words, the evolutions of cricket in Sri Lanka is exceptional.
The Murali "chucking" incident, the World Cup win, the harrowing experiences of the Tsunami and the attacks on the team bus, all of them he said contributed hugely to taking Sri Lankan cricket to where it is today. It was probably the first time someone spoke so openly about the politics in the nation and how it crept into the game's administration was probably the first time someone had so openly spoken about the issue. Sangakkara went on to speak about the challenges Sri Lankan cricket faced.
As one of the most influential players of the game ended his speech, saying " I am Tamil, Sinhalese, Muslim and Burgher. I am a Buddhist, a Hindu, a follower of Islam and Christianity. I am today, and always, proudly Sri Lankan.", there was no doubting that this was on of the most touching sportspersons speeches. It tugged the emotional chords of everyone present.
Kevin Durant – MVP Speech
Kevin Durant had always been known for being "too nice". And when he won the NBA MVP in 2014, he proved this absolutely right with his acceptance speech. Durant thanked every single team-mate by name and spoke at length about his relationship with his coaches, especially Scott Brooks. He spoke about his father and his brother, getting teary-eyed. The 2012 Olympic Gold Medalist broke down as he spoke about his mother, "The real MVP " for supporting him all through his life, and making him what he was. Kevin Durant, who had a tough childhood spoke about how he had never even dreamed about making this far.
As NBA players become bigger celebrities by the day, it was pleasing to hear someone remember almost every single person that led to his winning the award after averaging 32 points, 7.4 rebounds and 5.5 assists per game that season. Needless to say, the room was captivated by the speech. This will always remain one the most special speech ever by an NBA star.
Andre Agassi – Farewell Speech
The greatest service returner in tennis history had a career that most would die for. Eight-time Grand Slam winner and Olympic gold medalist, Andre Agassi is among the greatest to have ever held a tennis racquet. "The Punisher" reached 15 Grand Slam finals and set many records, some yet to be broken. The founder of the Andre Agassi Charitable Foundation captured world attention with his attitude and apparel for more than 20 years. He was tennis' biggest superstar and certainly help the gain huge popularity by his "punk" style on tour.
The American though showed his class with his farewell speech. A curt 3 minute affair, Agassi delivered a speech that no one can forget in a hurry. After losing to Benjamin Becker in the third round of US Open 2006, an emotional Agassi thanked the fans for all the support, the generosity and the inspiration. A fan's favourite, Andre Agassi made sure he remained in their hearts with his charisma and his words.
Drew Brees – Saints Locker room speech
Drew Christopher Brees, New Orleans Saints quarterback broke Dan Marino's record for most passing yards in a single season in December 2011. The Sports Illustrated Sportsman of the Year 2010 also set a record on a touchdown passes that season, helping his team win the division title. An emotional moment it was for Brees and he decided to thank his team-mates and support staff in the locker room.
Brees spoke to the team about how each single person associated with the him was responsible for breaking the record and how he was proud to be part of a team that worked so well. He even managed to touch their funny bone with an unintended innuendo.  His line, "It's all about you guys" showed the respect and pride he had. Probably the speech delivered to the smallest audience on this list, this was nonetheless a very moving one.
Iker Casillas – Real Madrid farewell press conference
Iker Casillas was adored by football lovers all over the world like no other. A goalkeeper who has remained controversy free for most part of his career, San Iker could bridge even the biggest of rivalries. He had a glorious career with Spanish giants Real Madrid whom he joined at the age of nine. The Spanish goalkeeper won 19 titles with the club before he was forced to move to FC Porto. A move that rocked Madridistas and non supporters alike, Casillas was clearly being phased out.
The 2010 World Cup winning captain though showed his class again. Pointing fingers at no one, he decided to bid a simple but emotional goodbye to his beloved team.  At his farewell press conference, Casillas was a bundle of emotions. He thanked the club, his team-mates, his family members and friends for the support they had shown.  He had special mention to the Madrid fans, ending with the lines "you can be sure that wherever I end up I'll continue to shout: Hala Madrid!". This was one press conference that had everyone reaching for tissues and it was one of the finest sportspersons speeches.
https://www.youtube.com/watch?v=EpwNXS8Q1nM
Andy Murray – 2011 Wimbledon Final
If anyone has been very successful in uniting Great Britain for some cause in recent times, it's Andy Murray. The Scot has become Britain's darling after the 2012 Olympic, 2013 Wimbledon and 2015 Davis Cup wins. But Murray had to pass many hurdles before that. Some in the form of Nadal, Federer and Djokovic and some purely emotional. He had been carrying the nation's hope as Fred Perry's successor for too long. Every time he stepped onto the grass at Centre Court, Wimbledon, he would carry too much weight.
In 2011, he became the first male Britisher to reach the Wimbledon final since 1938. And suddenly, the whole tennis fraternity wanted him to win. Roger Federer, everyone's favourite for so long, had lost the support to someone else. The Swiss Master though, gave away only one set in the final and took from him the Wimbledon trophy. Andy Murray was distraught. With shaking hands and voice, as he spoke, Britain's collective lower lip trembled. He addressed the home crowd, saying "I'm going to try this and it's not going to be easy." Fighting back tears, the lad from Dunbane finished saying, "The support has been incredible, so thank you,".  The nation and Murray didn't have to wait too long though, as he triumphed over Djokovic in 2013 to win the Wimbledon title.
This is one of the sportspersons speeches that made it to the list, purely on emotional value, if nothing else.
Lou Gehrig – Luckiest Man on Earth
Lou Gehrig was one the greatest first baseman of all time. A New York Yankees baseball player, he set several major league records during his glittering 17 year old career. One such record was the one for maximum number of consecutive games played (2,130) which stood unbroken for 56 years. In an era of no internet or even proper television, Gehrig was one of the sport's most popular names.
Such a great player though was considered unlucky to be diagnosed with ALS, a disorder now referred to as Lou Gehrig's disease in North America. It ended his streak and forced him into retirement. Gehrig though was a champion. He faced it bravely and gave his "Luckiest Man on Earth" speech at the Yankee Stadium before retiring. He called himself lucky to have known so many greats of the game, to have played with and against them in his career. He said he was fortunate to have had such lovely fans and support throughout the 17 years of his career. He also spoke about his family and they pillar of strength they were for him. A champion in the truest sense, Lou Gehrig sent out an inspiring message of courage to all sports lover and left his legacy on the game in one of the most moving sportspersons speeches.
Rahul Dravid – Bradman Oration
When cricket is referred to as the "Gentlemen's Game", the first person that comes to mind is Rahul Dravid. Everything that is text-book about the sport, Rahul Dravid epitomizes. Calm, composed and balanced, "The Wall" was on field, a man of few words. Yet, when called upon to be the first non-Australian to deliver the Bradman Oration in 2011, the former Indian captain had his audience captivated. He spoke about the relation India and Australia shared for so long, cricketing or otherwise. The Karnataka man highlighted the importance of the game in India, of the 2011 World Cup triumph, of the joy it gave Indians. He also spoke of the diversity in the team and the hardships each player faced to scale the heights they had.
The 2004 Player of the Year stressed upon the the need to balance between the three formats of the game. He said that each was important on it's own but it was upto the administrators to find the right schedule. It was also their responsibility he said, to find the right venues for the right matches so the ultimate stakeholder- the fan would not be disappointed.
He expressed his concern for the dangers the money involved in the game would bring in. He spoke of the role the organisers and players themselves had to play in preserving cricket's future. Just like Sangakkara earlier in the year, Dravid's words were measured, careful. He added humour, but only just. He was observant and precise reflecting so much on his character, the one we had all been accustomed to seeing. Mr. Dependable had yet again, delivered one of the most classic sportspersons speeches.
Serena Williams – Sportsperson of the Year
ADVERTISEMENT
Article continues below this ad
Serena Williams is arguably the greatest female tennis player of all time. Her 36 Grand Slam titles and 4 Olympic Gold medals clearly point to that. 34 years old now, she is showing no signs of stopping. She had a stellar 2015, winning three Majors and completeing a second "Serena Slam". So when Sports Illustrated named her Sportsperson of the Year in 2015, no one was surprised. She thoroughly deserved it.
Serena wasn't finished with the season though. When she took the mike, she delivered a one of the most powerful sportspersons speeches that inspired no less than any of her amazing victories so far. A speech so inspiring, especially to women, it would instantly make the listener want to become a better version of themselves. She talked about how she has faced criticism for her looks, her gender and her race- but how she overcame all of that to become the champion she is now. She spoke about women excelling in all spheres of life, of battling hardships of all kind to succeed.
The standout quote from the night was , "I've had people look down on me, put me down because I didn't look like them; I look stronger. I've had people look past me because the color of my skin, I've had people overlook me because I was a woman. I've had critics say I'd never win another Grand Slam when I was only at number seven, and here I stand today with 21 Grand Slam titles… and I'm still going."
ADVERTISEMENT
Article continues below this ad
The American ended her speech telling "all the ladies out there"  that they can be successful too and then aptly read out an extract from Maya Angelou's "Still I Rise".