Stan Wawrinka And Dominic Thiem Fanboy Each Other On Social Media
Published 06/15/2020, 1:20 PM EDT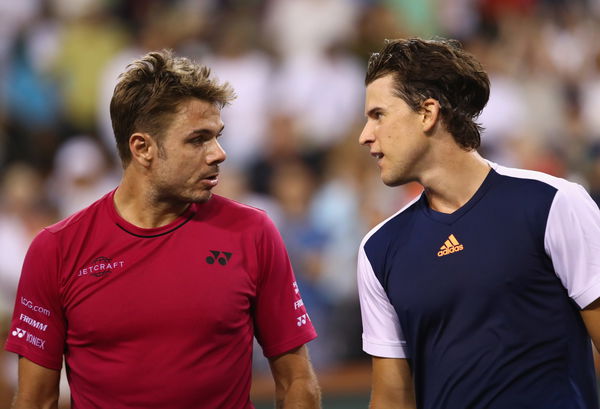 ---
---
Dominic Thiem and Stan Wawrinka are part of an increasingly rare breed in tennis. Both of them are proponents of the classic one-handed backhand.
ADVERTISEMENT
Article continues below this ad
Recently, both showed that respect is real between the two. A video of Wawrinka playing his trademark one-handed backhand on social media caught the Thiem's attention. He went on to call it the best looking shot in tennis.
It's hard to argue against him as Wawrinka's shot is indeed a thing of beauty. The shot is difficult to execute but the angles Wawrinka produces through the one-handed backhand are nothing short of phenomenal. However, Stan didn't agree with Thiem.
ADVERTISEMENT
Article continues below this ad
WATCH –  Dominic Thiem Chooses Between Roger Federer And Rafael Nadal
He was convinced that even though he might be good, his one-handed backhand was not as good as one of Dominic Thiem. The Austrian is also someone who's produced some excellent winners over the years with the help of his amazing one-handed backhand. You can always watch his incredible 2018 Roland Garros final against Rafael Nadal to get the reference.
Why are one-handed backhands played by Dominic Thiem and Stan Wawrinka becoming rare?
Players are increasingly going for the easier two-handed backhand. However, the legacy of the one-handed backhand is still carried forward by some big names.
ADVERTISEMENT
Article continues below this ad
Know More – Dominic Thiem And Gael Monfils Set To Highlight A Tennis Event Amidst Coronavirus Pandemic
This includes three from the younger generation like Stefanos Tsitsipas, Dominic Thiem, and Grigor Dimitrov. They are the ones who are carrying the responsibility of taking it to the next generation after the legendary Roger Federer.
ADVERTISEMENT
Article continues below this ad
It is tough to argue against the fact that it's a more beautiful as well as stylish looking shot. With the passage of time, some players might still adopt it just for this reason. It certainly leads to a lot more variety in the sport. We all want the game to be more diversified. The one-handed backhand plays a key role in providing that nature of variety.