Starc uncertain for Lord's Test
Published 07/11/2015, 5:35 AM EDT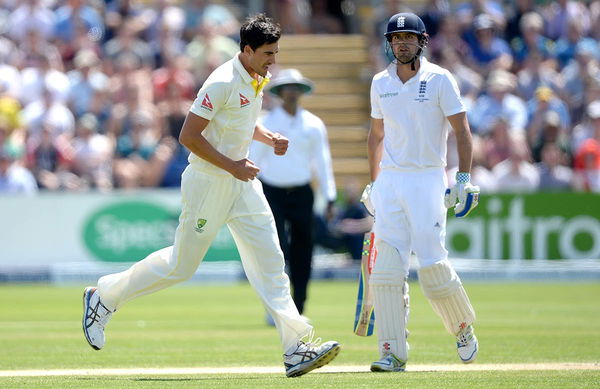 ---
---
As Australia have a mountain of 412 runs to climb to win the first match of the 2015 Ashes, they seem to have been hit by yet another injury problem – the in-form Mitchell Starc struggling with his ankle.
ADVERTISEMENT
Article continues below this ad
Earlier, in the lead-up to this Ashes, Ryan Harris decided to retire because of a cracked tibia sustained while bowling on his worn out right knee.
ADVERTISEMENT
Article continues below this ad
Starc had ankle trouble right from day one of the match and he also did not take the new ball after Australia's innings came to an end on day three. But the Australian did manage to bowl 16 overs in four spells on Friday, and that too at speeds in excess of 140 km/h.
ADVERTISEMENT
Article continues below this ad
Nathan Lyon said that Starc's performance was praiseworthy. "Starcy's performance carrying an injury is fantastic. To have the courage to come out there and still bowl consistently 140kmh, the credit goes to Mitch. Lucky enough the bowlers dug deep today to give him a couple of extra days' rest before the second Test. Starcy is a world-class bowler and surely he'll keep going."
Starc required painkiller injections to be able to bowl, and him wincing is surely a discouraging sign for Australia, after he took a five-wicket haul in the first innings and dismissed Alastair Cook and Ben Stokes in the second.
ADVERTISEMENT
Article continues below this ad
The 1.97m-tall bowler has had ankle troubles in the past as well, with bone spurs removed two years ago following the tour to India. Given that the Lord's Test begins just four days after the ongoing Test in Cardiff, he might not have enough time to recover from the injury.
Meanwhile, as Peter Siddle's chances of returning to the side appear to increase, Australia might also want to draft in another bowler to the squad. Pat Cummins was included after Ryan Harris retired, but has not played first-class cricket for the last two years. In such a case, Jackson Bird, who has been at Hampshire, might be called to cover up.