"Create the Best Possible Memories": Stefanos Tsitsipas Wishes to Have a Career Like Roger Federer
Published 04/23/2021, 3:30 PM EDT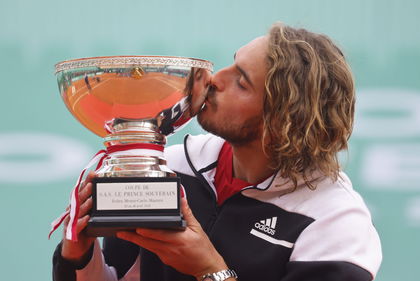 ---
---
Greek tennis star Stefanos Tsitsipas has opened up on his future in the sport.
ADVERTISEMENT
Article continues below this ad
The current World No.5 said he is unsure if his career would be as long as that of Roger Federer, but if he can accomplish anywhere close to what the Swiss champion has, he will be happy.
Tsitsipas, who lifted his biggest career Tour championship title at the Monte-Carlo Masters recently, said he doesn't know if he will still be playing tennis at the age of 40 as Federer has. But he wants to give himself enough moments to cherish as long as he is around.
ADVERTISEMENT
Article continues below this ad
In an interview with Greek magazine DownTown, Tsitsipas said that while he may never be able to win as many titles or break as many tennis records as Federer has, he does wish for a career as long as his.
"No one knows what will happen until then, but I would like a career like Roger Federer. I don't mean what he has achieved, I mean I would like to have a career as long as his," the World No.5 said.
He added that his only expectation from the sport is to be able make memories that he can fondly look back on long after he had played his last shot.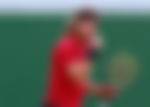 Stefanos Tsitsipas says he wants to create joyful moments and look back fondly on them after his playing days
"My goal is to create the best possible memories and moments on and off the court," Tsitsipas said.
He added that he wants to relive his joyful moments and be safe in the knowledge that he gave his very best and picked up something new about the game on every single day of his playing career.
"My hope is that when I look back to those moments, they will bring me joy and I will feel that I gave it my best, that I had the opportunity to learn something new and to mature as an athlete, every day," Tsitsipas said.
The Greek didn't drop a single set on the way to lifting his maiden Masters 1000 crown.
ADVERTISEMENT
Article continues below this ad
In the championship, he ran into Russian World No.7 Andrey Rublev, who caused the tournament's biggest upset in the form of 11-time champion Rafael Nadal in the quarter-finals.
ADVERTISEMENT
Article continues below this ad
However, the Russian was no match for Tsitsipas in the big final as the latter routed him in straight sets to clinch his first Masters 1000 title in his third attempt.