Steffi Graf: Story Of An Illustrious Career
Published 10/04/2014, 3:52 PM EDT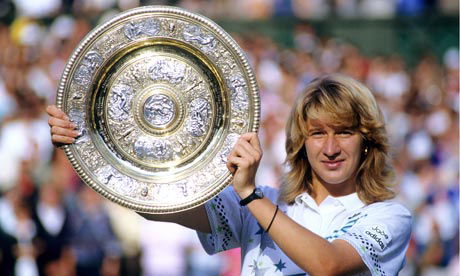 ---
---
Widely regarded as the greatest female tennis player ever, Steffi Graf absolutely dominated the sport during the late 1980s and mid-1990s. The powerful German was known for her brilliant footwork and her deadly forehand, for which she earned the title of 'Fräulein Forehand'. She ended the long-standing reign of the two greats of the sport, Navaratilova and Evert and went on to emulate their successes.
Starting at the 1987 French Open and ending at the 1999 French Open, Graf has won a total of 22 Grand Slams, the most by any player (male or female) in the Open Era. She remains the only player to win at-least 4 titles at each of the 4 Grand Slams (7 Wimbledon, 6 French, 5 US, and 4 Australian).
Alas, her biggest feat came in 1988, when she became the only ever player, male or female, to achieve a Calendar Golden Slam (4 Grand Slams plus Olympic Gold Medal in the same year). Between the 1987 French Open and the 1990 French Open, she reached 13 consecutive Grand Slam finals, the most by any female player, and won 9 of them. She was ranked World No 1 for 186 consecutive weeks between 1987 and 1990, the longest in women's tennis.
After 2 injury-hit years (1991 and 1992), she started a second period of dominance from 1993 to 1996 during which she won 10 out of the 14 Grand Slams she took part in. She ended her career having been at World No 1 for a total of 377 weeks, the longest by any player, male or female.
She even succeeded in her personal life, marrying 7-time Grand Slam champion, Andre Agassi.