Stephen Thompson Schools Vicente Luque at UFC 244 in a Kick-Boxing Extravaganza, Wins via Decision
Published 11/03/2019, 12:02 AM EDT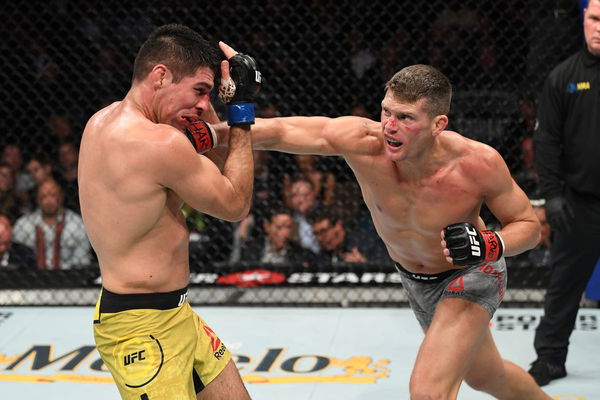 ---
---
They don't call him Wonderboy for nothing. After two tough consecutive losses, Stephen Thompson's back was against the wall going into a fight with Vicente Luque. This was a dangerous fight for Thompson since Luque was on a reign of terror in the welterweight division. And the Wonderboy has shined the brightest in the Madison Square Garden when the stakes were the highest for him.
ADVERTISEMENT
Article continues below this ad
The fight was a kickboxing fight from start to finish. It's safe to assume that Vicente Luque had round 1 in his bag. He landed 41 strikes compared 30 significant strikes from Thompson. Luque implemented the kicks perfectly as Thompson seemed in a little trouble in the early minutes. Luque also rattled Thompson with a couple of big shots. However, as the fight progresses Thompson just got better and better.
ADVERTISEMENT
Article continues below this ad
ADVERTISEMENT
Article continues below this ad
in the second and third round, Stephen Thompson's striking was a thing of beauty. His kicks were flawless, precise and accurate. He even knocked Luque down a couple of times with his body kicks and head kick. He had Luque rocked in the third round and he went for the finish. however, he let Luque up and again overwhelmed him with some beautiful display of kickboxing.
ADVERTISEMENT
Article continues below this ad
It's not an easy task to win a striking battle with Stephen Thompson. He is one of the finest strikers in the UFC ever. However, Vicente Luque shocked everyone with the heart he showed tonight in MSG. He ate some of the vicious strikes that Wonderboy had to offer and kept moving forward. Even till the last minute, he was looking for the knock out blow. However, Wonderboy's striking was just too much for Vicente Luque. In the end, Thompson bounced back from two consecutive losses with a unanimous decision and made a statement that he is not going anywhere.