"Still Not Sure it was a Great Idea": Warriors' Steve Kerr on Filming Michael Jordan's 'The Last Dance'
Published 10/16/2020, 6:53 AM EDT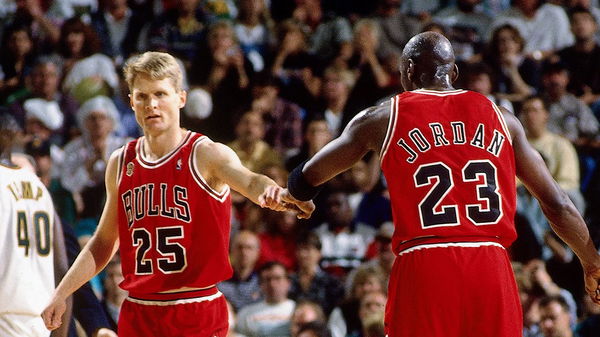 ---
---
Steve Kerr is immortalized in NBA history. He was a part of one of the greatest teams in history, the 95-96 Chicago Bulls. The team set a then-record 72 wins in a season which no one thought could be broken. However, the record was broken by none other than Kerr himself. This time, he achieved this feat as a head coach; his Golden State Warriors went on a 73-9 run in the 2015-16 regular season.
ADVERTISEMENT
Article continues below this ad
Steve Kerr's stint as a Chicago Bull saw him netting some crucial shots, including the game-winner in Game 6 of the NBA Finals against the Utah Jazz. But his time in the Bulls was known for his tumultuous relationship with Bulls legend Michael Jordan. There have been multiple reports that Jordan and Kerr butted heads in practice, and even had a physical confrontation.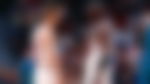 ADVERTISEMENT
Article continues below this ad
The Last Dance documentary has given fans never-before-seen access to the 1997-98 Chicago Bulls squad. The team prepared for their second three-peat, in possibly their last season together. The documentary gave a behind-the-scenes look into the functioning of the team. While people were thrilled to have insider access to the team, the players didn't share this excitement at the time.
Steve Kerr: "Felt so exposed"
Warriors Head Coach Steve Kerr went on 'All The Smoke' recently. When asked about his thoughts on 'The Last Dance' docuseries, Kerr had mixed opinions. He said:
ADVERTISEMENT
Article continues below this ad
"When Phil (Jackson) told us that the cameras were going to be behind the scenes, and why he was allowing it, it was kind of shocking. Seeing all those guys every day was really weird. The first month, you just felt so exposed. I'm still not sure it was a great idea. I don't think I would not allow it as a coach. I think you're opening yourself up to a lot of potential problems. But I'm really glad that it happened because now to watch it 22 years later, with my kids, who were babies at the time and who are all grown up now. For them to see what life was like for me back then was really fun."
Steve Kerr's relationship with Michael Jordan is a key focus of the docuseries and a major discussion point for many.
What was your favorite part of 'The Last Dance'? Would you like a similar series on another great team?
ADVERTISEMENT
Article continues below this ad