Sunderland FC- A Team of Scrapped Players
Published 12/22/2014, 3:38 AM EST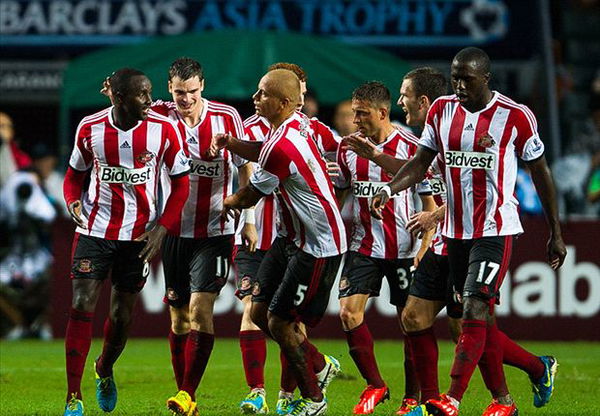 ---
---
Sunderland FC are a team who have fought all hardships they faced on the road to earn the Premier League stability year after year but in the recent years, their squad has been a bit different from the other league competitors. This article will primarily focus on how their team comprises of scraped off players.
ADVERTISEMENT
Article continues below this ad
List of those players:
1– Wes Brown:  One of the renowned center backs in England having played for Manchester United from 1996 to 2011 with 232 appearances. A center back with good aerial qualities, he gave a professional display in every match he played. But in the later years at his stay at Manchester, his injuries and signing of players like the rock solid Nemanja Vidic posed serious threat to his spot in the 1 squad line-up. He barely got his playing time and eventually joined Sunderland FC on 2011 for a four year deal.  He has made 53 appearances ever since netting the ball home once and also in his own goal once against his former club, Manchester United.
ADVERTISEMENT
Article continues below this ad
2- John O'Shea:  Wes Brown's teammate at Manchester United, O'Shea faced constant competition for the right-back spot from former footballer, Gary Neville. O'Shea has made 256 appearances with 10 goals to his name for United and has also represented the Republic of Ireland at the International stage. A versatile player who fulfilled his duties, he is also considered as a saviour in situations such as the game against Liverpool at Anfield in the 2006-2007 where he scored the winner.  He was normally on the bench in the later years because of which he had to give way to Sunderland in 2011 which is about the same time when Gary Neville announced his retirement.
3-Jack Rodwell: Not long time back, Rodwell was considered one of the rising young talents as a centre midfielder because of his vision and great holding qualities. The 23 year old played for Everton when he was just 17 and played for them till he joined Manchester City in 2012 for a fee of 12 million pounds. In two years, he just made 16 appearances with 2 goals having scored them in an away defeat to Norwich. A very good midfielder with good passing and shooting skills, he possesses remarkable strength. He was benched most of the time or was out with injuries and it was sad how such a rising star was being let go to waste. He joined Sunderland this year hoping to play more and has made 8 appearances until now having scored 1 goal.
ADVERTISEMENT
Article continues below this ad
4-Adam Johnson:  Probably one of the best left footed shot-taker England has ever seen. He started off his career at Middlesbrough from 2004 to 2010. That's when he joined Manchester City for a four and a half year contract. He was an exquisite right midfielder with the right amount of pace, full with skills and would often curl the ball to the back of the net.  He made 73 appearances for Manchester City, but because of serious competitions from the new players who were being signed due to the rise in financial capital, he was benched for most matches or was substituted at the near end of the matches. He joined Sunderland , which was his hometown team, in 2012 for 10 million pounds.  One of his memorable goals for all the Sunderland fans will be when he scored the winner leading them to a 1-0 victory over Manchester City.
5-Costel Pantilimon: One of the renowned substitute goalkeepers, Costel spent most of his time in Politechnica Timisoara, a Romanian club, until he joined Manchester City in 2011 on loan following the departure of Shay Given.  The move was made permanent for 3 million pounds in 2012 after some exhilarating performances by Costel. He didn't get included in the starting line-up very often because of the presence a top notch goalkeeper like Joe Hart, but he would play well and may even keep a clean sheet once given the chance. He made 0 appearances for Man city in the league in both 2011-12 and 2012-13 seasons in the league. He joined Sunderland FC this year hoping to play more and has already made 5 appearances.
Sunderland have really given them an opportunity to prove themselves which they haven't been able to do in their previous clubs due to various reasons.
ADVERTISEMENT
Article continues below this ad
The Black Cats are currently 14 on the table and have a clinched a 1-0 victory over Newcastle thanks to Adam Johnson's late winner on 21 December, 2014(Saturday).