Sunil Gavaskar slams out of form Virat Kohli
Published 05/06/2017, 3:25 PM EDT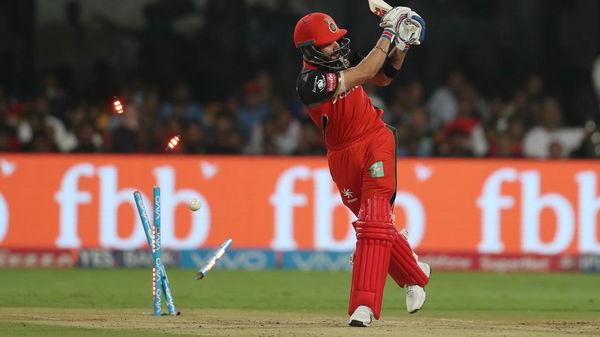 ---
---
Virat Kohli smashed 4 centuries in the previous edition of IPL and took his team to playoffs by himself but this year, the story is different. Although Kohli has scored two 50s in this IPL , it looks like he is struggling with his current form, just by watching him bat. This year hasn't been a cakewalk for Kohli because he failed to perform in the test series against Australia earlier this year and now he is again getting a taste of failure in IPL.
RCB won just two matches out of twelve they played and currently sit at the bottom of the table. This is the worst performance of RCB during their ten seasons of IPL. Despite having big names (AB de Villiers, Chris Gayle, Shane Watson) on the sheet, they can't stop losing.
Former India captain Sunil Gavaskar is not happy with the performance of Virat Kohli. In the previous match of RCB against KXIP, Kohli got out cheaply by playing a bad shot and Sunil Gavaskar had some bitter advice for Kohli.
ADVERTISEMENT
Article continues below this ad
In the post-match analysis, he said, "First thing he should be doing is look himself in the mirror. The shot he played (against KXIP) wasn't exactly a great shot. The shot he played at Eden Gardens (against KKR) wasn't a great shot. He (Kohli) has got to say to himself that he is the captain. He has got to stay there. He is not in form so stay there and he should work himself with proper cricketing shots then widen the scope of the shots. Apart from (Chris) Gayle, who was deceived by late movement, Virat (Kohli) went for that big six shot, AB de Villiers went for that big six shot, Mandeep Singh, having settled down, went for the big shot. So, there you are. Your main batsmen went for the glamour shots instead of looking to play proper cricketing shots. Get the boundary. Between a four and a six the difference is two runs. Because you hit the ball in the air (for six), the risk percentage goes up to a 100."
Virat Kohli is definitely having a bad run and he should play with patience if he wants to come out of his run drought.
ADVERTISEMENT
Article continues below this ad