Super Over Rule: ICC Changes the Law to Decide the Result in Case of a Tied Super Over
Published 10/14/2019, 11:40 AM EDT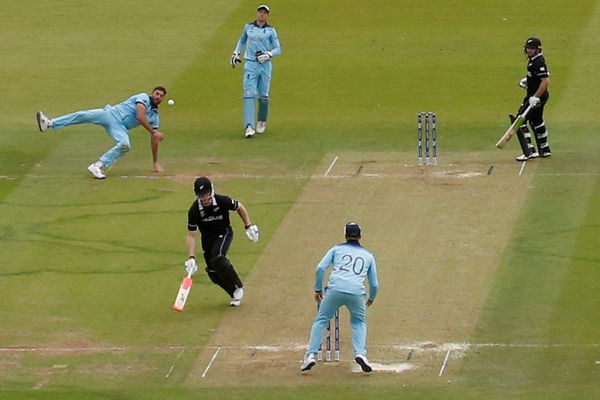 ---
---
In the aftermath of the ICC Cricket World Cup 2019 finals, which led to a furore over the International Cricket Council's (ICC) rule of deciding the winner over boundary count, cricket's apex governing body has now made a little alteration in the rule in case of a tied super over.
ADVERTISEMENT
Article continues below this ad
The decision was made following a board meeting on Monday in Dubai. While Super Over will still be the medium to decide the result in case of tied matches, a tied super over in league matches will see the process being repeated untill one of the teams has more runs. However, in group stages, a tied super over will mean that the match is tied.
A media release by ICC following their board meeting read:
ADVERTISEMENT
Article continues below this ad
"In group stages, if the Super Over is tied the match will be tied. In Semi Finals and Finals, there is one change to the Super Over regulation in keeping with the basic principle of scoring more runs than the opponent to win, the Super Over will be repeated until one team has more runs than the other."
ADVERTISEMENT
Article continues below this ad
World Cup debacle-
It was one incident of a tied super over earlier this year that had raised a huge debate in the cricketing world whether the rule should exist. Such was the magnanimity of the event- the finals of the biggest competition in cricket. The rule then was that a tied super over will lead to the winner being decided by the number of boundaries hit during the match. England were the beneficiaries of the rule during the World Cup and it led them to win the tournament, beating New Zealand by Boundary count.
ICC had also taken a few other major decisions in the board meeting which included lifting ban on the teams of Zimbabwe and Nepal- who will now continue as the full members of the ICC.
ADVERTISEMENT
Article continues below this ad
Another major decision in the meeting was taking a step forward with women's cricket. The ICC increased the prize money of its Women's events by $2.6 million. For the next year's T20 World Cup in Australia, the winners and runners up will five times the amount on offer in 2018. There was an overall 320% increase in the prize pot for 2020 in comparison to 2018.