Susie Wolff to retire from motorsport
Published 11/04/2015, 9:07 AM EST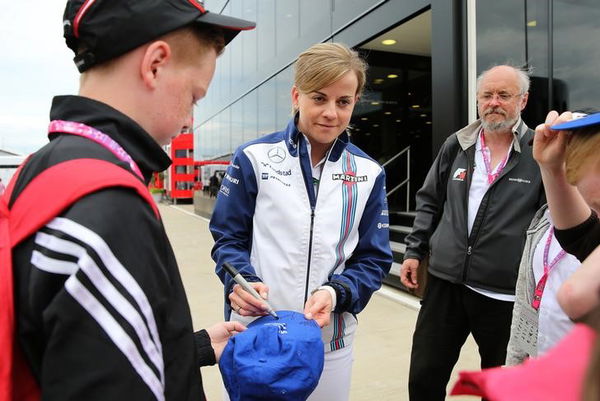 ---
---
By Alan Baldwin
ADVERTISEMENT
Article continues below this ad
LONDON (Reuters) – Britain's Susie Wolff, the first woman driver in 22 years to take part in a Formula One grand prix weekend, on Wednesday announced her retirement from motorsport at the end of the year.
The 32-year-old Williams development driver accepted her dream of racing in Formula One was not going to happen and she now wanted to help the next generation of women drivers reach the top.
ADVERTISEMENT
Article continues below this ad
"I dared to be different, I want to inspire others to do the same," she wrote in a blog on the Huffington Post website.
Wolff, whose husband Toto is the Mercedes motorsport director, was appointed Williams development driver in 2012 and last year made a breakthrough when she took part in free practice for the British Grand Prix at Silverstone.
She subsequently also took part in practice at the 2014 German Grand Prix and in Spain and Britain again this season.
No woman has raced in Formula One since 1976 and the last before Wolff to take part in a grand prix weekend was Italian Giovanna Amati who failed to qualify with Brabham in 1992.
"I got oh so close," she said on Wednesday. "I wanted and fought very hard to make it onto that starting grid but the events at the start of this year and the current environment in F1 the way it is, it isn't going to happen.
"I can only tell you, I gave it my all," she added. "Do I think F1 is ready for a competitive female racing driver that can perform at the highest level? Yes. Do I think it is achievable as a woman? Most definitely.
"Do I think it will happen soon? Sadly no."
ADVERTISEMENT
Article continues below this ad
Wolff said too few young girls were getting involved in karting and they lacked a clear role model, and they were issues she wanted to address with a new initiative to celebrate successful women in motorsport on and off the track.
The annual Race of Champions in London later this month will be her last race.
"It has been a pleasure to work with Susie over the years and see her develop as a driver within the team," said Williams deputy principal Claire Williams.
ADVERTISEMENT
Article continues below this ad
"Her feedback and knowledge of the car has been an important part our recent development and we will be sorry to see her go."
(Reporting by Alan Baldwin, editing by Patrick Johnston)