Watch: Sypherpk Reacts to His Own Fortnite Skin
Published 02/17/2021, 2:45 PM EST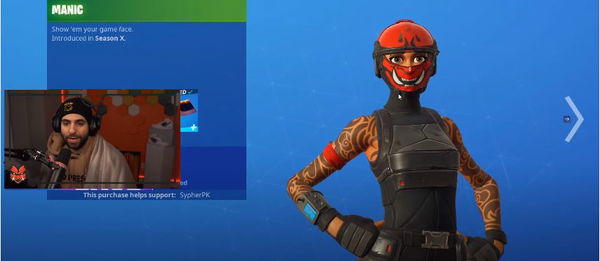 ---
---
Epic Games has always known how to keep the Fortnite community happy through various collaborations and the addition of content. Since the popularity of the game has reached its current stature through streamers and content creators, Epic Games makes it a point to honor the iconic streamers by introducing skins based on them.
ADVERTISEMENT
Article continues below this ad
We all remember the look on Ninja's face when he saw his Fortnite skin for the first time. When he was asked who should be next in line to get their own skin in the game, the Twitch celebrity had replied that he would like the popular streamer SypherPK to be next.
SypherPK is currently one of the oldest streamers and pro players associated with the game. His fans have been asking for a Sypher-themed skin in the FN item shop for a long time now. A few months ago, an artist made a concept art dressing the streamer as a member of the Elite ANBU Black Ops from the anime 'Naruto'.
ADVERTISEMENT
Article continues below this ad
Recently, the streamer made a video where he jokingly said that Epic is trolling him with the wrong Sypher skin. The skin in question was the 'Cipher' skin from the new Tron skin set in the game. However, Epic has finally added a SypherPK themed skin and assorted cosmetics in the game.
Further reading: Fortnite: A Fan Made an ANBU Black Ops Themed Concept Art for SypherPK
Fortnite item shop finally gets a SypherPK themed skin
ADVERTISEMENT
Article continues below this ad
Epic Games has added the SypherPK bundle in the in-game item shop, known as 'SypherPK's Locker'. The bundle includes the Manic skin, which sort of has the only obvious reference to the streamer. The Manic skin wears the red Oni mask, which, as fans know, is Sypher's logo.
In addition to this, it has the 'Close Shave' pickaxe. Now, this item has not been in the item shop for over two years now. We do not know if the item will return after this bundle. Next up is the Royale Dragon glider, currently the most expensive glider in the game. However, if you buy it from the bundle, you get it at a discounted price.
ADVERTISEMENT
Article continues below this ad
Note that this bundle will be there until tomorrow night, so hurry up if you want to check this out!