Is Dale Steyn Using Slow Delivery as a New Strategy?
Published 02/13/2020, 7:45 AM EST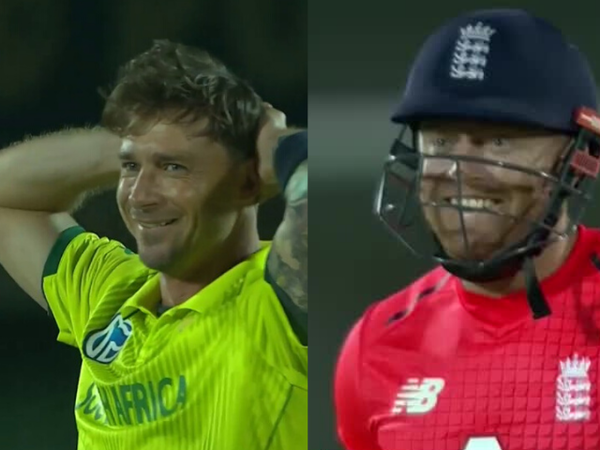 ---
---
Jonny Bairstow fell victim to a Dale Steyn strategical slower delivery. This took place during the first match of the T20I series between England and South Africa, there was a showcase of pure cunning strategy at Buffalo Park.
ADVERTISEMENT
Article continues below this ad
As of now, Dale Steyn is South Africa's #1 wicket-taker. To a lot of his fans, this is not even coming as a surprise!
What did Dale Steyn do?
ADVERTISEMENT
Article continues below this ad
The South Africa fast-bowler had the task of conducting the 3rd over. It was during the third delivery that Steyn decided to release an unusual delivery. The ball soared above the eyeline of the batsman and was initially thought of being a beamer. Finally, it was declared to be a slower delivery which reached the batsman at 117kmph.
The recipient of this slow delivery was Bairstow. He was definitely taken aback by this throw. Nevertheless, the two players soon exchanged smiles right after to assure the audience that all was well.
Even though both the teams performed astonishingly well, it was South African bowler Lungi Ngidi who gave a terrific performance. His death over bowling skills truly helped in defending the last 7 runs of the match.
ADVERTISEMENT
Article continues below this ad
Related: T20I: England Vs South Africa Started Off with Utmost Thrill
The match was a nail-biter as Jason Roy scored 70 runs off 38 balls. He was clearly the best batsman of the match. He managed to score three sixes and seven fours. A number of fans expected England to win the 1st match. It did seem possible until the team suffered a loss of 5 wickets within the last 24 runs.
South Africa scored 177 for 8 wickets in 20 overs. The opening pair for this match was Tamba Bavuma and Quinton de Kock. Quinton scored the highest at the T20I for the South African team with 43 runs from 27 balls. His contribution included a total of five fours.
ADVERTISEMENT
Article continues below this ad
The Pitch
Considering it was Buffalo Park, the most common occurrence is that the chasing team wins. That is what was expected from this T20I match as well. However, we all know that one can never be too sure about sports predictions. South Africa winning even after they had to bat first is one of the reasons why it is said: "Anything is Possible".