Analysis: How Atletico Stopped the Second Treble
Published 04/14/2016, 3:53 PM EDT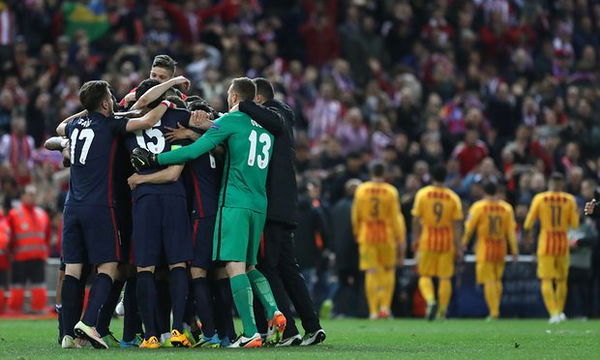 ---
---
From 17th October to the 20th of March, Barcelona went on an amazing run of 37 games without a defeat in any competition, with their front three of Messi, Suarez and Neymar proving to be one of the most dangerous trios of all time. But since their Champions League triumph at home against Arsenal, things have looked gloomy for the Catalans as they are on a three game winless run in the league and see themselves knocked out of the Champions League despite registering a home win over Atletico Madrid.
ADVERTISEMENT
Article continues below this ad
Atletico Madrid themselves are on a good run and are waiting to pounce on Barcelona's every slip up in the league as only 3 points seperate the sides. Simeone is a shrewd manager who has proven in the past that he can get the best out of his side and he proved his tactical nous yet again as Atletico Madrid got the better of the Treble favourites over two legs. The first leg was a fiery affair with Torres seeing red, but Atletico came back with only a one goal deficit and an away goal.
And while that gave them the solace of knowing that a 1-0 win would be enough to go through, even the most solid defences need to be at their very best against Barcelona's South American triumvirate. So what did Atletico do right and where did it go wrong for Barcelona?
ADVERTISEMENT
Article continues below this ad
Simeone played his cards right from the first minute and had Atletico playing an intense pressing game starting from high up the pitch. The two forwards Griezmann and Carrasco harried the Barcelona defenders while Gabi and Augusto Fernandes made sure the midfielders got no time on the ball. It was argued that Barcelona's 3 man midfield would outnumber Atletico's 2 in the middle, but to counter this a wide man in the form of Saul or Koke would always tuck in to add to the numbers. While this left a full back free, whenever Barca got the ball out wide Atletico were quick to regain shape. The intensity of pressing was really high and it unsettled Barcelona as they failed to really cut out any chances in the first half while it led to Atletico Madrid winning the ball high up the pitch to start off the move for the first goal – more on that in a bit.
The way Atletico pressed the Barcelona midfielders, cutting out their intricate play down the middle forced Lionel Messi to take up a wide role on the right. It was only after around 30 minutes that he tried to get more involved down the middle but his effect even then was negated by a brilliant Augusto Fernandes who stayed deeper than his partner and kept a sharp eye on the Argentine superstar. Even while playing central, Messi occupied deeper positions and was rarely a threatening outlet for the Cules, and this is well highlighted by the fact that the Argentine didn't get a single touch of the ball inside the Atletico Madrid penalty area.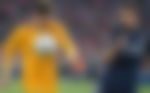 Lionel Messi is currently on his worst run of form since he first donned the Barcelona shirt having gone over 5 matches without scoring or assisting. He is rumoured to be suffering from muscle problems and according to journalist Guillem Balage that's the reason behind him playing a deeper role for the last few matches. But whatever the reason may be, it cannot be argued that Messi plays much better when he is in a more comfortable attacking role, getting into the box and getting goals. His dip in form, injury induced or not, has cost Barcelona severely as it seems that Luis Enrique's perfect attacking machine has started to stall just as they approach the finishing line.
Luis Enrique, who faced issues due to his rotation policy during the start of his tenure at the Nou Camp, has rarely rested his front three this season and it would seem as if the tiredness is beginning to catch up. And the Vicente Calderon is the last place that you would want to be less than 100% physically as Simeone's men maintain a very high intensity and a physical game. Neymar as well hasn't looked at his sharpest off late having failed to find the net since mid-March and Suarez whose well taken brace gave Barcelona the slender advantage coming into the tie scuffed the few chances he did get.
Atletico on the other hand were quick and incisive getting the ball out wide whenever they could and it worked to great effect. Atletico found some good chances early on as a cross from Juanfran was cleared only as far as Gabi and the Atletico midfielder shot over. Soon after a cross from Luis was headed to Ter Stegen by Griezmann. It was only fitting then, that the opener for Atletico came from a combination of their two main strategies as the ball was won high up the pitch and moved on to Saul who beautifully swung in a cross with the outside of his left boot for Antoine Griezmann to head home.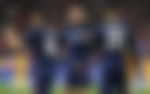 In the second half, Barcelona slowly upped their game and Atletico had to shift to sitting deep instead of pressing up high and they did that to fantastic effect as well. Very rarely do you see a team so highly organised against what is probably the most dangerous attack in world football right now. Atletico held their own and didn't make a single mistake as the Catalans tried to pick away at them. The match also sorely exposed Barcelona's lack of a Plan B. Due to Atletico crowding the middle and sitting deep and defending in the box, it was the full backs who had the greatest chances to create something. But they had no one to cross to and had to end up trying to pass their way in, but were faced with great resilience from a very focused team. A tall physical attacking presence would have really given Barcelona the option of throwing in crosses when clearly, playing down the middle was not working. But the only changes Enrique could make were Sergi Roberto for Dani Alves at right back and Arda Turan for Ivan Rakitic but the changes were of little help.
ADVERTISEMENT
Article continues below this ad
Another factor that helped Atletico was their forwards putting in a brilliant defensive shift, exemplified by that man Griezmann winning the ball from Iniesta late on. The Frenchman really was everywhere! All hopes Barca had for a comeback were finished when Iniesta handballed inside the area and the penalty was duly converted by, no prizes for guessing, Griezmann. With Benzema officially out of Euro '16,  he is staking his claim for that starting spot in the national team and performances like these go a long way in proving his point.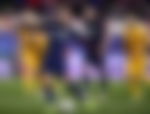 All in all, it was a disciplined and focused performance from Atletico and Enrique's over-reliability on the famed MSN that led to the Diego Simeone knocking Barcelona out of the Champions League again. The Catalans will be looking to regroup and ensure they finish the season strongly atleast on the domestic front and not let their poor form carry on. For Atletico, things are only on the bright side and while they have extra fixtures in the form of the Champions League semi finals, they will be hoping to capitalise should Barcelona drop any more points.
ADVERTISEMENT
Article continues below this ad