Aaron Donald
Aaron Donald 2022: Net Worth, Salary, & Endorsements
Aaron Donald is a professional player in the NFL who plays for the Los Angeles Rams as a Defensive Tackle. He is currently one of the most dominating defensive prospects in the league and is regarded as one of the greatest defensive players of all time.
In his room of accolades shines three Defensive Player of the Year trophies which he won in 2017, 2018, and 2020 respectively. As of now, he is the reigning Super Bowl Champion with the Los Angeles Rams.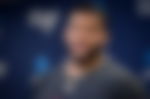 Donald was drafted by the St. Louis Rams in the 2014 NFL Draft as the 13th overall pick. He is one of the two players on the team who used to be a part of the St. Louis roster once.
Aaron Donald Net Worth
According to Celebrity Net Worth, the net worth of the star Rams tackle is expected to be around $60 million. With a whopping average annual salary of at least $30 million, Donald is currently the highest-paid defensive player on the turf.
As a rookie, Aaron Donald signed a fully guaranteed $10.13 million for four years which included a $5.69 million signing bonus and a fifth-year option. The contract reaped every dime of it after Donald was named the NFL Defensive Rookie of the Year and was named in the NFL All-Rookie Team.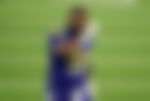 In 2018, AD signed a six-year contract extension worth $135 million with $87 million guaranteed making him the highest-paid defensive player in NFL history, until Khalil Mack signed a $141 million deal with Chicago Bears.
Before the start of the 2022 season, the Rams re-negotiated his deal, which added $40 million to his original $135 million contract. The re-negotiation made him the first non-QB with an average annual salary of more than $30 million.
Aaron Donald Stats
According to Pro Football Reference, Aaron Donald has played a total of 131 regular season games in his 9 seasons in the NFL. During those games, AD has recorded 100 sacks, 23 forced fumbles, and seven forced recoveries, along with 295 solo tackles.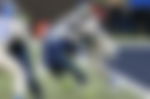 In his eight complete seasons in the NFL, Donald has reached the playoffs four times. He has played a total of 10 postseason games recording six sacks and 18 solo tackles. He won his first Super Bowl in his career in 2022, after a near-miss attempt at the Lombardi trophy in 2019.
The 280 lbs beast has been named a Pro Bowler (8) in every season since 2014. He has also been named in the First-Team All-Pro a total of seven times in his career so far.
Aaron Donald Endorsements and Investments
Being one of the biggest names in the NFL, Aaron Donald endorses a number of big brands like Nike, Dick's Sporting Goods, Panini, Tide, Hulu, Applebees, EA Sports, Snickers, AirBnB, Hyundai, Pepsi, Pizza Hut, GoPuff, and Tostitos.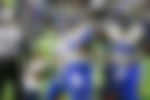 AD is reported to earn approximately, $500,000 just through endorsement deals in a year. However, his investment portfolio is even more impressive. Donald is a sound real estate investor and has been an avid equity investor throughout his NFL career. Recently, he has also inked a deal with billionaire rapper Kanye West's Donda Sports.
Aaron Donald Charity & Foundation
Aaron Donald's philanthropic efforts are pretty evident through his foundation Aaron Donald 99 Solutions (aka. AD99 Solutions) which he founded in 2019.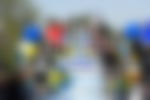 The mission of his foundation is to "change the trajectory of Pittsburgh's most vulnerable youth by providing necessary resources in a free, safe environment where they can be empowered to excel academically, socially, and athletically."
How to Contact Aaron Donald?
Instagram - aarondonald99
Twitter - @AaronDonald97
Born

May 23, 1991

 (age 31)

Weight

280 lb (127 kg)

Height

6 ft 1 in (1.85 m)

Position

Defensive Tackle

NFL Draft

2014 / Round: 1 / Pick: 13

Wife

Erica Sherman

Endorsements

Dick's Sporting Goods, Electronic Arts, Panini, Nike, Hulu, Snickers

Agent 

Todd France

Residence

San Fernando Valley area, Los Angeles, California

NFL Career

St. Louis / Los Angeles Rams (2014–present)

Super Bowl

Super Bowl (LVI)

Major Achievement

Super Bowl champion (LVI)

3× NFL Defensive Player of the Year (2017, 2018, 2020)

NFL Defensive Rookie of the Year (2014)

7× First-team All-Pro (2015–2021)

8× Pro Bowl (2014–2021)

NFL sacks leader (2018)

NFL 2010s All-Decade Team

PFWA All-Rookie Team (2014)