Aaron Rodgers
Aaron Rodgers 2022: Net Worth, Salary, and Endorsements?
Green Bay Packers #12 Aaron Rodgers is one of the most prominent names in the NFL today. Statistically regarded as one of the best quarterbacks, he was born on December 2nd, 1983. Right from his college career with the Golden Bears, Rodgers set the tone for his successful career with a low interception rate. This prompted the Green Bay Packers to draft him in the 1st round of the 2005 NFL Draft. He has remained loyal to the side ever since and is set to enter his 18th season at Lambeau Field in the 2022 NFL season.?
Aaron Rodgers Stats
According to NFL.com, Rodgers has played 213 regular-season games for the Green Bay Packers. He had made a whopping 7,118 passing attempts. The quarterback has completed 4,651 passes for a 65.34% completion percentage. He has passed for a whopping 55,360 yards and 449 touchdowns as the Green Bay Packers quarterback.
Whilst rushing, Rodgers has made 685 attempts to scramble, rushed for 3,372 career yards, and has 34 rushing touchdowns.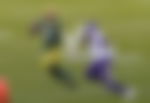 As per Pro-Football-Reference, Aaron Rodgers has featured in 22 playoff games as the Green Bay Packers quarterback. He has a 64.7% pass completion with 501 completions from 774 attempts. Furthermore, he has passed for 5,894 yards and has 45 touchdowns to his name in the post-season. As a rusher, Rodgers has gained 285 yards and has 4 touchdowns.
Aaron Rodgers has had a whole host of achievements in his NFL career. He is a Super Bowl winner (XLV) and even claimed the MVP award at the event. In addition, he is a 4x NFL regular season MVP (2011, 2014, 2020, 2021). The Green Bay Packers quarterback has also made 10 Pro Bowls and is a 4x First-Team All-Pro (2011, 2014).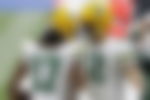 He has won the Associated Press Athlete of the Year and the Bert Bell Award in 2011.?Furthermore, Rodgers is a 4x NFL passer rating leader (2011, 2012, 2020, 2021) and is part of the NFL 2010s All-Decade Team.
Aaron Rodgers Net Worth 2022
As per Forbes, Rodgers is 2020's 45th highest-paid athlete in the world with earnings of $30.1 million. Out of which $9 million came from endorsements the year before. Rodgers endorses Adidas, Panini, Bose, Prevea Healthcare, and State Farm Mutual Auto Insurance.?
According to Spotrac, Rodgers signed a new 4-year contract with the Green Bay Packers in 2018 which has expired after the 2021 season. With that deal, the quarterback has earned a total sum of $134 million. This includes a signing bonus of $57.5 million, with $98.7 million guaranteed.?
?Furthermore, the Green Bay Packers quarterback owns a minority stake in the NBA side, the Milwaukee Bucks.?Celebrity Net Worth lists Rodgers' net worth at $140 million and a salary at $20 million. He earned $100 million from endorsements alone. If Rodgers keeps up with the Packers until the 2023 season, his on-field earning would become $315 million.
Aaron Rodgers Records
Rodgers possesses a laundry list of NFL records that date all the way back to 2011. Rodgers has the most consecutive seasons with a passer rating of over 100.0, with 6 (2009?2014), most consecutive pass attempts without an interception (402), most passing yards in their first five seasons as a starter (21,332), most touchdown passes of 70+ yards (21) and most seasons with a passer rating over 100.0 (9).
Aaron Rodgers Charity and Foundations?
Rodgers is heavily involved with philanthropic activities in Wisconsin. The Green Bay Packers quarterback has founded itsAaron along with David Gruber. The project saw 12 episodes filmed over 3 years to create awareness for organizations and people that are changing the world. Aaron Rodgers is a known supporter of RAISE Hope for Congo as well as the Midwest Athletes Against Childhood Cancer (MACC) Fund.?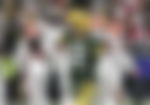 April 2020 saw the four-time MVP offer a personally guided tour of Lambeau Field, tickets to a game, on-field passes, and his jersey after the game. It was the part of 'All In Challenge' where athletes are helping raise money for charities during the COVID-19 pandemic. The effort has brought in more than $17 million.
Aaron Rodgers Endorsements
One of the earliest and most lucrative endorsements came in the form of an Adidas deal that allowed for a more prominent presence in advertisements through all media in an NFL market dominated by Nike because it makes all the league's official jerseys. Rodgers' best-known national endorsement came in as the State-Farm 'Discount Double Check' commercials.
He earned $9 million off the field through memorabilia, royalties, and endorsement deals with Adidas, State Farm, Pizza Hut, Prevea healthcare, Bergstrom Automotive, Sharpie, and IZOD. Additionally, State Farm is one of the richest endorsement deals in the NFL.
How to Contact Aaron Rodgers?
Aaron Rodgers Instagram: @aaronrodgers12
Aaron Rodgers Twitter: @aaronrodgers12
Born
December 2, 1983

(age?38)?

Weight
225 lbs (102 kg)
Height
6 ft 2 in (1.88 m)
Position
Quarterback
Wife
Unmarried
Endorsements
Adidas, State Farm, Pizza Hut, Prevea Healthcare, Bergstrom Automotive, Sharpie, and IZOD
Agent
David Dunn
Residence
Wisconsin (primary), Malibu, California
NFL Career
Green Bay Packers (2005 - present)
Super Bowl
XLV
Major Achievements
Super Bowl Champion (XLV)

Super Bowl MVP (XLV)

4x NFL Most Valuable Player?(2011, 2014, 2020, 2021)

10x Pro Bowl winner (2009,?2011,?2012,?2014?2016,?2018?2021)

4x First-team All-Pro?(2011,?2014,?2020,?2021)

4x NFL passer rating leader?(2011, 2012, 2020, 2021)

2x NFL passing touchdowns leader?(2016, 2020)

NFL completion percentage leader (2020)