Alexa Grasso
Alexa Grasso 2023: Record, Net Worth, Salary, and Endorsements
The current UFC Flyweight champ, Alexa Grasso, is among the ones who hustled their way to the top of the UFC Flyweight division. The 30-year-old Mexican claimed the UFC Flyweight title after defeating former champ, the formidable Valentina 'Bullet' Shevchenko at UFC 285. Grasso entered the UFC with an undefeated record of 8-0 which made her one of the hottest prospects at the time.
But her hype train got derailed as she picked up two losses in her first five UFC fights. Grasso endured her first UFC loss after winning just a single fight in the UFC. However, after her third loss, the Mexican transformed herself into an all-new combatant with much improved striking skills.
ADVERTISEMENT
Article continues below this ad
Alexa Grasso: UFC career
The Mexican Fighter made her UFC debut in the year in 2016 at The Ultimate Fighter Latin America 3 Finale: dos Anjos vs. Ferguson against Heather Jo Clark. She amazed the entire fraternity and won the fight via a unanimous decision. Her journey in the UFC also included defeating fighters like Randa Markos, Maycee Barber, and Karolina Kowalkiewicz.
But even after a few quick losses in her UFC career, she lived up to the expectations when she got a shot at the UFC Flyweight gold. Grasso completely outclassed the then UFC Flyweight queen, Valentina Shevchenko, at their UFC 285 bout with her amazing kickboxing-styled fighting. But, she finally resorted to her ground game to earn a finish over Bullet.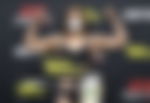 Apart from her already mentioned victory at UFC 285, her fight against Carla Esparza at UFC Fight Night: Rodríguez vs. Stephens is also one of the biggest matches of her career. After giving a tough fight, she lost the bout against 'Cookie Monster' via a majority decision. The Mexican probably had the best in-octagon moments in her last fight when she defeated 'Bullet' via a face-crank submission at UFC 285 and bagged her title.
But, she will be up for another test against 'Bullet' on 16 September when they lock horns for a rematch at the UFC Fight Night 227. Currently, she holds a remarkable UFC record of 8-3. Her overall professional MMA career record is also a superb one standing at 16-3-0
Alexa Grasso: Fighting Style
Grasso is definitely someone who nobody wants to mess with inside the octagon. She is a well-rounded fighter who is also an extremely skilled striker. The Mexican fighter has a strong ground game that has helped her significantly in her MMA career.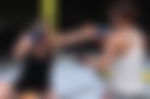 Alexa Grasso: Achievements
The Mexican fighter holds a fantastic record of 16-3-0 in her MMA career. The fighter's accomplishments are not limited to UFC, as she is also a brown belt in Brazilian Jiu-Jitsu. The list does not end here. She has also won one Fight of the Night Award in the UFC.
https://youtu.be/P0BT6WeatkI
This came for her performance in the bout against 'Cookie Monster' Carla Esparza. Well, this award might be taken as proof of her superb performance against Esparza since she earned it despite a defeat in the bout.
Alexa Grasso: Net Worth and Salary 2023
Like other UFC fighters, Grasso also earns her salary from the UFC per fight. Reportedly, she comes under the $110,000 per fight salary belt of the UFC. She also earned the same amount as the guaranteed purse of her last fight at UFC 285.
But, her UFC 285 fight against Shevchenko earned her the biggest payday of her UFC career. Reports say that her total earnings from her UFC Flyweight title fight against Shevchenko stand at around $242,000.
The Fierce Rivalry Between Alexa Grasso and Valentina Shevchenko
There were few who believed Grasso could defeat Shevchenko at UFC 285. But, the Mexican looked strong right from the opening moments of the bout. She recovered from 'Bullet's' takedowns pretty swiftly to accomplish a few takedowns of her own. However, Grasso grabbed onto Shevchenko's back in the beginning seconds of the fourth round pretty swiftly.
In a few more moments, she brought Shevchenko down and locked in a tight face crank choke. Well, it ultimately proved too good for 'Bullet' who found no way except tapping out to the choke. However, a number of fans labeled Grasso's victory as a 'fluke'.
This has hyped up UFC fans about the upcoming rematch between the two. While 'Bullet' will be up to prove that her defeat was actually an exception, which won't repeat itself. Grasso's primary goal will be a successful title defense to prove herself as a worthy champion.
Alexa Grasso Endorsements
Along with an increase in her per-fight payout, Alexa Grasso has also earned a number of sponsorship deals with her rise up the ranks in UFC. Reports state that the 30-year-old has scored endorsement deals with a few noteworthy organizations like STAKE, Pedaguro, and Moya Brand.
Alexa Grasso's Family
ADVERTISEMENT
Article continues below this ad
Alexa Grasso was born on August 9, 1993 in Guadalajara inside the Mexican state of Jalisco. Her mother is named Martha Hernandez and her father's name is Felipe Grasso. If we talk about her sun sign, Alexa is a Leo, and Leos are noted for their ambition and confident personality.
By the age of 18, Grasso had already started fighting in MMA fights. She chose kickboxing as her primary martial arts discipline and started training at 14 years of age. She graduated from the University of Guadalajara with a degree in nutrition, which has aided her in maintaining a healthy lifestyle and the right weight for her.
How to contact Alexa Grasso?
ADVERTISEMENT
Article continues below this ad
| | |
| --- | --- |
| Nickname | NA |
| Age | 27 |
| Born | 08-09-1993 |
| Nationality | Mexican |
| Residence | Mexico |
| Height | 5'5" |
| Weight/Division | 125.5 lb/flyweight |
|  MMA Record | 16-3-0 |
| Active Win Streak | 5 |
| Net Worth | NA |
| Endorsements | NA |
| Marital Status | Unmarried |