Alexandre Pantoja
Alexandre Pantoja 2023: Record, Net Worth, Salary, and Endorsements
Alexandre Pantoja is one of the decorated fighters in the UFC's flyweight division. As of 2023, he sits at #2 in the UFC flyweight rankings. The Brazilian is an aggressive fighter who made a name for himself in multiple promotions before inking a deal with the UFC.
What is Alexandre Pantoja's Net Worth in 2023?
According to FirstSportz, Pantoja's net worth is around $1 million.
Alexandre Pantoja's Salary 
Alexandre Pantoja's career has garnered him earnings of around $250,000. His average salary is estimated to be around $40,000, which aligns with the typical pay range for fighters at his level, ranging from $40,000 to $80,000.
Early Life of Alexandre Pantoja
Alexandre Pantoja Passidomo, born on 16 April 1990, is an active Brazilian mixed martial arts fighter who currently competes for the UFC. He held the title of flyweight champion in both the Resurrection Fighting Alliance and Shooto Brazil organizations. Prior to pursuing a career in mixed martial arts, he served as a soldier in the Brazilian Military. Despite the limited information available about his past, Pantoja's achievements in the MMA world are noteworthy.
Alexandre Pantoja's MMA Career and UFC Record
Pantoja's career has been marked by significant milestones, including his participation in The Ultimate Fighter as a member of Team Henry Cejudo. Despite falling short in the semifinals, he caught the attention of the UFC and earned a contract in the flyweight division. Since his debut in January 2017, Pantoja has achieved remarkable success with notable victories and memorable performances. After winning his promotional debut against Eric Shelton in a closely contested match, Pantoja continued his winning streak with a submission victory over Neil Seery. However, he faced a setback against Dustin Ortiz but quickly rebounded with a unanimous decision win against Brandon Moreno.
Throughout his career, Pantoja has secured impressive victories, including a rear-naked choke submission over Ulka Sasaki and a first-round TKO win against Wilson Reis. Despite a loss to Deiveson Figueiredo, Pantoja showcased his resilience and earned the Fight of the Night award in a thrilling bout. He further demonstrated his skills with a first-round knockout of Matt Schnell.
Pantoja faced ups and downs, including a loss to Askar Askarov and a withdrawal from a fight against Manel Kape. However, he made a triumphant return, winning the rescheduled bout against Kape by a unanimous decision. He continued to impress by securing a rear-naked choke victory over Brandon Royval and a neck crank submission win against Alex Perez.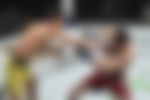 The pinnacle of Pantoja's journey is set for July 8, 2023, at UFC 290 as he prepares to face Brandon Moreno for the UFC Flyweight Championship title. Currently ranked No. 2 in the division, Pantoja aims to solidify his position as the champion.
Alexandre Pantoja's Fighting Style
Alexandre Pantoja possesses a dynamic and versatile fighting style that combines precise striking, dominant grappling, and relentless pressure, making him a formidable and versatile opponent in any matchup. His striking game is formidable, characterized by precise and powerful strikes, complemented by agile footwork and head movement. Pantoja's grappling skills are exceptional, demonstrated through his takedown proficiency, control on the ground, and submission expertise.
View this post on Instagram
With a strong wrestling base, he dictates the fight's position and neutralizes his opponents' attacks. Pantoja's relentless aggression, high work rate, and exceptional cardio make him a constant threat inside the Octagon. Furthermore, he has gained a reputation for his dangerous fighting style, relying on powerful punches and kicks to overpower his opponents. Nicknamed 'The Cannibal', Pantoja has showcased his ability to finish fights decisively, with the majority of his professional wins coming through stoppages. Overall, Pantoja's dynamic style, combined with his aggression and finishing ability, establishes him as a dangerous force in the world of mixed martial arts.
Alexandre Pantoja's Achievements
With a proud record of 25-5-0 in his MMA career, 'The Cannibal' has achieved remarkable accomplishments. In 2014, he claimed the RFA flyweight championship by defeating Matt Manzanares with a rear-naked choke submission.
Throughout his journey, Pantoja has garnered several accolades. In the Ultimate Fighting Championship, he was awarded Fight of the Night once for his thrilling bout against Deiveson Figueiredo. Additionally, Pantoja has received the Performance of the Night honor three times, showcasing his exceptional skills and dominance in fights against Matt Schnell, Brandon Royval, and Alex Perez.
READ MORE: Brandon Moreno Set to Face His Old Rival Alexandre Pantoja Second Time in a Title Defence Bout at UFC 290
His impressive achievements also include being tied with Joseph Benavidez and Brandon Moreno for the third most finishes in the history of the UFC Flyweight division. Furthermore, his July 2019 fight against Deiveson Figueiredo was recognized as the Fight of the Month by MMAJunkie.com.
Alexandre Pantoja's Wife
Despite his fame, Alexandre Pantoja remains a very private individual, preferring to keep his personal life and affairs to himself. This inclination towards privacy suggests a deep care and concern for his family and friends. Pantoja is married to Gabryella Gouvêa Pantoja, but he has chosen to keep the details of his marriage private, revealing only the fact that he is married without divulging further information.
The couple has been blessed with two sons, although specific details about them remain undisclosed. However, their presence on social media indicates that family plays a significant role in their lives, and they prioritize spending quality time together. Pantoja has openly expressed to the press that he credits his family as the driving force behind his success.
View this post on Instagram
In an era where maintaining privacy and fame concurrently can be challenging, Pantoja's ability to strike a balance speaks volumes about his deliberate efforts to safeguard his personal life. By meticulously preserving his privacy, he has managed to maintain his desired level of fame while prioritizing his family and personal growth.
Alexandre Pantoja's Endorsements and Investments
Alexandre Pantoja has not secured any prominent sponsorship deals with big brands, nor have any endorsements been publicly disclosed.
| | |
| --- | --- |
| Age | 33 |
| Born | 04-16-1990 |
| Nationality | Brazilian |
| Residence | Arraial do Cabo, Rio de Janeiro, Brazil |
| Height | 5'5" |
| Weight/Division | 125.5 lb/ flyweight |
| MMA Record | 25-5-0 |
| Active Win Streak | 3 [As of prior to UFC 290] |
| Net Worth | $1 million |
| Endorsements | NA |
| Marital Status | Married |
| Wife | Gabryella Gouvea Pantoja |
How to contact Alexandre Pantoja?