Allyson Felix
Allyson Felix 2023: Net Worth, Salary, and Endorsements
In terms of longevity, no other athlete comes close to Allyson Felix. She is a track runner and a field sprinter. Moreover, she won 11 Olympic medals from five consecutive Olympic Games and cemented her legacy amongst the greats. She has taken part in a lot of competitions like the 4x400-meter relay, 4x100-meter relay, 100 meters, 200 meters, and 400 meters. Likewise, she is the most decorated US track and field athlete.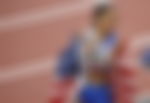 Early Life
The legendary sprinter was born on 18 November 1985 to Paul and Marlean. She attended school in North Hills during her early years. After that, in 2003, Track and Field News named her 'High School Athlete of the Year.' Her performances led to Adidas signing a contract in 2003 while they sponsored her college education at the University of Southern California.
She is married to Kenneth Ferguson and has a daughter named Camryn who was born in 2018.
Athletics Career
The legendary sprinter began her Olympic career at Athens Olympics in 2004 and won the silver medal in the 200-meters. Then, she became the youngest gold medalist at World Championships in Helsinki as she won 200 meters.
Her career skyrocketed from there as she added another silver medal in the 200-meter competition at the 2008 Beijing Olympics. Then, she took part in the 4x400m relay with Team USA and won her first Olympic gold medal.
After her success, she decided to focus on the 200 and 400-meters events in addition to different relay events. The 2012 London Olympics saw her winning three gold medals in the 200 m, 4x400 m relay, and 4x100 m relay. Her medal tally made her the second American to win three gold medals in a single Olympic Games.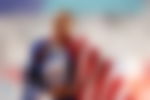 More success was followed by winning numerous World Championships medals and other competitions. The sprinter did not slow down in her fourth Olympic Games at Rio 2016 as she won two gold and one silver medal in those games. After the 2017 World Championships in London where she won medals again, she took a break because of being pregnant.
Felix made her return for the 2019 World Championships in Doha as she won a gold medal in the 4?400 m mixed relay. The sprinter took part in the recent Tokyo Olympics 2020 event and cemented her legacy as one of the greatest athletes in the world. At the age of 35, she took home the bronze medal for the 400-meters competition while winning the gold medal for the 4?400 m relay. Whether she will take part in the Paris Olympics 2024 would be a question mark.
Achievements
Five-time Olympian (2004, 2008, 2012, 2016, 2020); 11-time Olympic medalist (7 gold, 3 silver, 1 bronze)


Olympic Games Tokyo 2020, bronze (400-meter), gold (4x400-meter relay)


Olympic Games Rio 2016, gold (4x100-meter relay, 4x400-meter relay), silver (400-meter)


Olympic Games London 2012, gold (200-meter, 4x100-meter relay, 4x400-meter relay), 5th (100-meter)


Olympic Games Beijing 2008, gold (4x400-meter relay), silver (200-meter)


Olympic Games Athens 2004, silver (200-meter)


Medals: 19 (14 golds, 3 silvers, 2 bronzes)
Allyson Felix Net Worth & Endorsements
Allyson Felix has a net worth of $4.5 million and is one of the richest athletes out there. Earlier, Nike had sponsored her for a long time. But, things went out of hand after she revealed that the company would pay 70% less the amount due to her maternity stage. Thus, she dropped from Nike and signed for Gap's Athleta as she launched her new shoe brand named Saysh.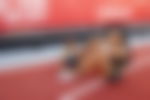 How to contact Allyson Felix?
Twitter: @allysonfelix
Instagram: @allysonfelix
| | |
| --- | --- |
| Age | 35 |
| Marital Status | Married to Kenneth Ferguson |
| Height | 1.68 m |
| Weight | 57 kg |
| Olympic Medals | 11 |
| Nationality | United States of America |
| Olympic Appearances | 2004, 2008, 2012, 2016, 2020 |
| Endorsements | Saysh |