Anthony Davis
Anthony Davis 2021: Net worth, salary, and endorsements
Anthony Davis currently plays professional basketball player for the Los Angeles Lakers in the National Basketball Association (NBA). He started his career in the league with New Orleans Pelicans, or New Orleans Hornets as it was known then.
Born March 11, 1993, Davis became the 2012 NBA Draft's first overall pick after just one season of college basketball for the University of Kentucky. Moreover, it just took him one more year to become an NBA all-star.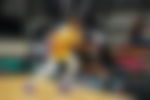 He made his first playoff appearance in 2015. In the next season, he signed a five-year, $145 million contract extension with the Pelicans. However, a few months into the season, Davis had to end the season due to shoulder and knee injuries.
ADVERTISEMENT
Article continues below this ad
Davis has several tattoos on his body, a few visible while playing ball. Notably, he has a tattoo of Mamba as a tribute to Kobe Bryant.
Anthony Davis and Los Angeles Lakers
After Magic Johnson brought in LeBron James to the Lakers, he also made attempts to bring Anthony Davis to the club. After failing to sign him during the 2018/19 season, Davis requested a trade with the Pelicans. In the following offseason, the Lakers signed Davis to form an enviable duo of James and Davis. Together, they have led the Lakers to among the best teams in the league.
Major achievements
7× NBA All-Star (2014–2020)
NBA All-Star Game MVP (2017)
4× All-NBA First Team (2015, 2017, 2018, 2020)
2× NBA All-Defensive First Team (2018, 2020)
2× NBA All-Defensive Second Team (2015, 2017)
3× NBA blocks leader (2014, 2015, 2018)
NBA All-Rookie First Team (2013)
Anthony Davis stats
After 535 games in his NBA career, Davis has averaged 24 points, 10.4 rebounds, and 2.3 assists per game. Currently, in the 2020-21 season, he is averaging 22.3 points, nine rebounds, and 3.6 assists per game. (via Basketball-reference)
Anthony Davis net worth 2021
Initially, Davis had a $127 million worth contract. He was eligible for a supermax extension that was worth a record $230 million. In 2019, he joined the Lakers.
After winning the championship in 2020, Davis signed a mammoth contract extension with the Los Angeles Lakers. The deal will see him earning $190 million through five years, including a guaranteed sum of  $189,903,600.
Furthermore, Davis would've earned $152,666,234 in salary upon the competition of the 2020/21 NBA season. His value is estimated at $60 million by Celebrity Net Worth.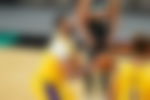 Anthony Davis endorsements
Anthony Davis is estimated to be earning $9 million off endorsements. His off-court earnings were given a boost in 2017 when Davis signed a multi-year extension with Nike. Apart from Nike, he also endorses other major brands including Saks Inc., ExxonMobil, Foot Locker, and Red Bull.
Anthony Davis foundation and charity
The Anthony Davis family foundation announced a $250,000 matching donation commitment to support the launch of the "Help Feed the Frontline Fighting COVID 19 - LA" campaign. Davis had many contributions towards charity. He has been a recipient of the NBA Cares Community Assist Award in recognition of his charitable efforts throughout New Orleans.
ADVERTISEMENT
Article continues below this ad
How to contact Anthony Davis?
 Anthony Davis's Twitter: https://twitter.com/AntDavis23
Anthony Davis's Instagram: https://www.instagram.com/antdavis23/?hl=en
ADVERTISEMENT
Article continues below this ad
| | |
| --- | --- |
| Age | 27 |
| Marital Status | Unmarried |
| Girlfriend | Marlen P |
| Nationality | American |
| Team | Los Angeles Lakers |
| Rings | Nil |
| Height | 6′ 10″ (2.08 m) |
| Weight | 115 kg |
| Wingspan | 2.27 m |
| Shoes | Nike |
| Endorsements | Saks Inc., ExxonMobil, Foot Locker, Nike, Red Bull |