Antonio Brown
Antonio Brown 2022: Net Worth, Salary, and Endorsements
Antonio Brown is often regarded as one of the best, if not the best wide receivers of the 2010s. The Central Michigan Chippewas player played just 3 years of college football before opting to enter the 2010 NFL draft. Here, he found a team in the 6th Round as the 195th overall pick, as the Pittsburgh Steelers decided to bolster their wide receiver corps.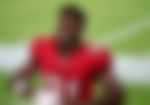 Brown spent 9 seasons as part of the ?Black and Gold Brigade? roster, before requesting a trade at the start of the 2019 season. Following this, he had short-lived spells with the Oakland Raiders and the New England Patriots. Following this, he signed a 1-year deal with the Tampa Bay Buccaneers mid-season (2020) on October 27th, which resulted in a Super Bowl. He again signed a 1-year contract with them on April 28, 2021, but this time he ended up parting ways with the franchise in January 2022.?
Antonio Brown Stats
As per NFL.com, Antonio Brown has played 146 regular-season games in his NFL career. 130 of these came as part of the Pittsburgh Steelers. He played just 1 game for the New England Patriots, while 15 with the Tampa Bay Buccaneers. The NFL star has made 928 receptions and has covered 12,291 yards. In the regular season, the wide receiver has registered 83 total touchdowns.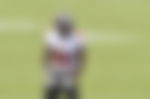 In addition to being a wide receiver, Antonio Brown has earned plaudits for his rushing game too. Due to this, he features in special teams as a kick returner and has 234?regular-season punt/kick returns.
Whilst returning, he has helped his NFL sides progress for 2,934 yards. Furthermore, he has reached the end zone 5 times whilst on the field with his NFL franchise?s special team.
According to?Pro-Football-Reference, Antonio Brown has featured in 13 post-season games in 7 different seasons. He won the Super Bowl LV with the Tampa Bay Buccaneers during his 2020 season.?
As a wide receiver in the Playoffs, Brown has 59 receptions and 918 receiving yards. Furthermore, he has 6 touchdowns to his name. On the returning side of things, he has 25 postseason punt/kick returns and has taken his side forward by 314 yards.?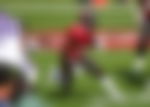 ?Whilst with the Steelers, he led the NFL for receiving yards on 2 occasions in 2014 and 2017. In the 2018 NFL season, Brown led the NFL in receiving touchdowns with 15 to his name.?
In his final 5 NFL seasons (2015-2019) with the Pittsburgh Steelers, Antonio Brown featured in the Top-10 of the annual NFL Top-100s lists.?
Brown was reinstated from suspension and was activated by the Buccaneers on November 3rd, 2020. In week 15, he recorded 5 catches for 93 yards and a touchdown. This was Brown's first touchdown of the season and as a Buccaneer.
Super Bowl LV victory
Antonio Brown won the Super Bowl in his debut season with the Buccaneers alongside Tom Brady. During his championship season, the wideout made 53 receptions (including playoffs) for 564 yards and 6 touchdowns in his 11 games.
He won the first Super Bowl of his career against the Kansas City Chiefs in the Raymond James Stadium. The Bucs downed the Chiefs 9-31 for which Antonio contributed 22 yards and 1 touchdown in 5 receptions.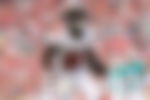 Antonio Brown 2022 Net Worth
As per Celebrity Net Worth, the wide receiver has a net worth of $20 million. At one time, Brown was the highest-paid receiver in the NFL until Odell Beckham Jr. burst on the scene. Several controversies have cost him dearly, as his Tampa Bay deal was a $1 million base salary. This pales in comparison to the $17 million per year average in his initial Pittsburgh Steelers run.
Celebrity Net Worth tally Brown's NFL career earnings to $77 million. His stint with the Patriots was potentially lucrative; however, a guaranteed $30 million was flushed away. The talented WR will have transitioned from $30 million guaranteed to $9 million guaranteed to just $158, 333 for the 2019 season due to controversies.?
Antonio Brown Records
'AB' is a Super Bowl champion with the Tampa Bay Buccaneers, and a 7-time Pro Bowler all of which came during his run with the Steelers. Additionally, he came in as a 4-time First-team All-Pro in a run that lasted from 2014 to 2017. Antonio was the league leader twice in 2014 and 2017 for receiving yards.
Some of his pre-NFL highlights come in the form of a 2-time First-Team All-American winning effort in 2008 and 2009. Not to mention, he repeated the same feat as an All-MAC in those two years.
2022 Foundation and Charity
Antonio Brown doesn?t have any charities of his own. However, the NFL wide receiver has been very active in giving back to society. As per Steelers Wire, Brown volunteered with the Greater Pittsburgh Community Food Bank.?
In collaboration with Campbell Soup Company, the wide receiver presented the Food Bank with a number of soup bowls. As per ESPN, in 2016, Antonio Brown donated $ 100,000 just a few days before Christmas to the children?s hospital in Pittsburgh. He also teamed up with public schools in Pittsburgh to provide supplies to school children.
His recent troubles have caused some issues on the charity front, as some charities have been looking to sever ties. Following a slew of incidents in January 2020, the Hollywood Police Department returned a check from Brown and issued a trespass order stating they no longer want Brown to be associated with their youth league.
2022 Endorsements
Antonio formerly had an endorsement with Nike, which was pulled due to unsavory allegations that were alleged. Antonio Brown is no longer a 'Nike Athlete', a company spokesperson told FOX Business. Moreover, he also lost an endorsement deal with helmet maker Xenith just days after their partnership was announced.
How to Contact Antonio Brown?
Instagram- ab
Twitter- @AB84
Born
July 10, 1988

?(age?33)

Weight
185 lbs (84?kg)
Height
5 ft 10 in (1.78?m)
Position
Wide Receiver
Wife
Unmarried
Kids
5
Endorsements
Nike, Pepsi, Xenith (Former)
Agent
Ed Wasielewski
Residence
Fort Lauderdale, Liberty City
NFL Career
Pittsburgh Steelers (2010?2018)

Oakland Raiders (2019)
New England Patriots (2019)
Tampa Bay Buccaneers (2020?2021)

Super Bowl
1 (LV)
Major Achievements
Super Bowl?champion (LV)

4 x First-team All-Pro (2014?2017)

7 x Pro Bowl?(2011,?2013?2018)

NFL 2010s All-Decade Team