Aric Almirola
Aric Almirola- Net Worth, Salary, and Endorsements
Aric Michael Almirola is a stock car racing driver. He at present is competing for Stewart-Haas Racing. While he grips the steering for the No. 10 Ford Mustang cockpit.
According to Sports Virsa, Almirola has a net worth of $2 million. However, his base salary accounts for $2.5 Million.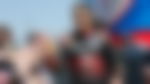 Aric Almirola Stats and Championships
ADVERTISEMENT
Article continues below this ad
Aric Almirola set his foot for racing at the tender age of 14. His inception in NASCAR was in 2002. Not only he ranked second in the Rookie of the Year but also bagged five pole position in the following year.
In 2004, he claimed the name for being the first driver to compete in the Drive for Diversity Program of NASCAR. Furthermore, he competed at the Ace Speedway, where he achieved two victories and also ranked 11th in the points chart.
In 2005, he clinched on five triumphs and began his term in Morgan- Dollar Motorsports in the Truck Series.
At NASCAR Gander RV and Outdoors Truck Series Almirola raced for eight years competing in 78 races. In 2010, Dover 200, he grabbed his maiden prize. However, his last victory is marked in 2010 VFW 200.
In the entire tenure, Almirola has 2 wins, 38 Top Tens, and 0 poles under his belt.
In his 11-year tenure at NASCAR Xfinity Series, Almirola competed in 102 races. He recorded his best finish as 4th in 2011. Following that, his account holds three victories, 38 Top Tens, and 5 Poles.
His first win was in 2007, AT&T 250, while his last win is in 2017 Sparks Energy 300.
At the NASCAR Cup Series Almirola is racing for 13 consecutive years summing 353 races under his name. His best finish is in 2018, ranking fifth. He bagged 2 titles, 79 Top Tens, and 2 Poles. However, his first win is recorded in 2014 Coke Zero 400 while his last at 2018 1000Bulbs.com 500.
Aric Almirola Charity and Foundation
In the realm of Charity and Foundations, Almirola has been very active. He supports Operation Homefront vastly with funding and philanthropy.
He and his wife Janice have a foundation too, The Almirola Family Fund, which collects a fund for the Levine Children Hospital. Almirola also supported several families during the global pandemic situation.
He has also supported several Charities aiming to help the communities.
Aric Almirola Family
Aric Almirola is the youngest child of Ralph Almirola Jr. and Bobbi Almirola. Subsequently, his grandfather Sam Rodriguez competed as a dirt sprint car driver.
Church Bells rang for Aric and Janice Almirola in 2010. Following that, the couple gave birth to a son (Alex) and a daughter (Abby) too in consecutive years 2012 and 2013.
ADVERTISEMENT
Article continues below this ad
How to contact Aric Almirola
To contact Aric Almirola, there is a website of him along with a mail address. He shares his opinions and thoughts through Twitter and Instagram.
| | |
| --- | --- |
| AGE | 36 |
| HEIGHT | 6 ft 0 in |
| MARITAL STATUS | Married |
| SPOUSE | Janice Almirola |
| KIDS | 2-Alex and Abby Almirola |
| NATIONALITY | American-Cuban |
| SALARY | $2.5 Million |
| ACHIEVEMENTS | 2014 Coke Zero 400 |
ADVERTISEMENT
Article continues below this ad