Ben Simmons
Ben Simmons 2022: Net worth, salary and endorsements
Benjamin David Simmons or Ben Simmons was born in Melbourne, Australia on July 20, 1996. He was born to an American-born father, Dave, who played pro basketball in Australia.
As a youngster, Simmons was interested in Basketball and Football (Soccer as it is known in the US) in Australia. As a teenager, he eventually chose to concentrate on Basketball. At the age of 15, Simmons played basketball for?Box Hill Senior Secondary College?at the 2011 Australian Schools Championships before taking up a scholarship at the?Australian Institute of Sport?in 2012. Later that year, Simmons made his first appearance in the United States at the renowned Pangos All-American Camp for basketball prospects.
After moving to the United States, Simmons played college basketball for one season with the Louisiana State University (LSU) Tigers, when he was named a consensus first-team All-American and the USBWA National Freshman of the Year. In 2016, Philadelphia 76ers drafted him with the first overall pick in the NBA draft that year. He became the third Melbourne-born number one overall pick (after Andrew Bogut?and?Kyrie Irving) in 11 years.
After sitting out a year due to an injured right foot, he was named the NBA Rookie of the Year in 2018. In the next season, he received his first All-Star selection. During the 2019-20 season, he evolved as a defender and notched his game up a level. He earned another All-Star appearance, along with his first All-NBA and All-Defensive team appearance too.
Following a poor outing in 2020-21, he refused to play for the 76ers franchise. After sitting out the entire season, Simmons was traded to the Brooklyn Nets in February 2022. However, things remained the same as Simmons didn't feature for the Nets even once.
Major on-court achievements
3? NBA All-Star (2019, 2020, 2021)
All-NBA Third Team?(2020)
2 x NBA All-Defensive First Team (2020, 2021)
NBA Rookie of the Year?(2018)
NBA All-Rookie First Team?(2018)
Consensus first-team?All-American?(2016)
USBWA National Freshman of the Year?(2016)
First-team All-SEC?(2016)
SEC Freshman of the Year?(2016)
Mr. Basketball USA
Ben Simmons stats
In the 2020-21 season, Simmons averaged 14.3 points, 7.2 rebounds, and 6.9 assists per game. He didn't play a single game throughout the 2021-22 season.
His career averages are 15.9 points, 8.1 rebounds, and 7.7 assists per game. In total, he has played only 275 regular season games in six years as he has sat out two entire seasons.
Ben Simmons 2022 net worth
Celebrity net worth estimated the net worth of Ben Simmons as $6 million. In 2016, he had initially signed a rookie-level contract with the Sixers. Before the start of the 2019/20 season, Simmons and the Sixers agreed to a rookie max contract extension for five years reported to be around $170 million.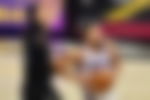 Simmons is the third highest-paid NBA rookie ever. Ben Simmons' primary endorsement is with the athletic apparel giant Nike, which signed the hoops supernova to a $20 million contract during his rookie season. The deal does offer bonus incentives that could boost his Nike contract to $40 million in value.
| | |
| --- | --- |
| Age | 26 |
| Marital Status | Unmarried |
| Nationality | Australian/American |
| Height | 6? 10? (2.08 m) |
| Weight | 109 kg |