Bubba Wallace
Bubba Wallace: Net Worth 2023, NASCAR, Wife, and More
William Darrell "Bubba" Wallace Jr. popularly known as Bubba Wallace is one of the most well-known faces in the NASCAR Cup Series. Having raced in the competition for over six years now, Wallace earns pretty well with his current team 23XI Racing. His on-track success has helped him build an approximate net worth of $3 million.
Several partners have joined Wallace and 23XI Racing for their 2023 campaign. While DoorDash remains his primary sponsor, he is the brand ambassador of Columbia Sportswear. His other significant sponsorship deals include McDonald's, Leidos, Dr. Pepper, and many others.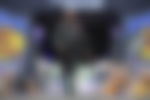 BRISTOL, TENNESSEE - SEPTEMBER 17: Bubba Wallace, driver of the #45 MoneyLion Toyota, walks onstage during driver intros prior to the NASCAR Cup Series Bass Pro Shops Night Race at Bristol Motor Speedway on September 17, 2022 in Bristol, Tennessee. (Photo by Logan Riely/Getty Images)A small part of Wallace's income comes from his ventures in the media. He was seen in the musical video for Post Malone's 2021 song "Motley Crew". His Netflix documentary "Race: Bubba Wallace" had a good response. This six-episode series helped him get his message passed on to a larger audience.
Bubba Wallace family (update)
Wallace is happily married to his long-time girlfriend Amanda Carter. Interestingly, they were together in high school but there was nothing between them then. It all started when Carter made a presence to watch one of Wallace's races in Las Vegas. Things turned around then and after dating for five years, the Alabama-born racer proposed to her, to which she had a positive response with no hesitance.
The couple got married on New Year's Eve last year in grand fashion. It all took place at JW Marriott in Charlotte, North Carolina. 250 guests including many of his NASCAR friends attended Wallace's special occasion. William Byron, Daniel Suarez, Ryan Blaney (the groomsman), and Dale Jr were some of the notable attendees.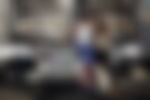 Having celebrated his wedding in fabulous fashion, Wallace doubted one of his choices made. However, it was a wonderful event uniting two amazing people. In fact, Amanda is known to be as strong a character as Wallace given how she handles her trollers.
Bubba Wallace Championships (update)
Wallace started his Cup Series career with Richard Petty Motorsports in 2017. However, despite his best efforts, his true success came when he joined 23XI Racing in 2021. His first-ever win in the competition came in the very year when he entered the victory lane at Talladega Superspeedway.
The following year Wallace registered his second victory at Kansas Speedway, which made him the only African American driver to win more than once in the Cup Series. With 12 top-five finishes and 23 top-ten finishes in 188 starts so far, he has shown to have the potential to make it big. No wonder, why his boss Denny Hamlin strongly believes in him.
Bubba Wallace and Kyle Larson fight
It was a heated affair at Las Vegas Motor Speedway last October. Both Bubba Wallace and Kyle Larson were racing in the top 10 but it all went wrong when the latter tried to make a pass. In the process, he hit the inside of Wallace's car, pushing him into the wall. Agitated by the move, Wallace retaliated by sliding down the track and apparently crashed intentionally into Larson's right rear.
The incident was both drivers end onto the infield grass, taking Christopher Bell with them. The actual drama started later as after exiting the vehicle safely, Wallace confronted Larson using his hands, shoving him multiple times. Larson didn't react wildly to it before an official separated them.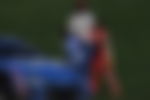 The Hendrick Motorsports driver accepted he made a mistake in judging the circumstances but it is what it is on the tracks. That being said, Wallace's reaction was uncalled for, for which he apologized later. He issued an apology to NASCAR, Christopher Bell, Joe Gibbs Racing, and Toyota for letting his frustration get the better of him.
While many criticized Wallace for this incident, one of his biggest critics was Kyle Petty. Richard Petty's son wanted NASCAR to suspend Wallace for the rest of the year as some assumed "forever". Recently, those comments resurfaced when Kyle Petty was critical of Wallace's good friend Ryan Blaney.
However, NASCAR wasn't going to get influenced by anyone. They suspended Wallace for one race for his offense at Lap 94 of the South Point 400. It was a well-learned lesson for the 23XI Racing driver.
Bubba Wallace Netflix documentary
In the early days of 2022, Wallace released his documentary Race: Bubba Wallace. While it covered a good part of his time at 23XI Racing so far, a lot of focus in the documentary is given to highlighting several social issues. Given the activist Wallace is, it highlights his say on the Black Lives Matter movement and what it is like to be a black man in America.
The documentary shares some interesting insights into what goes on behind the scenes in NASCAR. While it is intriguing for the viewers, the emotions and pressure involved in the sport are very well portrayed by Wallace.  It also deep dives into the events that took place post the George Floyd incident.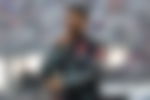 It is well-known that Wallace used to be surrounded by controversies and continues to do. The documentary takes a good look at the infamous "noose" incident in 2020 where he received support from his fellow motorsport drivers. It was one of the toughest years of his career as he battled depression. This phase is quite well depicted in the documentary.
Overall, it is an interesting watch both for a neutral fan and a NASCAR lover. Fans can understand the pain and hardships Wallace went through in his career via this documentary. With a 6.5 rating on IMDB, the documentary has had a decent response in the market. It had a bold approach from the onset discussing some uncomfortable issues. Not many drivers would opt to go down this road with their documentaries.
Bubba Wallace and Michael Jordan connection
In 2020, NBA great Michael Jordan planned to invest in a NASCAR team. After some serious contemplation, he formed the 23XI Racing team in partnership with three-time Daytona 500 winner Denny Hamlin. The duo found Bubba Wallace apt to become their team's first-ever driver and signed him on a three-year deal.
Wallace and 23XI Racing's first-ever win came at Talladega Superspeedway. The team's second victory came in Kansas in 2022 again with Wallace. Citing his impressive performances with the team, Hamlin and Jordan secured Wallace's services with a multi-year contract extension last season.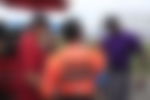 Before signing him for 23XI Racing, Jordan was rumored to invest in Richard Petty Motorsports for whom Wallace used to race for. When the six-time NBA champion called Wallace to race for his team, the 29-year-old was left star-struck. In fact, Wallace has repeatedly explained how Jordan has been understanding and kept believing in him from the onset.
Wallace has a strong relationship with Jordan and that is reflected in how he gets treated. It is rumored that to hang out with Jordan, one has to wear his sneakers or Nike. When asked Wallace about this, he confirmed how Jordan makes an exception for him in this case.
For the 2023 season, Wallace has a new teammate in Tyler Reddick. While Bubba Wallace is an outspoken and bubbly character, Reddick is quite the opposite. Despite having two contrasting personalities, 23XI Racing has done well to keep them together and get the best out of them. In fact, Reddick already has a win to his name after entering victory lane in the Circuit of The Americas in the 2023 campaign.
| | |
| --- | --- |
| Name | William Darrell Bubba Wallace Jr |
| Born | 8th October 1993 |
| Place of Birth | Mobile, Alabama |
| Nationality | African-American |
| Education | Northwest Cabarrus High School |
| Parents | Darrell Wallace Sr and Desiree Wallace |
| Height | 5'6" |
| Weight | 165 lbs/75 kg |
| Wife | Amanda Carter |
| Kids | None |
| Social Media | Facebook |