Caleb Plant
Caleb Plant's Net Worth in 2023, Career, and Family
Caleb Plant: Net Worth 2023
Caleb Plant turned professional in 2014 and has so far participated in twenty-three matches, out of which he lost only one to Canelo Alvarez, back in 2021. His twenty-fourth match will occur at Nevada's MGM Grand Arena on March 25. 
ADVERTISEMENT
Article continues below this ad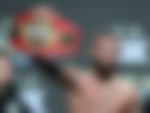 On January 13, 2019, he became the IBF Super Middleweight champion, defeating the Venezuelan boxer Jose Uzcategui. He defended it successfully for the next two years till the Mexican Alvarez snatched it away in 2021. 
Regarding money, boxing is still Caleb Plant's primary source of income. However, his overall worth has increased as he began taking on bigger opponents. Thus we may estimate Plant's net worth to be somewhere between $2 to $5 million based on published articles from various online sources.
Below are some available fight purses of Caleb Plant:
November 6, 2021: Versus Canelo Alvarez - Plant lost the match in the eleventh round through a technical knockout. Reportedly, his fight purse was $10 million.


January 30, 2021: Versus Caleb Truax - 'Sweethands' won the match unanimously. Reportedly, his fight purse was $750,000.


July 20, 2019: Versus Mike Lee - Caleb Plant dominated Lee and won after the referee stopped the match in the third round. Reportedly, his fight purse was $750,000.



January 13, 2019: Versus José Uzcátegui - Plant won unanimously over the Venezuelan boxer and received his first world title. Reportedly, his fight purse was $150,000.
Since competing at a professional level inevitably leads to sponsorship deals, it was only a matter of time before Plant got signed up. One of his major sponsors is SNAC, a sports nutrition firm founded in 1987 by Victor Conte. The company's brand logo is prominently displayed on his training kit and apparel. Another business with the 'Sweethands' stamp of approval is Avianne Jewelers. Finally, he is said to be affiliated with Show Heaven as well.
Caleb Plant's childhood and early life
Caleb Plant was born on July 8, 1992, to Richie Plant, a former kickboxer, and Beth in Ashland City, Tennessee. Reportedly, a double-wide trailer served as their home. 
His parents struggled to provide a comfortable life for their family. As a result, he had a difficult upbringing. However, thanks to his father's background in martial arts, young Caleb Plant initially took to kickboxing and reportedly won amateur championships before switching to boxing.
Caleb Plant graduated from Sycamore High School in 2010. No information regarding his higher education or whether he pursued a college degree after school remains unascertainable. 
But based on a 2019 article in BoxingScene, during the press conference of the fight against Mike Lee, he reportedly said, "Come July 20th, I'll have been doing this for 18 years straight. No breaks, no distractions, and no Plan B. So even though it's honorable in itself because there's honor in all work, I commend you for this – but no college degree for me." 
Four years after passing out of high school, Plant became a professional boxer.
Caleb Plant's family
After defeating Jose Uzcategui for the IBF Super Middleweight title in February 2019, Caleb Plant publicly proposed to his girlfriend of three years, Fox Sports Correspondent Jordan Hardy, at the fight venue in Los Angeles, California. Their marriage took place in the November of that year.
Reportedly, the couple started seeing each from 2016. On August 25, 2022, their daughter Charly Lynn Plant was born.
But before he met Hardy, Plant was in a relationship. It was his childhood sweetheart Carmen Jean Briscoe-Lee. They were together for a considerable period. When he turned twenty and Briscoe-Lee was nineteen, they had a daughter, Alia Plant. 
Unfortunately, their daughter's worsening medical condition and subsequent demise devastated their relationship, and they eventually broke up. 
Regarding siblings, Caleb Plant is the middle child between two sisters, the elder Hannah, and the younger Madeline. Unfortunately, only a few details about their education and career are available.
Caleb Plant's boxing career
It was boxing that served as an escape from life's harsh realities. Richie Plant first introduced him to the sport when he was nine. Young Caleb would learn his trade in his father's makeshift gym. Despite the lack of amenities, he spent countless hours there to become the fighter he is today.
Plant improved as an amateur and participated in one hundred and seventeen bouts, out of which he won ninety-seven. In 2011, he grabbed the Light Heavyweight gold medal at the National Golden Gloves championships held in Indianapolis. 
His exploits were noticed, and he was selected as an alternate for the 2012 U.S. Olympic team. Two years later, on May 10, 2014, he fought his first professional fight against Travis Davidson at the Galen Center in Los Angeles, California. 
The match that helmed his name to the headlines was against Jose Uzcategui of Venezuela. The unanimous win not only fetched his first title but also paved the way for a title unification bout against celebrated Canelo Alvarez on November 6, 2021, at the MGM Grand Arena.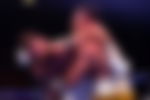 Though he lost the battle and the title, a smashing knockout victory over former WBC Super Middleweight champion Anthony Dirrell settled all the doubts regarding his chin.
Caleb Plant's Signature Boxing Techniques similar to those of Floyd Mayweather
A pure technical boxer, Caleb Plant enjoys his reputation as a boxer who excels technically. That is because he uses his excellent jab as the primary weapon to keep the opponent at a distance and, at an opportune time, find an opening to launch a counterattack.
His go-to tactic is to bait his opponents to strike him. That invariably leaves him with an opening to counter with powerful blows, including body shots. With his near-perfect punching combinations while fighting at a close range, Plant displays why he earned the sobriquet 'Sweethands.'
Most fans and followers can make out his stance that strikingly resembles Floyd Mayweather Jr.'s, 'Philly Shell'.
Strong Jab:
Caleb Plant's jabs are noted for being lightning-fast and very effective. However, he prefers keeping it low in the style of Mayweather Jr. and Roy Jones Jr. In particular, while jabbing from the inside or outside, Plant keeps his head slightly off the opponent's center line.
He is also known to experiment with his jabs frequently. He will try throwing it either to the head or the body from a variety of angles. In addition, he uses a jab to create a space between himself and the opponent as a simple defensive maneuver.
Finally, experts have observed him throw a flurry of jabs simultaneously at different parts of the opponent's body. Thereby it confuses the opponent and forces them into a more defensive approach.
Pull Counter:
The 'Philly Shell' usage makes Caleb Plant's jabs more erratic. But it also lends him a significant advantage. When it boils down to defense for the simple reason that when pinned against the ropes, he can use the mobility of his hips to duck and weave to avoid getting hit.
Alternatively, he can also roll over his shoulder with his right hand. Next, by leaning his head forward, he frequently baits an opponent to try a jab. But he will immediately counter with a right hook or a straight right and quickly cut to the right.
Use of footwork to create angles and maintain distance:
Caleb Plant uses his feet brilliantly, pivoting precisely. So he thrives in a defensive position and waits for a counterattack. He often takes tiny linear steps backward when he tries to feel up a jab or a feint. In a nutshell, he patiently waits for the ideal moment to throw either a combination of punches or counter with his right.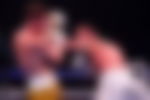 Plant's sidesteps and crossover moves are equally brilliant. He typically escapes to his right to ensure a return to the ring's center while fighting a forceful opponent. There he would be able to exercise more control. 
Combinations:
Effective and rapid combinations are another of Caleb Plant's many strengths. Now he tends to display lightning-fast reflexes to throw a combo and immediately rolls out of the way of close-range counterattacks with his feet or waist.
His frequently used strikes are Jab to the head, right Hook to the body, left Hook to the body and left Hook to the head.
Caleb Plant's car collection and other luxuries
Unfortunately, there's a shortage of data regarding Caleb Plant's garage. But he is said to own a Lamborghini Aventador. In the U.S., on average, its price starts from $500k. He seems to possess a Bugatti too, but there's a lack of clarity on the model.
Additionally, he owns a 1964 Chevrolet Impala SS Convertible. It is estimated to be worth somewhere in the neighborhood of $500k.
As far as properties are concerned, apart from a house in his hometown Ashland City, Plant also seems to own a property in Los Angeles, California.
Caleb Plant's most significant loss was his 19-month-old daughter
Caleb Plant lost both his mother and daughter, but he persevered to win a world title. He came across the devastating news that his daughter was in critical condition. Alia Plant died from pneumonia she contracted due to a respiratory infection in January 2015. She was only nineteen months old. 
In May of 2014, not long after Alia Plant turned one, 'Sweethands' embarked on his professional journey. He had five clean wins in his kitty and a bout scheduled by the end of January 2015.
But sadly, Alia Plant could not hold on any longer and left the world on January 29 in her mother's arms.
Incredibly, in just five weeks, Plant was back in the ring, promising to continue fighting until he achieved the world title he had pledged to her. His moment of glory didn't come until January 2019.
Caleb Plant's maiden loss in the biggest fight of his career against Canelo Alvarez
On November 6, 2021, Caleb Plant fought the reigning WBA, WBC, WBO, and the Ring Super Middleweight champion Canelo Alvarez at Nevada's MGM Grand Arena. It was a title unification bout to settle the question of an undisputed champion for the 168 lbs. division.
'Sweethands' suffered the first loss of his career. In the eleventh round, a combination of a left hook and a right uppercut sent Plant to the canvas.
Though he tried to recover, a flurry of punches from the Mexican sent him down again, forcing the referee to stop the fight.
Caleb Plant received $10 million plus 40% of the overall PPV revenue.
Caleb Plant's beef with the Benavidez brothers
Caleb Plant's bout against David Benavidez is scheduled on March 25. But the big match, apart from grabbing headlines for the clash between two of the most talented and skilled middleweights in the world, is catching everyone's attention for the bitter feud between the two boxers.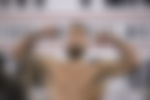 Reportedly on good terms initially, things turned sour on account of claims and counterclaims as alleged by respective camps. It was at the press conference where the two nearly came to blows but for the timely intervention by the security personnel.
A video doing rounds on YouTube shows a gym altercation between the Benavidez brothers and Caleb Plant.
Caleb Plant acquired a domain named after his opponent
ADVERTISEMENT
Article continues below this ad
Despite visible intimidation from the Benavidez camp, Caleb Plant seems to be winning accolades for standing firm. 
Stepping up further, he went so far as to buy the domain name of his archrival and turn it into a website that showcases highlights from his pre-fight documentary and an online store selling Plant's merchandise.
How to contact Caleb Plant?
ADVERTISEMENT
Article continues below this ad
Instagram, Twitter, Facebook, Website
| | |
| --- | --- |
| Name | Caleb Hunter Plant |
| Born | 8 July 1992 |
| Place of Birth | Ashland City, Tennessee, U.S.A |
| Nationality | American |
| Education | High School |
| Parents | Father - Richie Plant; Mother - Beth Plant |
| Height | 6'1'' |
| Weight | 168 lbs |
| Record | 22-1-0 |
| Wife | Jordan Plant nee Hardy |
| Kids | 1 - Charly Lynn Plant |
| Shoe Size  | 44 EU / 9.5 UK / 10 US |