Carmelo Anthony
Carmelo Anthony 2021: Net worth, Salary, and Endorsements
Carmelo Anthony is a six-foot-seven forward who plays for the Los Angeles Lakers?in the NBA. He was born on May 29, 1984, to Mary Anthony and Carmelo Iriarte. Anthony was the third overall pick in the 2003 NBA draft.?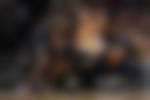 Anthony?s parents moved to Baltimore before his teenage years, which allowed him to gain more exposure in basketball. He attended two different high schools, one being the Towson Catholic where he played for three years.?
The Brooklyn native reached a tremendous height by his junior year and attracted several scouts with his impeccable talent. Anthony?s mother transferred him to Oak Hill Academy in Virginia for his senior year.?
After getting off to a 67-0 win streak with Oak Hill, Anthony finally faced defeat against a LeBron James-led St. Vincent-St. Mary high-school. The Oak Hill forward was one of the top-rated recruits coming out of high-school and had the option to forego college and join the NBA.
Despite being eligible to enter the league, Carmelo Anthony decided to attend one year at Syracuse for more experience. The Syracuse Orange went on to win the NCAA championship in Anthony?s freshman season, and he averaged 22.2 points during the championship run.?
As for his personal life, Carmelo Anthony got engaged to La La Anthony in 2004. The couple tied the knot in 2010, three years after the birth of their son Kiyan.?
Their relationship suffered rocky instances late in the 2010s and both parties mutually agreed for a divorce, but La La and Melo seem to be back together for good.
Carmelo Anthony NBA Career
Anthony initially wanted to play at Syracuse for a longer period, but felt the need to leave after winning the championship as a freshman. He set out on a new endeavor, and the Denver Nuggets used their third overall pick to select Melo in the 2003 NBA Draft.?
He made his debut against the San Antonio Spurs and averaged an impressive 21.0 points per game as a rookie. Anthony finished second in the Rookie of the Year voting behind LeBron James and replicated similar form in the subsequent seasons as well.?
He played with the Nuggets for eight years and registered several iconic moments with them. He reached his prime during the late 2000s and notched up 30 point games for fun. After posting incredible numbers in Denver and averaged 24.8 PPG in eight seasons, Anthony was then traded to the New York Knicks in 2011.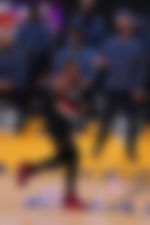 Trouble with the Knicks and career resurrection?
Melo to the Knicks was a dreamy move, and fans in New York went crazy about him joining their franchise. He had developed as one of the league?s best players by that time, but collective success was hard to come by for the team.?
Melo averaged 24.7 points and 2.4 blocks per game in seven seasons with the Knicks and had a fallout with Phil Jackson, who the President of the franchise at that period. Jackson wasn?t keen on keeping Anthony as he felt the forward didn?t fit well in his offensive plans.?
Thus, Anthony was consequently sent to OKC when he played for a year. Melo?s career took a sharp downward spike after his Knicks exit, and the 'superstar' status soon left his name after a dip in scoring averages.?
He then joined the Houston Rockets after one year in Oklahoma, a move that put a dark dent in Melo?s career. He just played ten games for the Rockets as the team snubbed him without releasing his contract.?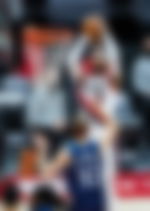 The Rockets then traded Melo to the Blazers in 2019, where he found a beam of shining light once again.
Though age caught up, Melo was able to perform at a challenging level in Portland. His veteran experience proved to be the perfect match for the team?s young core.?
After acting as the spark plug off of the bench, the Trail Blazers were not willing to take back the veteran forward to the team. But Melo had a special team waiting for him in the off-season, close friend LeBron James' Lakers.
The Purple and Gold who have been on a roll of signing veterans, brought up Melo as they needed shooting in their team. Given that the 2021-22 season will be the first time LBJ and Melo will play with each other, fans simply can't wait to see the duo this season.
Major Achievements?
10? NBA All-Star (2007, 2008, 2010?2017)
2? All-NBA Second Team (2010, 2013)
4? All-NBA Third Team (2006, 2007, 2009, 2012)
NBA scoring champion (2013)
NBA All-Rookie First Team (2004)
NCAA champion (2003)
NCAA Final Four Most Outstanding Player (2003)
Consensus second-team All-American (2003)
USBWA National Freshman of the Year (2003)
No. 15 retired by Syracuse Orange
3? USA Basketball Male Athlete of the Year (2006, 2012, 2016)
First-team Parade All-American (2002)
McDonald's All-American (2002)
Carmelo Anthony Career-Stats
Melo was a pure scorer in his prime and effortlessly put on incredible shows on game nights. In the 1191 games he has played, the forward has averaged 23.0 points, 6.3 rebounds and 2.8 assists.
In the 2020-21 season, Anthony averaged 13.4 points, 3.1 rebounds, and 1.5 assists per game.
Carmelo Anthony Current Contract
Melo?s value has diminished over the years, and he?s currently signing one-year contracts with NBA teams. He most recently inked a similar deal with the Portland Trail Blazers for the 2021 season, worth a guaranteed amount of $2,564,753.?
Carmelo Anthony 2021 Net Worth and Endorsements
Celebrity Net Worth estimates Melo?s value at $160 million. His career earnings at the end of the 2021 season would be just short of $260M.?
Forbes revealed that Anthony made $6 million from endorsements in 2020. He has tie-ups with Jordan Brand, Panini, Foot Locker, Powercoco, Isotonix, and Haute Time.?
Carmelo Anthony contract details
Melo might have signed some hefty contracts back in the day, but now he has resorted to a role as a veteran.
After signing a two veteran minimum contracts with the Blazers, Anthony has signed a veteran minimum contract yet again worth $2,641,691 for a year this time for the Western Conference juggernaut the Los Angeles Lakers led by LeBron James.
Carmelo Anthony Charity Organization
Melo also runs a non-profit organization in his name and aims to give back to the community in various ways. The ?Carmelo Anthony Foundation? conducts a variety of outreach programs and donations and helps the underprivileged realize their dreams.?
Carmelo Anthony NBA Sneaker Contract
Melo is currently a Jordan Brand athlete, and he dons the Jumpman?s kicks in the league. The Blazers forward recently sported the ?Air Jordan 35? and has enjoyed wearing several player edition sneakers in the past.
| | |
| --- | --- |
| Age | 37 |
| Marital Status | Married |
| Spouse | La La Anthony |
| Children | 1 |
| NBA Championship Rings | 0 |
| Nationality | American |
| Height | 6' 7" (2.02 m) |
| Weight | 107 kg |
| Endorsements | Jordan, Powercoco, Foot Locker, Isotonix, Haute Time |
| Hand Span and Feet Length | 9.25 inches and size 15 |
How to Contact Carmelo Anthony
Carmelo Anthony Instagram: carmeloanthony
Carmelo Anthony Twitter: @carmeloanthony