Chase Young
Chase Young 2021: Salary, Networth & Endorsements
Chase Young is a 21-year-old defensive end who made his NFL debut in the 2020 NFL season. The defensive end attracted a lot of attention with his stellar high school performances for DeMatha Catholic, Maryland. As a result, he received offers from over 40 college programs.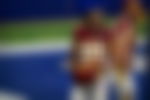 Subsequently, Young elected to join Ohio State and turned out for the Ohio State Buckeyes for 3 seasons. In 2019, he featured as a finalist for the prestigious Heisman Trophy.
ADVERTISEMENT
Article continues below this ad
Alongside his football career, Chase Young majored in criminal justice whilst at Ohio State and as per USA Today, he has already planned for his retirement as he sees a future in law enforcement.

Also, in his final season, the defensive end played fewer games than his sophomore year. This is because of a suspension that he incurred. The suspension came as Young took a loan to help his girlfriend travel to watch him compete in the 2019 Rose Bowl on New Year's Day, where the Ohio State Buckeyes beat Washington Huskies 28-23. 
As a result of his college career, the Defensive End positioned himself as one of the top prospects ahead of the 2020 NFL draft. On the night, the Washington Football Team made Chase Young their top draft pick at 2nd overall. The move allowed the 21-year-old to represent his hometown team in the NFL. 
Whilst with the Washington Football Team, Chase Young will don the No.99 jersey as he seeks to earn his nickname, 'The Predator'.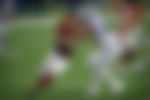 Chase Young made history in Week 14 by recording a sack, 2 passes defended, a forced fumble, and a fumble recovery which he returned 47 yards for a touchdown. He became the first rookie in NFL history and only since 1999 to achieve all that in a single game.
Chase Young: Stats
However, as per Sports-Reference, he has 3 seasons of college football in the Big Ten. The defensive end played 34 games and featured in 98 tackles.

A whopping 68 of these were solo tackles, with the remaining 30 being credited to Chase Young as assisted tackles. Additionally, as a defensive end, he has a 40.5 yards tackle for loss and is credited with 30.5 sacks.
Chase Young 2021 Net Worth
The Washington Football Team defensive end has signed a 4-year deal with his franchise. Based on his contract, as per Spotrac, he will earn a guaranteed total of $34.5 million at the end of the 2023 NFL season. Furthermore, Young will receive a massive $22.6 million as a signing bonus. 
For the 2020 NFL season, Chase Young will earn a massive $610,000 million base salary as the Washington Football Team defensive end. 
The Pro Bowl winner has a net worth of $550,000 U.S per estimates by wtfoot.com and thepersonage.com
Chase Young Records
Per NFL.com, Chase Young has come out with 42 tackles and 7.5 sacks as of week 17, 2020. Moreover, he's accrued 4 forced fumbles, 3 fumbles recoveries, 4 pass deflections, and 1 touchdown.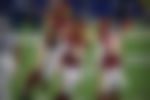 Furthermore, in terms of awards, he's racked up multiple notable accolades before his time with the Washington Football team. Young won the Bronko Nagurski Trophy, Chuck Bednarik Award, Ted Hendricks Award, and the Chicago Tribune Silver Football. Not to mention, he came out with the 2020 Pro Bowl as well as Big Ten Male Athlete of the Year.
Chase Young Foundation and Charity
Chase Young does not have a designated charitable organization as of yet. However, he is involved in giving back to society. The then draft prospect made a lunch donation to nurses at MedStar Southern Maryland. He thanked the Postmates for delivering the lunch and let the world know that this was the hospital he was born in. 
With Old Spice, the defensive end and rookies from all the NFL teams donated $320,000 to the United Way to help underprivileged people. 
2021 Endorsements
Based on a report in athletespeakers.com, the Washington Football Team defensive end has signed deals with Under Armour, Old Spice, FedEx, and Beats By Dre. Furthermore, as per TMZ, the 21-year-old has filed to trademark the phrase "Terrorize the Moment".
ADVERTISEMENT
Article continues below this ad
How to contact Chase Young? 
Instagram- @chaseyoung_
Twitter- @youngchase907
ADVERTISEMENT
Article continues below this ad
Age
21
Weight
264 lb
Height
6ft 5 in
Girlfriend
N/A
Super Bowl
0
Endorsements
Under Armour, Beats by Dre, Old Spice, FedEx
Agent
Klutch Sports Group
Residence
Maryland, United States
Major Achievements
Pro Bowl (2020)

Big Ten Male Athlete of the Year (2020)

Unanimous All-American (2019)

Big Ten 2010's All-Decade Team

Smith-Brown Defensive Player of the Year (2019)

Ted Hendricks Award (2019)

Kids
0