Christian Wood
Christian Wood Net Worth (Updated 2023)
Christian Wood epitomizes the modern NBA big man. He offers a well-rounded game that combines robust defense with a diverse set of offensive skills. In his previous season, he showcased his scoring prowess, landing in the 84th percentile for scoring volume and the 89th percentile for scoring efficiency (measured by True Shooting). These numbers indicate that he efficiently contributes to the flow of the offense without disrupting it.
Unlike a traditional center, Wood's scoring range extends to the three-point arc. In the last season, he boasted an impressive 39% accuracy in essential game-time three-point attempts. This placed him in the 77th percentile among big men. Notably, a staggering 97.1% of his three-pointers were assisted, signifying his ability to stretch the floor and his commitment to playing within the team's offensive scheme.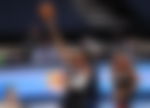 Currently, Christian Wood is donning the Los Angeles Lakers jersey. After a substantial offseason, he secured a two-year contract worth $5,745,889 with the Lakers, featuring a player option for the second year. As of 2023, Christian Wood's estimated net worth stands at around $5 million.
Christian Wood's early life
Christian Wood's basketball journey began at Los Alamitos High School for his first year. However, he soon shifted to Knight High School in Palmdale, California, for a brief stint. In a final transfer before his senior year, Wood found himself at Findlay Prep in Henderson, Nevada, where his impact was profound.
Wood played a pivotal role in the Pilots' remarkable 54-game winning streak. Furthermore, he helped them crown the achievement of the ESPN National High School Invitational championship in 2012. Soon, his performances caught the attention of scouts, with Rivals ranking him as the 36th overall player in the class of 2013 (and 8th at his position). On the other hand, Scout placed him at 10th in his position, while ESPN considered him the 71st prospect overall.
Wood then took his talents to UNLV, where he played from 2013 to 2015. In his first year, he saw action in 30 games. Making two starts, he averaged 4.5 points and 3.2 rebounds per game. As a sophomore, his game hit new heights as he competed in 33 games. His stats fueled to averages of 15.7 points, 10 rebounds, and 2.7 blocks per game. These stellar performances earned him the prestigious first-team All-Mountain West honors.
Following his standout sophomore season, Wood made the bold decision to declare for the 2015 NBA draft, marking a significant leap in his basketball career.
Christion Wood's family and personal life
Christian Marquise Wood was born on September 27, 1995, and was raised by a single mother, Jeanette Stewart. However, when it comes to his father, Wood has maintained a steadfast commitment to privacy, never divulging any information to the media. Christian also has a sinking brother named Derek Stewart, whom he has a close-knit bond with.
Since his induction into the NBA in 2015, Wood's journey in the league has been nothing short of an odyssey. He's donned the jerseys of seven different teams before arriving at his current stint with the LA Lakers. Over the past eight years, he faced the challenge of navigating between the NBA and the G-League, displaying remarkable resilience in his quest for consistent employment in the NBA. Notably, during his G-League tenures, Wood's exceptional skills earned him the distinction of being named to the All-NBA G-League Second Team and once on the All-NBA G-League Third Team.
| | |
| --- | --- |
| Full Name | Christian Marquise Wood |
| Popular Name | Christian Wood |
| Birth Date | September 27, 1995 |
| Birth Place | September 27, 1995 |
| Height | 6 ft 10 in |
| Weight | 209 lbs |
| Parents | Jeanette Stewart |
| Siblings | Derek Stewart |
| Nationality | American |
| Net Worth | $5 Million |
| Salary | Nearly $3 Million |
| Spouse | None |
| Relationship/Marital Status | Single |
| Children | None |
| Profession | Basketball player |
| Team | Los Angeles Lakers |
Christian Wood's NBA career
A rollercoaster journey marked Christian Wood's path to the NBA. Initially projected as a late first-round draft pick, he ultimately went undrafted in the 2015 NBA draft. However, soon, Wood joined the Houston Rockets for the 2015 NBA Summer League. In September, he inked a deal with the Philadelphia 76ers. However, it turned out to be an on-and-off show for the big man. His rookie season saw him assigned to the Delaware 87ers of the NBA Development League multiple times.
 In July 2016, Wood joined the Charlotte Hornets, embarking on a new chapter. However, his journey continued with stints in the NBA and G-League. In 2018, free agency led Wood to the Dallas Mavericks and Phoenix Suns for the 2017 NBA Summer League. He soon won the Summer League Championship that year with the Mavs.
Regardless, The Milwaukee Bucks secured Wood in August 2018, but the team waived him in March 2019. Wood was then claimed by the New Orleans Pelicans and later waived by them in July 2019. However, his fortunes took a positive turn as he was claimed off waivers by the Detroit Pistons on July 17, 2019.
In March 2020, Wood made headlines for his resilience and scoring prowess on the court. His career path led him to the Houston Rockets in November 2020, where he had a remarkable debut, impressing with 31 points and 13 rebounds. However, his happiness was short-lived. Wood's journey took an unexpected turn after he suffered a right ankle injury. His career featured its ups and downs, including a suspension in January 2022 for poor behavior, as well as standout performances such as his career-high 39 points.
In 2022, Wood was traded to the Dallas Mavericks. As a result, he made an immediate impact by becoming the first player in franchise history to score at least 25 points in each of his first two games. His career continued to rise as he delivered a memorable performance on his first Christmas Day game, recording 30 points, 8 rebounds, 7 assists, 4 steals, and 2 blocks in a thrilling victory over the Los Angeles Lakers. Now, he plans to repeat his successful stints in the NBA. However, this time with the Los Angeles Lakers. 
Christian Wood NBA stats
| | | | | |
| --- | --- | --- | --- | --- |
| Team Name | Total Games | PPG | FG% | Rebounds/game |
| Mavericks | 67 | 16.6 | 51.5 | 7.3 |
| Rockets | 68 | 17.9 | 50.1 | 10.1 |
| Rockets | 41 | 21 | 51.4 | 9.6 |
| Pistons | 62 | 13.1 | 56.7 | 6.3 |
| Pelicans | 8 | 16.9 | 53.3 | 7.9 |
| Bucks | 13 | 2.8 | 48 | 1.5 |
| Hornets | 13 | 2.7 | 52.2 | 2.2 |