Ciryl Gane
Ciryl Gane: Net Worth 2023, Salary, Records, and Endorsements
Ciryl Gane: Net Worth 2023
Ciryl Gane is a talented MMA fighter known for his impressive fighting skills and athletic prowess. Along with his success in the octagon, Gane has also achieved financial success, with a net worth estimated at $1.5 million according to several reports. His salary is reported to be $500,000 per annum.
Gane's payouts vary from fight to fight, with his title win against Derrick Lewis, 'Bon Gamin' revealed that he made $350,000. His highest purse came from his fight against Francis Ngannou, which is reported to be $500,000. However, Gane's UFC career earnings amount to an impressive $1.473 million, according to reports.
Ciryl Gane: Early Life and Family?
Ciryl Gane was born and brought up in La Roche-sur-Yon, France on 12 April 1990. His father, Romain Gane is from Martinique, and his mother, Maryse Gane is French. Gane grew up in a family of athletes, with his father playing football in Division d'Honneur[now The R?gional 1] and his mother competing in track and field.
In his youth, Gane played both football and basketball, but eventually shifted his focus to combat sports.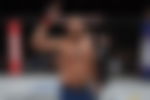 After finishing his studies, Gane decided to work in sales at a furniture store. He also joined a work-study program in Paris to further his education.
It was during this time that a former classmate introduced Gane to Muay Thai, a martial art form that would eventually become his passion. Gane began training in Muay Thai and quickly excelled in the sport, eventually transitioning to kickboxing and then to mixed martial arts.
Ciryl Gane: Muay Thai Career
Ciryl Gane made his professional Muay Thai debut in AFMT in 2016 against J?r?my Jeanne, winning the fight by TKO in the second round.
In 2017, Gane faced off against fellow Frenchman Brice Guidon in a kickboxing match. Gane emerged victorious, winning the fight by unanimous decision.
Gane was scheduled to defend his AFMT against Jonathan Gengoul at Muay Thai Spirit 5 in 2017 and prevailed with a first-round knockout victory. And ever since, Gane went on to continue his reign in the Muay Thai domain for one more year until found his passion for mixed martial arts.
Ciryl Gane: MMA Career and UFC record
Early career:
Ciryl Gane began his combat sports career in Muay Thai, where he quickly established himself as a rising star. After winning his professional Muay Thai debut in 2015, he went on to compile an impressive record in the sport, winning several regional titles and establishing himself as one of the best heavyweights in France.
Gane's success in Muay Thai caught the attention of kickboxing promoters, and he began competing in that sport as well. In 2017, he faced fellow Frenchman Brice Guidon in a high-profile kickboxing match and emerged victorious. In his Muay Thai career, he has had 13 fights with 9 TKOs and 4 Decision wins. He's remained undefeated throughout his brief yet illustrious Muay Thai career.
Despite his success in striking sports, Gane was always interested in exploring other combat sports, including wrestling and Brazilian jiu-jitsu. In 2018, he made his MMA debut against Bobby Sullivan, winning his first fight by front choke in the opening round itself.
Ultimate Fighting Championship:
Ciryl Gane was signed to the UFC in 2019. He made his promotional debut in August of that year against fellow debutant, Raphael Pessoa, winning the fight by submission in the first round.
Gane quickly established himself as a force to be reckoned with in the UFC's heavyweight division, winning his next four fights in dominant fashion. His striking skills, combined with his athleticism and well-rounded grappling game, made him a dangerous opponent for anyone in the division.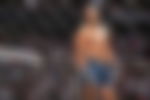 In 2021, Gane was given a shot at the interim UFC heavyweight championship, facing off against fellow contender Derrick Lewis. Gane put on a masterful performance, dominating the fight with his striking and winning a unanimous decision to become the interim champion. The Frenchman was on 7 fight undefeated streak in the UFC until he fought Francis Ngannou in January 2022. That also marked his first-ever upset in the UFC.
After this setback, 'Bon Gamin' faced Australian UFC HW Tai Tuivasa in UFC Paris. Gane won the fight via TKO and secured his 11th win in professional MMA.
The UFC HW star then went on to face Jon Jones at UFC 285 for the vacant UFC HW title. 'Bon Gamin' came out short as he was submitted by 'Bones' in the first round and hence handed his second defeat in MMA.
Currently, Gane is at 11-2-0 in the UFC.
With his impressive record and well-rounded skillset, Ciryl Gane looks poised to become one of the top stars in the UFC's heavyweight division for years to come.
Ciryl Gane: Ethnicity?
Ciryl Gane is of mixed ethnicity, with his father hailing from Martinique and his mother being French. He was born and raised in La Roche-sur-Yon, France, and has spoken in interviews about the pride he feels for his multicultural background.
There is no public information available about Ciryl Gane's religion. His personal beliefs have not been discussed in interviews or on his social media accounts, and he has not publicly identified as either Jewish or Christian. Although various platforms and several fans have stated their takes on him following Christianity, some state him being Jewish. But the fighter himself has never talked about it.
As mentioned earlier, Ciryl Gane's father is from Martinique and his mother is French. His parents' ethnic backgrounds have played an important role in shaping Gane's identity and outlook on life. He has credited his parents with instilling in him a strong work ethic and a deep appreciation for both his Caribbean and French heritage.?
Ciryl Gane: Wife?
Ciryl Gane is a private person, and not much is known about his personal life, including his love life and relationship status. The MMA fighter has kept his private affairs separate from his professional career, and there is limited information available about his personal life. Gane has never commented publicly about his partner or marital status, leaving his fans and followers to speculate about his romantic life.
However, in August 2021, Gane posted a photo on his Instagram account holding a newborn with the caption "2nd win." This post came just after his title fight with Derrick Lewis, and many speculated that the "second win" referred to the birth of his second child. However, this is not confirmed information, as Gane has not publicly disclosed any details about his family life.
Gane's personal life is typically off-limits, and he prefers to focus on his professional career rather than sharing personal details with the public. He is all about business, and his life remains mysterious.
Ciryl Gane: Endorsements
Aside from his fighting career, Gane is also a brand ambassador for Apparel Care and DFNS Sneaker.
Speaking of his collaboration with DFNS, Gane said, "I am thrilled to begin this new adventure with DFNS. It's important to me to move forward with ethical brands who match my lifestyle as a fighter. DFNS is a perfect fit who offers solutions in terms of design, function and innovative approach. It's important to me to make sure I work with the best. I am looking forward to a long-lasting relationship with DFNS who share the same values and vision as me."
https://twitter.com/UFCNews/status/1337098690180222976?s=20
Moreover, 'Bon Gamin' is also a sponsored athlete by Gymking, a major supplier of gym merchandise and sportswear.
As for his houses and properties, information about Gane's personal assets is not publicly available, as he has chosen to keep his private life separate from his professional endeavors. Nonetheless, Gane's financial success in the UFC and his endorsements show that he is a talented athlete with a bright future ahead of him.
Ciryl Gane: Awards and Accomplishments
Interim UFC Heavyweight Champion




AFMT National Title +201 lb (+91 kg) (One time)




TKO World Heavyweight Championship (One time)




2021 Breakthrough Fighter of the Year
Expensive things owned by Ciryl Gane
As a successful MMA fighter, Ciryl Gane has accumulated a sizeable net worth, which has enabled him to acquire some expensive items. Gane's love for precision, power, and speed extends beyond his passion for fighting and is evident in his collection of cars and bikes.
View this post on Instagram
'Bon Gamin' owns himself a Yamaha T?n?r? 700 motorcyle, which costs anywhere around $9,999 to $10,299. Next the French fighter has a black Cherokee Jeep that comes with a tag of approximately $39,000. And the most expensive vehicle owned by 'Bon Gamin' is Mercedes G Wagon. This one comes in the range of $139,900 to $179,000.
In addition to his impressive collection of vehicles, Gane also lives in a lavish house in France. The exact price of the house is not disclosed in the public domain, but it is rumored to be a substantial investment, reflecting Gane's success as an MMA fighter.
Ciryl Gane: Charities
Apart from his personal interests, Ciryl Gane is also known for his charitable efforts. He has used his platform as a successful MMA fighter to give back to his community and support causes he believes in. In 2021, Gane played a charity football match, an event organized by UNICEF, 'Match Des Heros'[Match For Heroes] for charity.
| | |
| --- | --- |
| Birth Date | 12 April 1990 |
| Birth Place | La Roche-sur-Yon, France |
| Father?s Name | Romain Gane |
| Net Worth | $1.5 Million |
| Salary? | $500,000 |
| Ethnicity | Guadeloupean |
| Nationality? | French |
| Age? | 32 y/o? |
| Weight | 246 lbs |
| Height | 193 cm, 6? 3?? |
| Trainer | Fernand Lopez |
How to contact Ciryl Gane?