Dak Prescott
Dak Prescott 2022: Net worth, Salary, and Endorsements
Dak Prescott is a six-foot-two quarterback who plays for the Dallas Cowboys. He was born on July 29, 1993. He has been with the Cowboys since 2016 and completed six seasons with the franchise. He wears the number 4 jersey.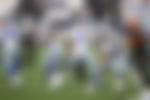 Dak Prescott College and Draft
The youngest of three children, Prescott made a name for himself while playing for Haughton High School in Louisiana. He played football for the Buccaneers and later was redshirted as a true freshman with Mississippi State in 2011 at the NCAA level.
He finished third in SEC history in total yards and fourth in total touchdowns. As of now, Prescott holds 38 college football records.
Dak Prescott career stats
As per NFL.com, Dak Prescott has played 85 games in six seasons for the Dallas Cowboys. Prescott has completed 1924 passes of 2889 attempts for 22083. He has scored 143 touchdowns and has a completion percentage of 66.6.
Dak Prescott was drafted by the Dallas Cowboys four years ago in the fourth round (135th overall). The Jerry Jones-owned franchise took a bet on the youngster and drafted him as they looked for a replacement for the great Tony Romo. After impressing in pre-season and in light of Romo?s injury, the Cowboys named Prescott the starter ahead of the 2016 season.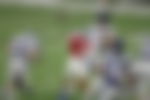 He made his debut against the New York Giants in Week 1. However, his opening NFL game ended in defeat as Dallas lost by a 20-19 margin. But that did not stop Dak who went on to lead the Cowboys to a 13-3 record and the NFC East title in his rookie year.
They did lose to the Green Bay Packers in the playoffs but Prescott was named to the Pro Bowl and even voted the NFL Offensive Rookie of the Year ahead of teammate Ezekiel Elliott, receiving 28 of 50 votes. He made his debut on the NFL Top 100 List at number 14 the following year.
Dak Prescott Record
Dak Prescott broke the record for most consecutive pass attempts without an interception to start a career, with 176 attempts in Week 6 of the 2016 season. Tom Brady previously held the record. Prescott finished his 2016 rookie regular season with a record 11 games with an over 100 NFL passer rating, breaking the rookie record of nine games set by?Russell Wilson in 2012.
He tied the?Ben Roethlisberger 2004 rookie record of winning 13 games as a starter. Prescott threw 23 touchdowns and 4 interceptions for a touchdown to interception ratio of 5.75 breaking the previous rookie record of 4.00 (20 touchdowns and 5 interceptions) set by Robert Griffin III, and for a touchdown to interception differential of 19 breaking Russell Wilson's rookie record of 16.
In a game against the Tampa Bay Buccaneers on December 18, 2016, Prescott, with an 88.9% completion percentage, broke the rookie single-game record of 87.0% set by Mike Glennon?in 2013.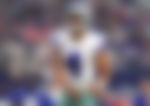 Dak Prescott Net Worth
The Cowboys number 4 reportedly has a net worth of $2 million as per Celebrity Net Worth. However, we suspect that they haven't taken into account his massive $31.4 million franchise tag which was activated prior to the 2020 NFL season.
In addition to that, it is being reported that Dak earns five-times his on-field salary from his endorsement deals with Adidas, Pepsi and other brands. He earns further revenue from his licensing deals. So his net worth remains shrouded in a bit of a grey cloud.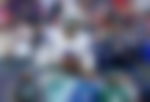 The Cowboys placed the exclusive franchise tag on Prescott for the second consecutive season on March 9, 2021, and he signed a four-year contract extension with the Cowboys the next day for $160 million with $126 million guaranteed. The deal included a $66 million signing bonus, as per ESPN.
Dak Prescott Foundation and Charity
Dak Prescott helped establish ?Faith Fight Finish - The Foundation? after establishing himself as one of the up-and-coming quarterbacks in the NFL. Also, the Faith Fight Finish foundation by Dak Prescott invests in the future of our youth by empowering individuals, families, and communities to find strength through adversity.
The foundation focuses on fighting cancer and offering assistance to those facing life-challenging hardships; in honor of Dak?s Mom, Peggy. Prescott's Faith Fight Finish Foundation is a fiscal sponsorship fund of the Edward Charles Foundation.
?The Faith Fight Finish Foundation was created to support families and communities and invest in the future of our youth,? Prescott said via the foundation?s official page.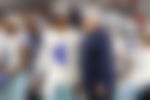 Personal Life
Dak Prescott is the son of Nathaniel and Peggy Prescott and has two older brothers, Tad and Jace, an older sister, Natalie Prescott-Smith, and an older half-brother, Elliott Prescott, from his father's previous marriage. He lost his Mother because of?colon cancer in November 2013. Prescott launched The Faith Fight Finish Foundation in honor of his mother. His brother, Jace, committed suicide in April 2020.
How to Contact Dak Prescott?
Dak Prescott Instagram: _4dak
Dak Prescott Twitter: @dak
Age
28
Weight
6 ft 2 in
Height
228 lb
Super Bowl
0
Girlfriend
Natalie Buffett
Endorsements

Pepsi, 7-Eleven, Nicholas Air, Beats by Dr Dre, AT&T, DirecTV, and card company Panini America.

Agent
Todd France
Residence
Sulphur, Louisiana.
Major Achievements
NFL Offensive Rookie of the Year?(2016)

2נPro Bowl?(2016,?2018)

PFWA All-Rookie Team?(2016)

Kids
0