Dale Earnhardt Jr
Dale Earnhardt Jr?s Net Worth
Born in Kannapolis, North Carolina, Ralph Dale Earnhardt Jr. is a former NASCAR Cup Series racer. He also goes by the name "Dale Jr." or "Junior".? Nowadays, he's a part-time racer in the NASCAR Xfinity Series. Additionally, he's a NASCAR analyst and commentator for NBC.
Dale Jr. comes from a family of motorsport drivers with his late father Dale Earnhardt Sr. a record seven-time Cup Series champion in NASCAR. Having competed in the NASCAR Cup Series from 1999 to 2017, Dale Jr. remains one of the most successful drivers of his time.
As per reports, Junior has an approximate net worth of $400 million. Having come from a well-established background, he has made good use of the resources at his disposal. From 2008 to 2015, Dale earned approximately, $20-24 million, making him the highest-paid NASCAR driver then. In fact, he earned a record $30 million in 2008.
Dale Jr was made it to the Forbes list of the World's Highest Paid Athletes in 2017. He earned $21.4 million then as it marked his last season in the NASCAR Cup Series.?The majority of Dale's earnings have come through endorsements and sponsorship deals. Some of his well-known endorsement partners include Chevrolet, Goody's, Wrangler, Axalta, Gillette, EA Sports, and many others.
Dale Jr. also owns a media production company named Hammerhead Entertainment. He also works as an analyst for NBC Sports. Additionally, his book "Racing To The Finish: My Story" was released in 2018. The book received positive feedback from the fans.
Dale's a thorough businessman and has ventured into different industries so far. Most relatably, he co-owns JR Motorsports, the racing team that participates in the NASCAR Xfinity Series. In addition to this, he also owns a number of automobile dealerships and restaurants. In 2013, he started his podcast The Dale Jr. Download under his Dirty Mo Media productions.
Along with his wife, Junior runs a vodka brand named High Rock Vodka. As far as stores are concerned, Dale Jr has his own merchandise store. In addition to that, his team, JR Motorsports, too has its own merchandise store
Dale Earnhardt Jr?s Early life
Dale Jr was born and brought up in Kannapolis, North Carolina. At an early age, he saw his mother Brenda Lorraine and father Dale Earnhardt Sr. get divorced. With his father being away racing, his stepmother played a major role in raising him. Prior to racing, Junior used to service cars and carry out their maintenance at Dale Sr's car dealership.
As for his educational qualifications, he is an alumnus of Mitchell Community College with an associate degree in automotive technology. Prior to that, he attended Oak Ridge Military Academy. A few years down the line, he started attending and graduated from Mooresville High School. Even Rodney Childers, the current Stewart-Haas Racing crew chief, and Junior's close friend graduated from the same school.
In 1996, his NASCAR career officially began with the Xfinity Series. Dale Jr competed in the series for a while, winning two championships in the process. In 1999, Dale Earnhardt Jr made his Cup Series debut, competing in just five races. A year later, he made his full-time debut in the premier class.
Dale Jr officially made his Xfinity Series debut in 1996 at the age of 21. Having won the competition twice, he started his NASCAR Cup Series campaign with only fives races in the 1999 season. A year later, he competed full-time and became the first rookie to win NASCAR's All-Star race.
Dale Earnhardt Jr?s family and personal life
Dale Jr. has been happily married to his wife, Amy Reimann. It was in 2009 that the couple first met each other. Amy was hired as the interior designer for Dale?s house in Mooresville, North Carolina. Interestingly, she did not have any idea who Dale was back then. They clicked instantly and started dating.
After six years of dating, Junior proposed to Amy in 2015 and tied the knot a year later in December 2016. The wedding took place at Childress Vineyards in Lexington, North Carolina. With just more than a year of their marriage gone, Junior and his wife Amy announced the arrival of their first child, Isla Rose Earnhardt. Interestingly, Amy even took a ride in a NASCAR car while she was pregnant with Isla at Martinsville in 2017.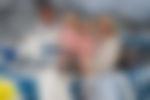 In October 2020, Isla got promoted to the elder sibling with the arrival of Dale Jr?s second child, Nicole Loraine. Despite racing being in their blood, Junior isn?t that keen on encouraging his daughters to join the sport. He thinks he would rather love it if they get a degree and thereafter get a super job.
Dale Earnhardt Jr and his NASCAR journey
Dale Earnhardt Jr had an impressive NASCAR Cup Series career. He started his 19-year-long Cup Series career started at the Charlotte Motor Speedway. His debut came in the Coca-Cola 600 where he finished 16th despite finishing the qualifying lap in the eighth-quickest time.
Dale Jr's one Cup Series season saw him participate in only five races in 1999. That being said, he never had to look back from the 2000 season as he participated full-time and graced the tracks with aggression and passion. He went on to win 26 races in his Cup Series career, taking part in 631 races in total and finishing 149 and 260 times in the top five and top ten respectively.
Having won a good amount of races, Dale Jr provided some memorable on-track performances. One of his finest victories came in the Daytona 500 in 2004. It just took Junior four years into his Cup career to win his first Daytona. The race saw him go head-to-head with NASCAR great Tony Stewart.
In addition to that, the 2001 Pepsi 400 will also remain a special one for Dale Jr. It was just five months since Dale Sr. died at the 2001 Daytona 500. Junior was making a return to the sport and went on to win the race by overtaking six cars in the final lap. The victory saw Dale celebrate in front of 1,00,000 fans.
In his Cup Series career, Dale Jr preferred either the #8 or #88 on his cars. From 1999 to 2007, he drove the Chevrolet #8 for Dale Earnhardt Inc. Post 2007, he joined Hendrick Motorsports and drove the Chevrolet #88. He enjoyed more success while driving the #8 car as he registered 17 wins using that.
Dale announced his retirement from the top division of NASCAR in 2017. His last race was at the Homestead-Miami Speedway in Florida. He finished 25th in his final race, failing to make it to the playoffs in his ultimate Cup Series season. Since then, Dale Jr has been a regular figure in the NASCAR Xfinity Series.
Dale Earnhardt Jr?s awards and achievements
Dale Earnhardt Jr has enjoyed a good amount of success in his NASCAR career. He started off with his first NASCAR Cup Series win in 2000 at the Texas Motor Speedway whilst driving for Dale Earnhardt Inc. The victory saw him break his father's record for requiring the fewest starts by a driver to secure his first victory. Dale Jr recorded the win in just his 12th start.
One of the most notable achievements of his Cup Series Career would be to win the Daytona 500 twice. He did this in 2004 and 2014, with two different teams. By doing so, he became the 11th driver to win it multiple times. In addition to his victories, Dale Earnhardt Jr has a tremendous record when it comes to winning the Most Popular Driver award.
Dale Jr has won the award 15 times in his career. What makes it even more amazing is that he did it for consecutive 15 years from 2003 to 2017. Only Bill Elliott, the father of Chase Elliott, has won it more (16 times). Junior has also two Xfinity Series championships to his name when he won it back-to-back in 1998 & 1999.
As a motorsport team owner, Dale Earnhardt Jr has won the NASCAR Xfinity Series championship five times in his career. With Dale Earnhardt Inc, he did it in 2004 and 2005. The other three have come with JR Motorsports in 2014, 2017, and 2018. Like his father, Dale Jr is also a NASCAR Hall of Famer.
Dale Earnhardt Jr?s NASCAR team
Along with his sister Kelley Earnhardt, his brother-in-law L.W. Miller and Hendrick Motorsports owner Rick Hendrick, Dale Jr runs the JR Motorsports. The team was started in 2006 and is currently strongly competing in the NASCAR Xfinity Series. JR Motorsports has more than 140 employees and fields four full-time entries in the Xfinity Series.
Sam Mayer, Justin Allgaier, Miguel Paludo, and Dale Jr himself form the Xfinity drivers' lineup for the 2023 season. Their superstar driver Noah Gragson left to join Legacy Motor Club in the Cup Series for the new season. If that wasn't enough, Gragson poaching some of the JR Motorsports crew surely wouldn't have boded well with Dale Jr. It is going to be an uphill task for Junior's team this season without the presence of last season's runner-up Gragson.
Dale Earnhardt Jr and North Wilkesboro Speedway
After hosting over 90 races, the North Wilkesboro Speedway was shut in 1996 citing arguments that the track wasn't large or fancy enough. Dale Jr along with local boosters and state officials have been pushing hard for years to revive the venue. Eventually, they succeeded in reviving the Speedway with a late-model stock race in August 2022.
Dale Earnhardt Jr was taking part in a late-model stock race for the first time since 1997. For this historic race, he drove a green no. 3 Sun Drop Chevrolet which bore a throwback paint scheme resembling the late model he used to drive in the early 1990s. Most notably, it was his first race at North Wilkesboro since 1995.
After qualifying sixth, Dale Jr stayed in and around the top 10 positions. Unfortunately, midway through the race, his rear quarter panel sustained some damage. Despite the event, he came back strongly to finish third, lagging just behind second-placed Mason Diaz and the winner of the race, Travis Kvapil.
Dale Earnhardt Jr and the plane crash
It was on August 15, 2019, that Dale Jr was traveling with his wife Amy, just over a year-old daughter Isla and their family dog on their private Cessna aircraft. While attempting to land at an airport in Elizabethton, Tennesse, the aircraft crashed because of issues with the landing gear and a section of the right wing.
Unfortunately, the plane ran off the runway and went 400 feet down a hill before slamming through a chain-link fence. The aircraft eventually caught fire but all five passengers including the two pilots and the dog escaped in time through the main cabin door. Luckily, all of them survived with no major injuries suffered because of the crash.
Junior was back in action at Darlington Raceway just two weeks after the race. Back then, he said, "It was a very tough experience to go through. I try not to get into that, think about (it happening to my family) too much. Things happen for a reason. You just try to learn from it and move on.
Dale Jr added, ?I love my daughter so much and enjoy being around her and look forward to watching her grow up and experiencing a lot of things with her going forward. That just made you realize that that much more. I?m just thankful and ready to live our lives.?
What is Dale Earnhardt Jr doing post-retirement
You can take the driver away from the racing but you cannot take the racing away from the driver. That has been the case with Dale Jr post his retirement from the NASCAR Cup Series in 2017. Despite hanging his helmet, he has been quite actively involved in off-track ventures. He has been seen regularly featuring for NBC as a commentator and as a NASCAR analyst.
Dale's podcast "The Dale Jr Download" has been doing wonderfully well, attracting a lot of listeners. He prefers to give more insights to his fans and relishes discussing controversial topics. Junior is bold and outspoken with his comments on the podcast. In fact, he once even encouraged NASCAR drivers to be outspoken and hold everyone accountable if it's bothering their safety in the cars in any fashion.
Dale Earnhardt Jr is very active on social media, especially on his Twitter account. He uses it to voice out his opinion time and again, sometimes either using sarcasm or hilarious remarks. He once used the medium to make fun of former Richard Childress Racing driver Clint Bowyer. In addition, he provides his fans with regular updates about his personal and professional life using social media.
Of course, Dale Jr has his own team JR Motorsports with which he is very much involved. Furthermore, he and his wife Amy, have collaborated with Sugarlands Distilling Company to start a new vodka brand. It's named "High Rock Vodka" and is a premium, handcrafted vodka. Dale Jr released his book "Racing To The Finish: My Story" in 2018, narrating his story behind the wheel.
Since announcing his retirement from the NASCAR Cup Series in 2017, it looks pretty clear that Junior has zero interest in returning back to race at the highest level. His off-the-track ventures keep him heavily occupied. It would take something special to bring him back to the Cup Series and maybe challenge his two-faced rival Kyle Busch. As of now, Dale Earnhardt Jr is at peace and keen on running his team, podcast, and other ventures successfully.
| | |
| --- | --- |
| Name | Ralph Dale Earnhardt Jr. |
| Born | 10th October 1974 |
| Place of Birth | Kannapolis, North Carolina |
| Nationality | American |
| Education | Associate Degree |
| Parents | Dale Earnhardt Sr and Brenda Lorraine |
| Wife | Amy Reimann |
| Children | Isla Rose (2018) and Nicole Loraine (2020) |
| Height | 6?00? |
| Weight | 165 lbs/75 kg |
| Team | JR Motorsports |
| Car | #88 Chevrolet Camaro |
| Social Media | Facebook |