Deni Avdija
Deni Avdija 2021: Net worth, Salary, and Endorsements
Deni Avdija is an NBA player who plays for the Washington Wizards. He was drafted by them during the 2020 NBA Draft.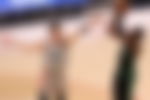 Avdija is the son of former professional basketball player Zufer Avdija. Though he went unpicked in the 1981 NBA draft, he represented Yugoslavia on the International stage and played in the Israeli professional league. 
Deni Avdija is a threatening presence on the court, standing at 6 feet and nine inches. He can effectively fill in all positions on the court, which adds to his excellence. A tremendous athlete who has been put to the professional test very early in his age. Thus, he is not afraid when it comes to delivering at the top level. 
His handles impressive and his shooting skills are eye-catching. Avdija's step-back three-pointers are a thing of beauty, and it has more scope for improvement. 
Furthermore, the case for Avdija evolving as a point-forward is solid. He has an extraordinary court vision that allows him to drop dimes and is a very good defender too. Avdija is almost like a complete package, but his short wingspan for a player of his size is the only quality that he lacks. 
Deni Avdija with Maccabi Tel Aviv
Deni Avdija rapidly came through the Maccabi Tel Aviv youth ranks. He first signed with them in 2013 and created a massive impact. The Israeli team handed Avdija his professional debut in November 2017, and at 16-years-old Avdija was the youngest player in the team's history. 
Avdija was well-suited for the Israeli Premier League and he showcased what he can do on the big stage. Just a year later, after his professional debut, Avdija was brought into Maccabi Tel Aviv's EuroLeague roster.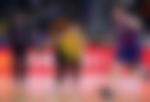 He began posting impressive numbers in both the leagues that he was playing in. He declared his eligibility for the 2020 NBA Draft in April and finished the remainder of the Israeli Premier League Season when it resumed in June after the pandemic break. 
Avdjia was named the 2020 Israeli Premier League MVP and became the youngest to claim the honor. He was also named to the All-Israeli League First Team and was awarded as the Israeli League Player of the Year. Here are his EuroLeague stats below: 
| | | | | | | | | | |
| --- | --- | --- | --- | --- | --- | --- | --- | --- | --- |
| Season | Team | League | G | MP | FG% | FT% | TRB | AST | PTS |
| 2018-19 | Maccabi Tel Aviv | EuroLeague | 8 | 6.4 | .444 | 1.000 | 1.5 | 0.3 | 3.9 |
| 2019-20 | Maccabi Tel Aviv | EuroLeague | 26 | 14.3 | .436 | .556 | 2.6 | 1.2 | 4.0 |
Deni Avdija Washington Wizards
The Washington Wizards got lucky in the 2020 NBA Draft as they were able to get Deni Avdija with their ninth overall pick. He was projected to be a top-five pick, but fell surprisingly.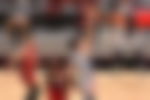 So far, he is living up to the expectations, with the limited chances he is receiving. Despite being one of the top rookies, he is playing just 23 minutes per game and is barely averaging six shots per game.
He is currently averaging seven points, 4.8 rebounds, and 1.6 assists per game, and could claim an improved role as the season progresses.
Deni Avdija 2021 Net Worth
According to Celebs Age Wiki, Deni Avdija is worth around $1 Million - $5 Million. The Wizards' rookie is set to earn around $8 million in his first two seasons from his rookie deal and could earn around $20 million if the Wizards pick up his team option.
How to contact Deni Avdija
Deni Avdija Instagram: deniavdia8
Deni Avdija Twitter: @deniavdia8
| | |
| --- | --- |
| Age | 19 |
| Nationality | Israeli |
| Birth Date | 2001-01-03 |
| Place of Birth  | Beit Zera, Israel |
| Height  | 6 feet 9  inches |
| Weight | 220 lbs/100 kgs |
| Wingspan | 6  feet 9  inches  |
| Position | Small Forward |
| Marital Status | Unmarried |