Devin Booker
Devin Booker 2022: Net worth, Salary, and Endorsements
Devin Booker is a six-foot-five shooting guard who plays for Phoenix Suns in the NBA. He was born on October 30, 1996, in Grand Rapids, Michigan. Booker was the 13th overall pick in the 2015 NBA Draft. 
Booker's parents are Veronica Gutiérrez and Melvin Booker, and his father was a professional basketball player who competed in the NBA. So the Suns guard learned the basics from his dad, who taught him a lot about possessing a high Basketball IQ. 
As a kid, Booker attended two different high schools. He initially played for Grandville Public School and later moved to Mississippi after his father's retirement. He joined Moss Point High School, where his father worked as an assistant coach.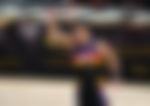 He gained tremendous attraction as a high-schooler and excelled in his junior and senior years. After graduating, Booker then committed to Kentucky upon receiving a personal scholarship offer from Head Coach John Calipari. 
Booker was an explosive player in his freshman year and he averaged 21.5 minutes per game coming off the bench. His talents earned him the SEC All-Freshman Team honors and SEC Sixth Man of the Year Award as well. 
The shooting guard averaged 10.0 points, 2.0 rebounds, and 1.1 assists for Kentucky and chose to enter the NBA in 2015 after completing his freshman year.
As for his love life, Devin Booker is rumored to be dating Kendall Jenner. After dating for around two years, they reportedly broke up earlier in 2022. However, the couple has been seen together a few times since then.
Devin Booker NBA Career
Booker has so far been a one-team guy as he still plays for the Phoenix Suns, the team which drafted him in 2015. Booker was the 13th overall pick, and he immediately began showcasing his talent in the league. 
He posted 30-point games frequently, and Booker finished fourth in the Rookie of the Year Voting. Massive improvements were seen in his sophomore season, and Booker's scoring touch was appreciated by several legends who played the game. 
Booker also became the youngest player to score 60 and 70 points in an NBA game when he achieved the feat against the Boston Celtics in 2017, aged just 20. His record-breaking capability was immense, and the Suns tightened their relationship by offering him a five-year max $158 million contract in July 2018.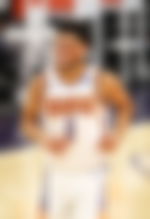 Booker averaged 26.6 points during the 2018/19 regular season, but it wasn't enough to guide the Suns into the playoffs. He repeated a similar scoring performance in the following year, but this turned out to be different from the 2018/19 regular season. While they missed out on the playoffs yet again, the Suns came mighty close as they finished with an 8-0 winning run.
This was certainly the sign of things to come. With an excellent off-season where they added the likes of Chris Paul and Jae Crowder, Booker and the Suns flourished as they finished as the second-best team in the Western Conference. Not only that, they were incredible in the Playoffs as well.
Defeating the likes of the Lakers and the Clippers, Booker in his first playoff run made it all the way to the Finals. Despite taking a 2-0 lead, the inexperienced Suns cracked and lost the Finals with four successive losses against the Milwaukee Bucks.
In the 2021-22 campaign, The Suns finished the season with the best record in the league and a franchise-best 64-18 record. Booker became the fourth youngest player in NBA history to score 11,000 points. Booker was also named to the All-NBA First Team for the first time in his career. However, the season culminated in disappointing fashion as they blew another 2-0 lead to lose to the Dallas Mavericks in seven games in the Conference Semis.
Major Achievements
3 x NBA All-Star (2020, 2021, 2022)
All-NBA First Team (2022)
NBA Three-Point Contest champion (2018)
NBA All-Rookie First Team (2016)
SEC Sixth Man of the Year (2015)
Second-team All-SEC (2015)
SEC All-Freshmen Team (2015)
McDonald's All-American (2014)
Devin Booker NBA Stats
Booker is a great scorer and has quickly established himself as one of the best in the league.
In fact, the Michigan native is the player with the most number of 30-point games in Phoenix Suns' history. In the 477 regular season games and seven seasons he has played so far, Booker has averaged 23.5 points, 3.9 rebounds, and 4.7 assists per game.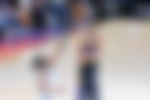 In the 2021-22 season, Booker averaged 26.8 points, 5.0 rebounds, and 4.8 assists per game. He set career highs in points, rebounds, steals, blocks, and 3Pt %.
Devin Booker Current Contract
Booker signed a lucrative five-year contract with the Suns in 2018 that included a $158,253,000 guaranteed amount. Booker's salary for the 2021-22 NBA season was $31,650,600.
In July 2022, Booker signed a four-year $224 million supermax contract extension with the Suns. On top of that, Booker was also named the cover star for NBA 2k23.
Devin Booker's Charitable Efforts
Booker is well known for his motive to give back to society. The NBA star, by working with the Suns' Charities board of directors, pledged a $2.5 million split between five non-profit organizations. 
The Suns guard donated $100,000 in and around Phoenix and also campaigned to raise funds to help the community during the COVID-19 lockdown. 
Devin Booker 2022 Net Worth and Endorsements 
Booker broke his own record by signing the richest deal by a Phoenix Suns player in 2022. His total career earnings by the end of 2022 are around $96,683,253, per Spotrac. Moreover, Celebrity Net Worth estimates his current net worth to be $30 million. 
Devin Booker NBA Sneaker Contract
Booker has been a Nike athlete, and he was retained by the brand after becoming a sneaker-free agent in 2019. He is a celebrated athlete at Nike and has donned several Kobe Bryant signature editions in the past. 
ADVERTISEMENT
Article continues below this ad
| | |
| --- | --- |
| Age | 25 |
| Marital Status | Unmarried |
| Children | - |
| NBA Championship Rings | – |
| Nationality | American |
| Height | 6 ft 5 in (1.96 m) |
| Weight | 206 lb (93 kg) |
| Wingspan | 6 ft 6 in (2.04 m) |
How to contact Devin Booker
Devin Booker Instagram: dbook
ADVERTISEMENT
Article continues below this ad
Devin Booker Twitter: @DevinBook