Devin Booker
Devin Booker?s Net Worth 2023, Family, House, Cars, and More
Devin Booker's Net Worth 2023 (Update)
Devin Booker has an estimated net worth of $30 million, according to reports. In his eight years long career so far, Booker has reportedly amassed over $130 million in NBA salaries alone. After signing a massive contract extension last year, he will receive $33 million for the current season. Other than his salary, Booker makes a lot from his endorsement deals. As per reports, he earns around $8 million per year from endorsements.
Devin Booker?s early life?
Devin Booker was born on October 30, 1996, in Grand Rapids, Michigan where he spent most of his childhood. Booker followed in the footsteps of his father from a very early age and started playing basketball. After his freshman year at Grandville High School, Booker moved to Mississippi to live with his father. A young Devin enrolled at Moss Point High School where his father joined as an assistant basketball coach. Furthermore, it was his father's alma mater. After an impressive high school career, Booker committed to the University of Kentucky in 2014. He then declared for the 2015 NBA draft after one year of college basketball.
Devin Booker?s family and personal life
Devin Booker is the only child of Veronica Guti?rrez, a cosmetologist and Melvin Booker, a professional basketball player. Melvin played college basketball for the University of Missouri from 1990 to 1994. After a small stint in the NBA, he mostly played overseas basketball. After Melvin returned to the country, Devin moved in with him to be coached by his father. It worked wonders for the young guard as he soon became one of the best high school players in the country.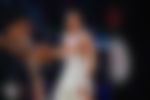 Devin Booker has been in romantic relationships with celebrities like Jade Ramey, Jordyn Woods, and Kendall Jenner. The Phoenix Suns star and Kendall Jenner started dating in 2020 and broke up in 2022. The two have been spotted together multiple times in public. It looks like Booker is currently single. However, he was recently seen having dinner with actress Jenna Ortega, which have sparked some rumors.
Devin Booker?s career
Under the tutelage of his father, Melvin Booker, Devin Booker became one of the top prospects in the country. Booker played three years for Moss Point High School, where he became the school's All-Time leading scorer. After graduating high school in 2013, the talented star received multiple college offers. After considering his options, Booker opted to join the University of Kentucky. He impressed many with his performances for the Wildcats and in 2015 Booker declared for the NBA draft.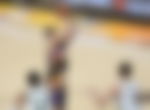 The Phoenix Suns selected Booker as the 13th overall pick in the draft. He came off the bench initially but soon sealed the starting spot with his performances. He quickly became one of the best players for the Suns and was 4th in the Rookie of the Year voting that year. Booker continued his upward trajectory in the league and had an 8-point jump in points average in his sophomore season. D-Book then became one of the best young talents in the league with an almost unstoppable mid-range game. In 2020, he made his first All-Star team appearance and has been a mainstay ever since.
Booker can be considered to be one of the most durable and consistent stars in the league. Even though his injury layoffs have hurt the team in the playoffs, Booker has not had any major setbacks so far, playing day in and day out. The shooting guard led the Suns to the 2020-21 NBA Finals for the first time since 1992-93. Unfortunately, the Suns could not clinch the title against the Milwaukee Bucks.
Devin Booker?s career stats
Regular season stats:
Games played - 530
Points per game - 23.9
Assists per game - 4.8
Rebounds per game - 4
Playoffs stats:
Games played? - 41
Points per game - 28.4
Assists per game - 5.1
Rebounds per game - 5.3
Devin Booker?s endorsements and investments
Devin Booker adds millions to his fortune every year from his various endorsements and investments. Some of the biggest brands endorsed by Booker are Nike, Foot Locker, Finish Line, Corona Beer, Autograph, 2K Sports, Chevrolet, Sweetgreen, Call of Duty, etc. He has reportedly invested in brands like Overtime, Buzzer, and GoPuff. Furthermore, he is the co-owner of COCO5 which is a coconut-water sports drink.
Devin Booker?s major achievements and awards
3 x NBA All-Star (2020, 2021, 2022)




All-NBA First Team (2022)




NBA Three-Point Contest winner (2018)




NBA All-Rookie First Team (2016)




SEC Sixth Man of the Year (2015)




SEC All-Freshmen Team (2015)



Second-team All-SEC (2015)



McDonald's All-American (2014)
Devin Booker?s sneaker contract
Devin Booker has been a Nike athlete ever since he first stepped into the league in 2015. Booker reportedly signed a six-year contract extension with Nike last year and will remain a Nike athlete until 2029. However, the financial details of the deal are unknown. The 26-year-old is a huge fan of NBA legend Kobe Bryant, who even mentored him. Booker continues Kobe's legacy on the court by wearing the latter's iconic sneaker line during games. However, he is finally set to have his own line of signature shoes. As per reports, Booker's first shoe is likely to be called 'Nike D Book 1' and will be released in 2024. The design is expected to be something similar to Kobe's line.
Devin Booker?s contract details
Devin Booker signed a four-year $224.2 million Player extension with the Phoenix Suns in 2022. With this new and improved deal, he will make an annual average salary of $31 million. For the 2022-23 season, he reportedly earned over $33 million, which will increase to $36 million for the next season.
Devin Booker?s charity and foundation
Devin Booker and the Phoenix Suns came together and founded the 'Devin Booker Starting Five' initiative in 2019. The initiative donated $100,000 to five non-profit organizations to continue their work throughout Arizona. Booker and the Suns also reportedly pledged to donate $2.5 million over a period of five years to organizations such as Gap Ministries, Central Arizona Shelter Services, YMCA of Southern Arizona, Arizona Autism United, and Elevate Phoenix. He also donated $10,000 to raise funds for people in and around Phoenix, who were struggling during the COVID-19 pandemic.
Devin Booker?s car collection
Devin Booker is a massive fan of vintage cars, especially the Chevrolet Impala, and has some classic cars in his collection like the Chevrolet K5 Blazer, a 1995 Chevrolet Impala SS, a Buick Grand National, a Buick GNX, and a 1959 Chevrolet Impala. He has also been multiple times seen driving luxury cars such as the Ferrari 488 GTB, the Audi A8, the Porsche Panamera, etc. Booker reportedly also has a Chevrolet Corvette Z06 and a Range Rover.
Devin Booker?s house
Devin Booker lives in style in his stunning mansion in Paradise Valley, Arizona. The Suns star reportedly bought the 5,000-square-foot property for $3.2 million in 2019. The estate consists of four bedrooms, four bathrooms, and a massive car garage to roof a few cars from his massive collection. The luxury mansion also has a dining room with wine storage and a butler?s pantry, a chef?s kitchen, an exercise room, a private pool, and a spa. The house has a modern interior with a touch of classic.
Devin Booker's social media accounts
Full Name

Devin Armani Booker

Popular Name

Devin Booker

Birth Date

October 30, 1996

Birth Place

Grand Rapids, Michigan

Age

26

Height
?6'3" (

1.96m)

Weight
?205 lbs (

93 Kg)

Parents

Veronica Guti?rrez and Melvin Booker

Siblings

None

Nationality

American

Ethnicity

A mix of African American, Mexican, and Puerto Rican

Net Worth

$30 million

Salary

$33 million

Relationship/Marital Status

Single

Profession

Basketball Player

Team

Phoenix Suns