DK Metcalf
DK Metcalf 2022: Net Worth, Salary, & Endorsements
DeKaylin Zecharius Metcalf, famously known as "DK" Metcalf is a wide receiver in the National Football League, plying his trade for the Seattle Seahawks. He is the son of the legendary former NFL lineman Terrence Metcalf. Born on December 14, 1997, the talented receiver was a member of the Ole Miss football team in college.
Metcalf was up in Oxford, Mississippi, and attended Oxford High School and the University of Mississippi, better known as Ole Miss, where he played football. He played three seasons at Ole Miss before declaring for the 2019 NFL Draft, where he was picked in the second round by the Seattle Seahawks. Ever since being picked by the Seahawks, he has grown in all dimensions of the sport.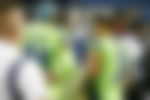 Back when the Seahawks first signed Metcalf, the wide receiver had agreed to a four-year, $4.6 million agreement. In 2019, he earned a $338, 827 signing bonus, a $495,000 base salary, and an average yearly salary of $1,146,513.
Meanwhile, according to Sport-net, he was paid a base salary of $703,457 in 2020. Metcalf's net worth was predicted to be $1.5 million. As far as brand endorsements are concerned, he does not have many to boast about.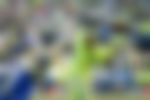 The youngster has just started cementing his footing in the league so it is natural for him to take some time to attract more brands and a higher salary. Despite that, he had secured brand partnership deals with Gatorade, Volcanica Coffee, and Nestle Nesquik.
DK Metcalf Stats
DK Metcalf has impressive stats to his name. Metcalf in his three seasons in the league with the Seahawks has totaled 3,170 yards for 29 touchdowns in 216 receptions of 358 targets in 49 games played in the regular season.
According to Pro-Football-Reference, by the eighth regular-season game of his second season, Metcalf had surpassed his touchdown total from his rookie season. Thanks to impressive stats over time, he's gotten a bigger role in one of the NFL's most dynamic offenses.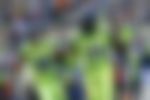 Speaking of his postseason performance, the receiver has led his team to two playoff seasons. He has recorded 315 yards for 3 touchdowns in 16 receptions of 25 targets in a total of three games in the playoffs.
DK Metcalf Records & Achievements
According to Bleacher Report, D.K. Metcalf is the fastest player in Seattle Seahawks history to 1,000 rec yards (11th game) in a season. Metcalf has also set an NFL record for most receiving yards by a rookie in a playoff game with 160 yards against the Eagles in the first round.
On his rookie debut, he holds the record for the Most receiving yards in rookie debut: (89 vs. Cincinnati Bengals on September 8, 2019). Another record he holds is for covering the most yards in a season: 1,303 (2020). His exploits in 2020 saw him making the Pro Bowl and the second team in All-Pro.
DK Metcalf Foundation and Charity
The Seattle Seahawks wide receiver has remained still of his charity works. So far, his most notable charity work has been donating $25,000 to Swedish Hospitals to help battle the coronavirus epidemic in Seattle and another $25,000 to feed the hungry in his hometown of Oxford, Mississippi.
The player is known for trying his hand at other sports. Last year, he participated in a charity softball match at the MLB All-Star games. And is also very passionate about representing the USA in Olympics.
DK Metcalf Personal Life
DK Metcalf is the son of the legendary NFL lineman Terrence Metcalf and Tonya Metcalf. He is one of the four siblings. The four siblings include a pair of brothers and sisters.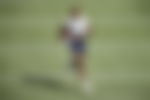 As far as his relationship status is concerned, the wide receiver is currently dating model Cirena Wilson. At this point in time, he does not have any children.
How to Contact DK Metcalf?
Instagram - dkm14
Twitter - @dkm14
Born

December 14, 1997

(age?24)?

Weight

235 lbs? (107 kg)?

Height

6 ft 4 in (1.93 m)

Position

Wide Receiver

Girlfriend

Cirena Wilson

Endorsements

Nestle Nesquik, Gatorade, Vocanica Coffee

Agent?

Tory Dandy

Residence

Oxford, Mississippi

NFL Draft

2019?/ Round:?2?/ Pick:?64

NFL Career

Seattle Seahawks (2019 - Present)

Super Bowl

0

Major Achievements

Second-team?All-Pro?(2020)

Pro Bowl?(2020)

Most receiving yards by a rookie in a playoff game: (160 vs.?Philadelphia Eagles on January 5, 2020)