Drew Brees
Drew Brees 2022: Net Worth, Salary, & Endorsements 
The New Orleans Saints No.9, Drew Brees, is a veteran quarterback who will begin his 20th season in the NFL. He played college football for Purdue and piqued the interest of NFL teams across the board. Brees became a 2nd round pick in the 2001 NFL draft and went at 32nd overall to the San Diego Chargers. 
A year later, he secured the starting spot. However, in the 2005 NFL season, Drew Brees suffered an injury. As a result, the San Diego Chargers did not offer Brees a sizable deal. This prompted the quarterback to take up free agency.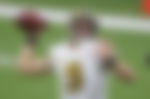 Drew Brees elected to join the New Orleans Saints and has remained with the side ever since. With 'The Black and Gold' at the Mercedes Benz Superdome, Brees solidified his reputation as one of the best quarterbacks throughout the late 2000s and the 2010s in the New Orleans Saints' No.9 jersey. He has certainly come a long way from being bullied and name called due to a birthmark on his face. 
ADVERTISEMENT
Article continues below this ad
After 15 illustrious seasons with New Orleans Saints, 13 Pro Bowl selections, and one Super Bowl, Drew Brees announced his retirement after the 2020 season. After retirement, he joined NBC Sunday Night Football as a studio analyst.
Drew Brees Stats
As per NFL.com, the New Orleans Saints quarterback has played in 287 NFL regular-season games. In these, he has thrown an NFL record of 7,142 passes from 10,511 attempts. His efforts have resulted in him holding an NFL record in the completion rate of 67.7%.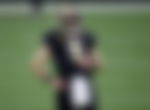 As per Pro-Football-Reference, Drew Brees has featured in 18 playoff games, with just one appearance for the San Diego-based outfit. Here, the quarterback has a 66.7% completion rate with 481 passes from 721 attempts. He has passed for 5,366 yards and registered 34 touchdowns. 
Drew Brees has claimed a whole host of accolades throughout his playing career. The NFL quarterback has a Super Bowl and got voted as the game's MVP. Furthermore, he has been selected to 13 Pro-Bowls (2004, 2006, 2008-2014, 2016-2019) He has also featured in the First-Team All-Pro in 2006 and the Second Team All-Pro on 4 occasions.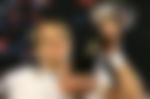 Brees claimed the comeback player of the year award in 2004. Whilst playing quarterback with the New Orleans Saints, Brees has led the league in passing yards on 7 occasions. Furthermore, he has topped the NFL in passing touchdowns on 4 occasions. 
In 20 seasons, Drew Brees has passed for an NFL record 80,358 yards. Furthermore, he holds another NFL record for most passing touchdowns with 597.
The Saints QB comes in with 10,551 passing attempts and 7,142 passing completions as of Week 17 of the 2020 season. Moreover, he has a completion percentage of 67.7 and 80,358 passing yards heading into the Playoffs.
Drew Brees 2022 Net Worth
According to Celebrity Net Worth, at present, the New Orleans Saints quarterback has a net worth of $160 million. Brees has earned over $250 million from salary alone over 19 seasons in the NFL.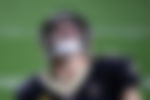 As per Spotrac, the quarterback signed a new 2-year deal worth $50 million with the New Orleans Saints. In the upcoming NFL season, the New Orleans Saints No.9 will earn $25 million.
According to The Sporting News, Drew Brees makes around $6 million from his broadcast contract with NBC.
Drew Brees 2022 Records
The XLIV chip winner has the distinction of having the most career passing yards and pass completions. Moreover, he's tied for the most touchdown passes in a game. Brees also has the highest consecutive games with a touchdown pass.
In terms of career passing yards, Drew Brees has consistently been the leader taking 183 games to reach 50,000 passing yards, all the way up to 80,000 p. yards which took him 286 games. Not to mention, the 2006 Walter Payton NFL Man of the Year also has the most pass completion in a season.
Drew Brees 2022 Foundation and Charity
With his wife Brittany, Drew Brees set up The Brees Dream Foundation. As per their website, the foundation aims to provide an improved quality of life to cancer patients. Furthermore, the charity works towards providing education and care for families who need it.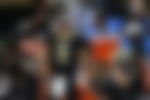 The Brees Dream Foundation has raised over $35,000,000 to various charities to this day. The foundation has also donated $5 million to the State of Louisiana to help combat the COVID-19 pandemic. 
Also, through their foundation, Drew Brees and Brittany give back to their alma mater. As per The Purdue Exponent, the New Orleans Saints quarterback made a $ 50,000 donation to the Purdue Athletic Life Support (PALS) program. 
Furthermore, Brees, who is a member of the Sigma Chi fraternity, sponsors the 'Rebuilding Through Brotherhood' which sees members go to New Orleans to build homes in collaboration with 'Habitat for Humanity.'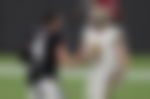 Besides, the New Orleans Saints quarterback joined hands with Chilli's Grill and Bar to promote the chain's Smokehouse Bacon Burger. Here 3 NFL players featured and promoted 3 different burgers with the winner getting $10,000 for a charity of their choosing. Brees won the competition with the Southern Smokehouse Bacon Burger.
2022 Endorsements
According to Clutch Points, Drew Brees' endorsements include Procter & Gamble, Wrangler, Nike, Microsoft, and Monster. Also, the New Orleans Saints quarterback is associated with AdvoCare since 2010 as a national spokesperson. 
Furthermore, fans can view Drew Brees as a restaurateur, as the New Orleans Saints quarterback purchased a 25% stake in Walk On's Bistreaux and Bar. He is listed as the co-owner and partner on the chain's website. As per FOX Business, the New Orleans Saints quarterback has invested in restaurant chains like Jimmy John's, Happy's Irish Pub, and Dunkin.
ADVERTISEMENT
Article continues below this ad
How to contact Drew Brees?
Drew Brees Instagram- @drewbrees
Drew Brees Twitter- @drewbrees
ADVERTISEMENT
Article continues below this ad
Born
January 15, 1979

 (age 43)

Weight
209 lbs (95 kg)
Height
6ft 0 in (1.83 m)
Position
Quarterback
NFL Draft
2001 /Round: 2 /Pick: 32
Wife
Brittany Brees
Kids
4
Endorsements
Proctor and Gamble, Wrangler, Nike, Microsoft, Monster
Salary
$22 Million
Residence
New Orleans, Louisiana. Princeville, Hawaii
NFL Career
San Diego Chargers (2001–2005)

New Orleans Saints (2006–2020)

Major Achievements
Super Bowl champion (XLIV)

Super Bowl MVP (XLIV)

2× NFL Offensive Player of the Year (2008, 2011)

Walter Payton NFL Man of the Year (2006)

NFL Comeback Player of the Year (2004)

First-team All-Pro (2006)

4× Second-team All-Pro (2008, 2009, 2011, 2018)

13× Pro Bowl (2004, 2006, 2008–2014, 2016–2019)

NFL Records
7× NFL passing yards leader (2006, 2008, 2011, 2012, 2014–2016)

4× NFL passing touchdowns leader (2008, 2009, 2011, 2012)

2× NFL passer rating leader (2009, 2018)

6× NFL completion percentage leader (2009–2011, 2017–2019)

Retirement
March 14, 2021