Dwyane Wade
Dwyane Wade 2021: Net worth, salary & endorsements
Dwyane Wade is a former professional basketball player who majorly played for Miami Heat. He was born to JoLinda and Dwyane Wade Sr in Chicago, Illinois, on January 17, 1982.
Currently, Wade is married to American actress Gabrielle Union. Further, he had two children with his ex-wife Siohvaughn Funches- Zaire Blessing Dwyane Wade and Zaya Wade. Wade later had another son and a daughter- Kaavia James Union Wade and Xavier Zechariah Wade.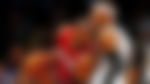 Wade started his NBA career in 2003 when Miami Heat drafted him with the fifth overall pick. He played there till 2016 when he moved to Chicago Bulls. A year later, he moved to Cleveland Cavaliers. In 2018, Wade announced he would come back to Miami Heat for ?one last dance.?
Usually, Wade played in the shooting guard position.
Dwyane Wade and Miami Heat
Wade played 14 years for the Miami Heat. He won three titles with the team over his career. His first title came in 2006 when Shaquille O?Neal teamed up with him.
Later, LeBron James and Chris Bosh joined Wade at Heat to form a big three. Together, they won the 2012 and 2013 titles.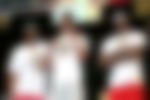 When Wade retired in 2019, he finished as Miami's all-time leader in points, games, assists, steals, shots made, and shots taken. Wade played his last home game on April 9, 2019. He played the final game of his NBA career the next day where he also registered a triple-double.
In January 2020, Miami Heat retired Wade?s No 3 jersey.
Also Read | Dwyane Wade?s Journey to NBA: College Career, Drafts & More
Major achievements
3נNBA champion?(2006,?2012,?2013)
NBA Finals MVP?(2006)
13נNBA All-Star?(2005?2016,?2019)
NBA All-Star Game MVP?(2010)
2נAll-NBA First Team?(2009,?2010)
3נAll-NBA Second Team?(2005,?2006,?2011)
NBA scoring champion?(2009)
3נAll-NBA Third Team?(2007,?2012,?2013)
3נNBA All-Defensive Second Team?(2005,?2009,?2010)
NBA All-Rookie First Team?(2004)
No. 3?retired by Miami Heat
Dwyane Wade stats
| | |
| --- | --- |
| Points | 23,165 (22.0 ppg) |
| Rebounds | 4,933 (4.7 rpg) |
| Assists | 5,701 (5.4 apg) |
Dwyane Wade 2021 net worth and endorsements
After playing 14 years for Miami Heat, Wade signed a contract with Chicago Bulls in 2016, which was worth around $47 million over two years. Also, throughout his career, he had various endorsement deals which were a good source of income. Moreover, it includes a shoe deal with Li-Ning in 2012 that brought him an equity stake. Also, his other endorsements include Gatorade, New Era, and Panini.
Moreover, D-Wade has amassed a net worth of $170 million through his playing career.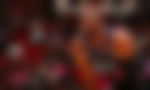 Dwyane Wade foundation and charity
Dwyane Wade started the Wade?s World Foundation in 2003. The foundation is dedicated to empowering the underserved core communities of Chicago, Milwaukee, and the South Florida areas.
Also, Wade frequently visits sick children. His foundation helps community-based organizations that promote education, health, and social skills for children in at-risk situations.
In 2010, Wade raised money to help the victims of the Haiti Earthquake. It was in that year that he also donated $25,000 to resurrect a library building. For his efforts, he received the NBA cares community assist award in 2018.
How to contact Dwyane Wade?
Dwyane Wade?s Twitter: https://twitter.com/DwyaneWade
Dwyane Wade?s Instagram: https://www.instagram.com/dwyanewade/
| | |
| --- | --- |
| Age | 38 |
| Marital Status | Married |
| Spouse | Gabrielle Union |
| Kids | Zaya, Kaavia James Union, Zaire Blessing Dwyane, Xavier Zechariah |
| Nationality | American |
| Teams played | Miami Heat, Chicago Bulls, Cleveland Cavaliers |
| Rings | 3 |
| Listed height | 6? 4? |
| Listed weight | 100 kg |
| Wingspan | 2.1 m |
| Shoes | ?Li-Ning |
| Endorsements | Gatorade, Hublot, Li Ning, New Era, Panini |