Evan Mobley
Evan Mobley 2021: Net Worth, Salary, and Endorsements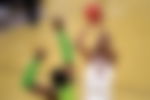 Evan Mobley is an American up-and-coming hooper who currently plays college basketball for the University of Southern Carolina. The 20=year old is regarded as one of the top talents of the future.
After graduating high school, Mobley was regarded as a 5-star recruit. He is one of the best power forwards from the class of 2020. Despite attracting interest from multiple universities, Mobley committed to the USC Trojans. In doing so, he rejected the likes of UCLA and Washington, among other major NCAA Division I programs to play in his home state.
ADVERTISEMENT
Article continues below this ad
Evan Mobley net worth
The California-born starlet is watching his commercial value increase in the past year due to some eye-catching displays with the Trojans. As of 2021, Celebsagewiki estimates Mobley's net worth to be somewhere between $1 - $5 million.
Additionally, He is one of the prized assets that will be up for grab at the upcoming 2021 NBA Draft. Evan is the highest-ranked player to join the USC Trojans basketball program.
https://youtu.be/YbHIPNF1aeA
Evan Mobley Stats
7-foot Evan Mobley is an absolute monster on the basketball court. His lanky frame and athletic prowess allow him to play both as a power forward and center. He kicked off his NCAA career on November 25, 2020, as he scored 21 points, 9 rebounds in a 95–87 OT win over California Baptist.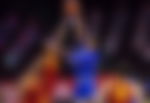 At the conclusion of his first year with USC, Evan was named the Pac-12 Player of the Year, Defensive Player of the Year and Freshman of the Year. He is only the second player from the major conference (after Los Angeles Lakers superstar Anthony Davis) to win the trio of awards. All in all, Mobley featured in all 33 games for the Trojans in 2020-21 and averaged 16.4 points with 5.9 rebounds per game.
Evan Mobley Scouting Report
Evan first picked up a basketball with his older brother Isaiah. The sibling pair initially trained under the guidance of their dad, Eric Mobley, who was also a former professional hooper. Evan began playing high school basketball as a freshman at Rancho Christian School in Temecula, along with his elder brother.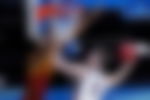 As a senior, he averaged 20.5 points, 12.2 rebounds, 5.2 blocks, and 4.6 assists per game. He led his high school team to a 22–8 record and won the California Gatorade Player of the Year for the second time joining Jrue Holiday as the only two players to do so.
ADVERTISEMENT
Article continues below this ad
In addition to that, Evan also featured at the 2018 FIBA Under-17 World Cup in Argentina. In a span of 7 games, he averaged 9.3 points, 5.6 rebounds and 2.6 assists per game.
How to contact Evan Mobley?
Evan Mobley Instagram: @evanmobley4
ADVERTISEMENT
Article continues below this ad
Age

 20

Nationality

 American

Birth Date

 June 18, 2001

Place of Birth

 San Diego, California

Height

 7 ft 0 in (2.13 m)

Weight

 215 lb (98 kg)

Wingspan

 7'4

Position

 Center / Power forward

High School

 Rancho Christian School in

California

University

 University of Southern California

Marital status

 Single