Frances Tiafoe
Frances Tiafoe Net Worth 2023, Family, Girlfriend, and More
Frances Tiafoe Net Worth
Frances Tiafoe is quickly establishing himself as one of the biggest names on the ATP Tour. With an aggressive playing style, Tiafoe relies on a big serve and powerful forehands like several American players on the tour. He achieved a career-high ranking of world no. 11 in April 2023. So far, Tiafoe has earned 8,363,233 as prize money in his career. As of 2023, Frances Tiafoe's net worth is $8 million dollars.
ADVERTISEMENT
Article continues below this ad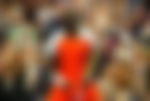 Tiafoe was the brand ambassador of Adidas in his early days. However, he then signed a deal with Nike in 2017. Tiafoe uses the Yonex VCORE Pro racket for his matches. The Japanese company also sponsors Tiafoe. In 2019, the CEO of the watch brand, TAG Heuer, secured a deal with Frances Tiafoe. The American player also represents Nesquik with the food and beverage giant Nestle. Tiafoe is also represented by IMG, an American global sports agency.
Frances Tiafoe's Early Life
Frances Tiafoe was born in Hyatsville, Maryland on 20 January, 1998 to Constant (Frances Sr.) Tiafoe and Alphina Kamara. The American star came from a poor background. His father worked as a janitor at a tennis center in Maryland. With the job, he also received living quarters in the center where Frances and his brother stayed for most of the week. His mother worked as a nurse and would have the kids on her nights off.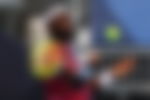 Frances never went to a conventional school, as he had to move a lot for tennis. He got his diploma from Laurel Springs School, which is an online school based in California, USA.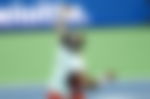 'Believe You've Worked So Hard for This Moment' – Frances Tiafoe Gets Into an Emotional Embrace With NBA Star Bradley Beal After Entering the 2022 US Open Semifinals
The parents decided to get Frances and Franklin, his brother, into tennis, as they were able to have them coached for free. Since the two were five, Constant had them enrolled in the Junior Tennis Champion Centre. Both learned much of their tennis there. Misha Kouznetsov eventually took on Frances when he was eight.
Frances Tiafoe and His Parents and His Twin
Frances Tiafoe was born to immigrant parents Constant and Alphina Tiafoe. Both hail from Sierra Leone and moved out of the country as it was torn apart due to internal issues. Constant used to work in a diamond mine and escaped the mine and fled to the UK in 1988. Constant moved to the USA in 1993. Alphina Tiafoe was able to escape her country after she won a green card in a lottery and arrived in the US in 1996.
The two met in USA and connected well as they were from the same country. They married and had Franklin and Frances Tiafoe in 1998. Frances and his twin Franklin started learning tennis at a young age and have grown up with the sport. Franklin, unlike his brother, wasn't as disciplined and kept encountering bad luck with the sport. But he still plays and aims to become a coach soon.
Frances Tiafoe On-court Achievements
The 2018 Delray Beach Open was the first ATP title of Frances Tiafoe's career. He made his grand slam debut at the French Open in 2015. He became the first teenage American to play in the main draw of the men's singles tournament since Michael Chang and Pete Sampras in 1989. Tiafoe was the world no. 108 when he ended his 2016 season. He was the highest-ranked player at his age for a second consecutive year.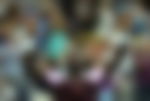 Tiafoe has been successful in upsetting many big players. Alexander Zverev, Juan Martin del Potro, Kevin Anderson, and Grigor Dimitrov are some of his best triumphs. Frances Tiafoe also took Roger Federer to the fifth set in his first round bout in the 2017 US Open.
The 23-year-old's best Grand Slam performance came at the 2022 US Open, where he reached the semifinals. In the recent Australian Open, Tiafoe advanced to round 3, he was eliminated by Karen Khachanov. Tiafoe also played the doubles match against Roger Federer and Rafael Nadal in the Laver cup. Along with Jack Sock, Tiafoe defeated the two greats.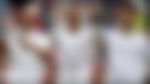 'I'm Still Going With Roger Federer' – Frances Tiafoe Sides With Roger Federer in the GOAT Debate, but Praises Rafael Nadal and Novak Djokovic
In the recent Indian Wells Masters, Tiafoe reached the semifinal, which was his best achievement in an ATP Masters 1000 so far.
Frances Tiafoe's Form Going Into 2023 Season
Tiafoe's 2022 season was a mixed bag. He participated in all the major tournaments and even advanced to the semifinal of the US Open. However, he didn't go further than round four in the rest of the Grand Slams. His ATP 1000 Tour was a similar story. His best achievement in the 2022 season in ATP 1000 was making it to the quarterfinal in the Paris Open. 
He came into 2023 with the tremendous form that he had built toward the end of the 2022 season. Tiafoe reached his career high ranking of 11 in April 2023 and reached the semifinal of the Indian Wells Masters. He has set himself up for a great season ahead.
Frances Tiafoe and His Girlfriend
Frances Tiafoe seems to have been surrounded by tennis in all aspects of his life. Ayan Broomfield, Tiafoe's girlfriend, is also a tennis player. Although she hadn't advanced as far as Tiafoe, she still enjoyed a strong tennis journey. Broomfield was born in Toronto, Canada on 13 August, 1997. Tiafoe and Broomfield first met through a common friend, Vickie Duval, who suggested the two should date.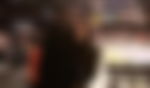 The bold statement pushed Tiafoe to approach Broomfield on Instagram. They started spending time with each other and eventually started dating.
Watch this story - 'Rafa Is Usually the Grabber, Not the Grabbie'- Spanish Tennis Veteran's Adorable Rafael Nadal 'B*TT' Tale Sparks Hilarious Reactions From Fans.
ADVERTISEMENT
Article continues below this ad
After Tiafoe triumphed over Nadal, he and Broomfield earned a feature in Vogue magazine. The pictures of the two were uploaded on Tiafoe's official Instagram account. He also thanked Vogue for inviting them. Tiafoe wore a double breasted grey suit while Broomfield was seen wearing a white dress. He also thanked Gucci for making the outfits for both the players.
How to Contact Frances Tiafoe?
ADVERTISEMENT
Article continues below this ad
| | |
| --- | --- |
| Name | Frances Tiafoe |
| Born | January 20, 1998 |
| Place of Birth | Hyatsville, Maryland, USA |
| Nationality | American |
| Education | Laurel Springs School |
| Parents | Constant Taifoe; Alphina Tiafoe |
| Height | 6 ft 2 in (1.88 m) |
| Weight | 190 lbs |
| Ranking | Singles: 12 |
| Social Media | Instagram; Twitter; Facebook |