Freddie Freeman
Freddie Freeman 2022: MLB Records, Net Worth, and Endorsements
Freddie Freeman is a Canadian-American professional baseball player in Major League Baseball (MLB), who plays as first baseman. Currently, Freeman is a free agent and one of the most desired players in MLB. During his 12 years long career in MLB, Freeman has played for only one team; the Atlanta Braves.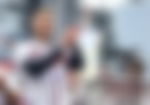 The star first baseman played an instrumental role in the World Series victory for the Atlanta Braves in the 2021 season. However, because of the lockout in MLB, Freeman is yet to decide his future destination.
ADVERTISEMENT
Article continues below this ad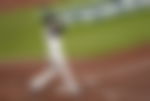 While on the field, the left-handed slugger also carries great discipline and good eye coordination at the plate. People often compare his unique style of bat swing to a tennis forehand. During the 2020 season of MLB, Freeman won the National League MVP with his consistent performance throughout the season.
Freddie Freeman's Net Worth
Freddie Freeman is one of the richest and most popular baseball players in Major League Baseball. As per Wealthy Gorilla, Freddie Freeman's net worth in 2022 is a whopping $40 million. Apart from his huge salary in MLB, Freeman is also the brand ambassador of multiple brands, including Marucci, Master Card, Essential Water, and a few others.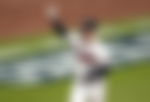 Notably, after the 2021 season, Freeman's contract with the Braves expired. Earlier in 2014, the first baseman signed a seven-year contract worth $135 million with the Braves, by which Freeman earned $16.875 per year in his salary.
Why are Freddie Freeman's Teeth so White?
Whenever Freeman appears on the field, the very first question that comes into anyone's mind is why are his teeth so white? But, there is a big reason behind that mystery. The MLB star has covered his teeth veneers.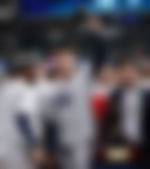 According to a report from The Sun, the 2021 World Series winner does not have fake teeth. But, for an aesthetic smile and to protect his teeth from surface damage, Freeman opted to cover his teeth with veneers. In the simplest term, a veneer is a layer of material that covers the tooth.
An Atlanta-Journal Constitution report says that Freeman opted for this dental surgery because of his excess consumption of coffee and red wine. To complete this surgery, Freeman had to sit in the dentist's chair for 7.5 long hours.
Can Freddie Freeman play 3rd base?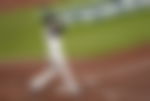 For any baseball player, the most difficult task is to switch their natural playing position. Notably, Freddie Freeman is a master at the first base. But, in 2017, when Freeman recovered from his wrist injury, he made his comeback as a third baseman.
However, it didn't go well for the Braves or for Freeman. Because, in a match against Houston Astros, the opposition's batters spoiled the party for both the braves and Freeman. After his match against the Astros, Freeman proved to be a poor third baseman for the Braves.
But it is also true that long before making his MLB debut, Freddie Freeman played third base in his high school in 2007.
ADVERTISEMENT
Article continues below this ad
Freddie Freeman house
In 2014, Freddie Freeman married model and real estate agent Chelsea Goff, and since then, the Freemans live in both Atlanta and California. During the MLB season, they live in their Atlanta-based house, and in the off-season, the couple prefers to live in California.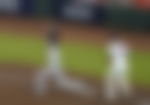 The couple also has three beautiful children; one son, and two daughters. Not only Freeman, but his wife Chelsea also has a very successful career in real estate. Before her marriage, Chelsea used to model.
ADVERTISEMENT
Article continues below this ad
| | |
| --- | --- |
| Net Worth | $40 Million |
| Wife | Chelsea Goff |
| Salary | Free Agent |
| Height | 1.96 m |
| Age | 32 Years |
| Children | One son, two daughters |
| Home Runs | 271 |
| Nationality | American, Canadian |
| Residence | California |
Freddie Freeman News Feed
---
---
---
---
---
---
---
---
---
---