Inbee Park
Inbee Park 2022: Net worth, Salary, and Endorsements
Inbee Park is one of the top professional golfers on the LPGA Tour.
Inbee Park: Early life
Born in Seoul, the capital city of South Korea, she discovered her passion for the sport at the age of 10. She shifted to the United States of America two years later to pursue a career in golf. However, she returned to Seoul and graduated from Kwangwoon University. Park won the U.S. Girls' Junior in 2002.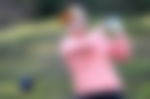 She has had an incredible journey in golf. Park made it to the Semi-finals round in U.S. Women's Amateur in 2003. While playing in the American Junior Golf Association (AJGA), she bagged the Rolex Junior All-American an impressive five times. Also, she clinched nine other events on the circuit.
Inbee Park: Net Worth
Inbee Park majorly plays in the LPGA Tour, where she has claimed 21 wins. In 2021, she made $1.1 million. The golfer associates herself with a plethora of Big brands like Panasonic, Fila, and many more. Her total earnings are estimated to be $17,895,826. This makes her one of the highest-earning female golfers alongside Karrie Webb and other such A-Listers in women's Golf.
Besides, Inbee Park has experimented with her golf clubs in the past two years. Her focus has especially been on putters. After trying various putters, she has shown her faith in Odyssey Sabertooth putter.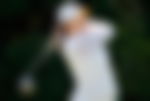 Currently, Inbee uses the XXIO X driver, a matching 5-wood along with Callaway Epic Flash 3-wood. She has been using a full set of XXIO Forged irons from 2015, coupled with three wedges, all in the Cleveland RTX 4 model.
Inbee Park: Amateur Career
Between 2004-2006, Inbee Park played thrice in the LPGA Takefuji Classic. Despite being an amateur, she attained top-10 finishes twice.
Inbee Park: Professional Career
Inbee Park graduated from the Bishop Gorman High School, in Las Vegas in 2006. Thereafter, the 17-year-old attempted to qualify for the LPGA, but was rejected as the minimum age qualification to be eligible for playing in the LPGA was 18 years old.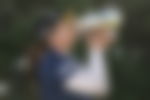 Park instead moved ahead to pursue her higher education from the University of Nevada in Las Vegas. However, she dropped out and made her professional debut on the Duramed Futures Tour and earned 11 Top-10 finishes route to a third-place finish for the season-ending money list.
When it comes to Team appearances, Inbee Park has represented Asia at the Lexus cup in 2008. Park also represented South Korea at the International Crown in 2014.
Inbee Park: Personal Life
One of the most frequently asked questions about Inbee Park is whether she is married? Well, the game of golf has been a blessing in disguise for her. The 33-year-old superstar is married to her long-term boyfriend and coach, Gi Hyeob Nam. Inbee Park's husband has been her mentor since 2011.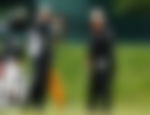 Park has credited her husband with implementing her famous 'Pendulum Swing' into her gameplay. With this new golf swing, she soon began bagging wins in major tournaments. This free swing by Inbee Park has helped her to become way more consistent with her ball-striking ability.
Inbee Park: Amateur Wins
During her amateur career, Inbee Park garnered many accolades. She was a five-time Junior All-American along and won nine events on the AJGA. Park was adjudged as the 2002 AJGA Rolex Junior Player of the Year. Out of 25 AJGA events, she has accumulated 18 top-five finishes.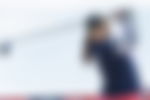 The star golfer also finished as the semifinalist at the 2003 U.S. Women's Amateur Championship. In the year 2002, Park won the U.S. Girls' Junior Championship and finished as runner-up in both 2003 and 2005.
Inbee Park earned herself a sponsor invite to play in the Kraft Nabisco Championship. She finished for a tied 62nd spot in the event in 2006. Besides, she competed thrice in the LPGA Takefuji Classic (2004, T8; 2005, 5; and 2006, T35) during her golfing stints as an amateur.
Inbee Park: Professional Wins
Inbee Park began her professional golf journey in April 2006. She competed in the Duramed Futures Tour, where she made an impressive start with 11 top-10 finishes. This included a runner-up finish at the CIGNA Chip in For A Cure FUTURES Golf Classic.
In 2008, Park, aged 19 years, 11 months, 17 days, became the youngest player to win the U.S. Women's Open. Her win allowed her to cross $1 million for the season's earnings.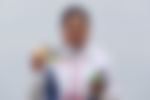 Inbee Park continued her incredible run and bagged the Gold Medal at the Rio Olympics. She won by five strokes at 16-under par and defeated then World number 1, Lydia Ko.
In 2021, she played in 17 events where she made 17 cuts.
Inbee Park: LPGA Tour Summary
Inbee Park has been a one-woman show in the LPGA Tour. Overall, Inbee Park has clinched 7 Major Championships () along with an incredible 21 career wins in the LPGA circuit. Out of these, three major title wins came in 2013. Considering other wins, Park has tasted victory 31 times as a professional.
Inbee Park: World Rank
Inbee Park continues to be among the top players in women's golf. As of January 26, 2022, Park sits at #5 in the Women's World Golf Rankings.
Inbee Park: Records and Achievements
Inbee Park boasts of some phenomenal records over the years. Here are her major records and achievements viz-
Rolex Annika Major Award

2015

GWAA Female

Player of the Year

2013

LPGA Player of the Year

2013

LPGA Tour

Money Winner

2012, 2013

LPGA Vare Trophy

2012, 2015
ADVERTISEMENT
Article continues below this ad
How to Contact Inbee Park?
Inbee Park on Instagram: NA
Twitter: NA
ADVERTISEMENT
Article continues below this ad
Facebook: @inbee.park.1
| | |
| --- | --- |
| Full name | Inbee Park |
| Nickname | Winbee |
| Age | 33 |
| Birth Date | 7/12/88 |
| Residency | Las Vegas, Nevada, USA |
| Nationality | South Korea |
| Marital Status | Married - Gi Hyeob Nam (2014) |
| College | Kwangwoon University, Seoul, South Korea |
| Height | 5'6" |
| Weight | 143 lbs |
| Professional wins | 31 |
| Highest ranking | #1 |