Jae Crowder
Jae Crowder 2021: Net Worth, Salary, and Endorsements
Jae Crowder is a six-foot-six small forward who plays for Phoenix Suns in the NBA. He is the son of former NBA player Corey Crowder who played for the Utah Jazz and San Antonio Spurs. Crowder was born on July 6, 1990, in Carrollton, Georgia, and has seven siblings.?
Crowder attended Villa Rica high-school in Georgia where he starred in both their football and basketball teams. He wasn?t touted as a major recruit coming out of high-school and Crowder joined South Georgia Technical College in 2008.?
Crowder eventually transferred to Howard College after realizing his passion for basketball. He intensely began working on his skills while playing for the university basketball team. Crowder averaged 18.9 points, 9.0 rebounds, 2.5 assists, and 2.4 steals in his sophomore year and once again moved between schools to gain further exposure.?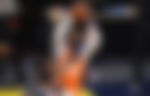 He then committed to Marquette, a university known for producing fine NBA players. Crowder was destined to follow in the same path and he impressed as a junior. Crowder evolved into a beastly player as a senior and led Marquette to a second-place finish in the Big East.?
He posted averages of 17.5 points and 8.4 rebounds and was named Big East Player of the Year owing to his displays.?
Jae Crowder NBA career
Crowder finished four years of college and was selected by NBA?s Cleveland Cavaliers with the 34th overall pick in the 2012 draft. He was subsequently traded to the Dallas Mavericks.
Crowder impressed head coach Rick Carlisle with his Summer League display and earned himself valuable playing time as a rookie. However, the Mavericks traded him to the Boston Celtics after two years with the franchise.?
The forward then saw his numbers go on the rise after joining the Celtics. He found his sparkling game under Brad Stevens? coaching and posted a career-high 14.2 PPG during his second year in Boston.?
Crowder and the Celtics made it to the 2017 ECF where they faced the Cavs and LeBron James. James and Crowder got into a few heated moments during the series, but the Georgia native was traded to Cleveland the very next year.?
He once again switched teams and moved to the Utah Jazz in 2018 through a three-team trade.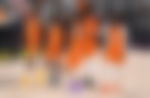 A move away from Utah saw Crowder land at Memphis, but the stay was brief. He then moved to the East once again and joined the Miami Heat in 2020. Crowder was impressive with the Heat and he put up averages of 12.0 points, 5.6 rebounds, and 1.9 assists in the Heat?s 2020 playoff run.?
However, the 6?6? forward decided to move on as a free agent and signed a three-year $30 million deal with the Phoenix Suns after reaching the NBA Finals with the Heat. With the Suns, Crowder returned to the starting lineup and did exactly what he was asked to do: provide a three-point threat along with solid defense. He was a vital contributor to the Suns' Finals run in the 2021 playoffs where they unfortunately fell to the Bucks.?
Major Achievements?
Second-team All-American ? AP, SN (2012)




Third-team All-American ? NABC (2012)




Big East Player of the Year (2012)




First-team All-Big East (2012)




NABC Junior College Player of the Year (2010)




NJCAA Division I champion (2010)
Jae Crowder NBA Stats
Crowder is an experienced NBA veteran who has a good shooting arm. He shot a career-high 48.2% from the field in 2020 to withhold his reputation as one of the toughest guys in the league. In the 2020-21 season, Crowder averaged 10.1 points, 4.7 rebounds and 2.1 assists per game.
Jae Crowder Current Contract
Jae Crowder became a free agent after his one-year deal with Miami Heat expired. He chose not to re-sign and moved to the Phoenix Suns. Crowder has signed a three-year deal worth $30 million with the Suns. He will earn $9,720,900 in the 2021-22 season.?
Jae Crowder 2021 Net Worth and Endorsements?
Crowder has been in the NBA for several years and has signed a lot of contracts. His estimated salary earnings are valued at $46,074,135, even though a clear amount is unavailable on his Net Worth.?
Furthermore, NBA.com has listed that Crowder has endorsement deals with Nike, Lececouture, Eternal Water, and Topik Underwear. He even announced a partnership with Papa John?s back in 2017.?
Jae Crowder NBA Sneaker Contract
Crowder dons Nike sneakers in the NBA. He wears several player editions on the court which look incredibly attractive. He most recently sported the ?Nike Kobe AD Exodus? in Kobe?s honor and has also worn LeBron James? signature kicks in the past.?
| | |
| --- | --- |
| Age | 30 |
| Marital Status | Unmarried |
| Children | 1 |
| NBA Championship Rings | ? |
| Nationality | American |
| Height | 6 ft 6 in (1.98 m) |
| Weight | 235 lb (107 kg) |
| Wingspan | 6?7? (2.06 m) |
How to contact Jae Crowder
Jae Crowder Instagram: bossmann99
Jae Crowder Twitter: @CJC9BOSS