Jalen Green
Jalen Green 2021: Net Worth, Salary, and Endorsements
2002-born Jalen Green is one of the up-and-coming college basketball stars in America. The 19-year old created major waves when he opted against playing NCAA college basketball and signed for the NBA G League.
https://www.instagram.com/p/CMNYkBSnLZf/
The teenager chose the G League over offers from Auburn, Oregon and Memphis. He was a five-star recruit heading out of high school but opted to choose a different path to make it to the NBA. Green signed a one-year deal worth $500,000 with the NBA G League Ignite and was the first player to join the franchise.
ADVERTISEMENT
Article continues below this ad
Jalen Green net worth
As of 2021, Green has an estimated net worth of about $1 million dollars, reports celebnetworths.com. A major chunk of his wealth comes from the recent $500,000 deal he signed with the NBA G League. Opting against taking the usual NCAA route to the NBA was not an easy choice, but Green is part of a rare breed of ballers.
Multiple analysts have tipped Jalen to emerge as the top pick at the 2021 NBA Draft. He is set to bag a 7-figure shoe deal when he arrives in the big league.
https://youtu.be/YmzZwWbJQfY
Jalen Green endorsements
Earlier in 2021, Jalen penned his first professional shoe deal with popular sports manufacturers Adidas. He joins an Adidas ambassador team that includes players like James Harden, Candace Parker, Damian Lillard, Chiney Ogwumike, Anthony Edwards and Liz Cambage.
"Adidas has been a part of my life for a while now, and when the opportunity arose to join the brand leading up to my rookie year, I thought, why not join the family? They've always accepted me as family and shown love."
"On the court, I'm going to bring excitement and a winning mentality to the next level. If you lock in and watch me play, you'll see my competitive edge. And back in Fresno, I want the kids who are watching me there to know that they can do it too," Green said in a statement.
https://twitter.com/adidasHoops/status/1397938594359037954?ref_src=twsrc%5Etfw%7Ctwcamp%5Etweetembed%7Ctwterm%5E1397938594359037954%7Ctwgr%5E%7Ctwcon%5Es1_&ref_url=https%3A%2F%2Ftherookiewire.usatoday.com%2F2021%2F05%2F27%2Fjalen-green-nba-draft-shoe-deal-adidas%2F
Jalen Green high school
California-born Jalen is of Filipino descent. Despite representing the USA at multiple teenage competitions, Green is open to the idea of playing for the Philippines in the future. As a promising kid, he spent the first three years of high school playing for San Joaquin Memorial in Fresno.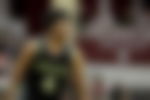 In junior year, Green averaged 30.1 points, 7.8 rebounds and 3.6 assists per game for San Joaquin Memorial and he won his second consecutive Central Division II championship as well. He transferred to Prolific Prep in Napa for his senior year.
Green was named Sports Illustrated All-American player of the year in 2020. He was selected to play in the McDonald's All-American Game, the Jordan Brand Classic and the Nike Hoop Summit.
However, he never featured in any due to the onset of the COVID-19 pandemic.
https://youtu.be/Xwy6P0-sJOE
Jalen Green NBA G-League stats
3-time American gold medal winner, Jalen Green, made his NBA G League debut in 2020. Green recorded a season-high 30 points, 7 assists and 5 rebounds in a 127–102 loss to the Raptors 905 in the first round of the playoffs. Over the course of his sole season in the developmental league, he averaged 17.9 points, 4.1 rebounds and 2.8 assists per game.
https://www.instagram.com/p/CHyupREJSgH/
ADVERTISEMENT
Article continues below this ad
How to contact Jalen Green?
Jalen Green Twitter: @JalenGreen
Jalen Green Instagram: @Jalen
ADVERTISEMENT
Article continues below this ad
| | |
| --- | --- |
| Age | 19 |
| Nationality | United States |
| Birth Date | February 9, 2002 |
| Place of Birth | Merced, California |
| Height | 6'6 |
| Weight | 180 lb (82 kg) |
| Wingspan | 6'7.5" |
| Position | Shooting Guard |
| High School | San Joaquin Memorial (Fresno, California) |
| University | Skipped college to play for NBA G League Team Ignite |
| Marital status | Single |