James Harden
James Harden's Net Worth 2023, Family, House, Cars, and More
James Harden's Net Worth 2023 (Update)
NBA superstar James Harden is one of the highest-paid players in the league. In 2022, Forbes ranked him #12 on the world's highest-paid athletes list, after he earned over $74 million that year. According to various reports, Harden has an estimated net worth of $165 million. His salary for the 2022-23 season playing for the Philadelphia 76ers is reportedly $33 million. In his 14 seasons in the league, Harden has earned over $300 million in NBA salaries. The crafty guard has also amassed tens of millions in endorsements, partnerships, and investments.
ADVERTISEMENT
Article continues below this ad
James Harden's early life 
James Harden was born on August 26, 1989, in Los Angeles, California and spent most of his early life there. The Beard developed a love for the game of basketball when he was very young and started playing the sport passionately. Soon, Harden became one of the most talented high school stars in the state. After graduating from Artesia High School, Lakewood in 2007, he received multiple college offers and committed to Arizona State University. Harden played two years of college basketball where he impressed many and declared for the NBA draft in 2009.
James Harden's family and personal life
James Harden's parents are James Harden Sr. and Monja Willis. Since his father was in and out of prison throughout his childhood, Harden was mostly raised by his mother. He was the youngest of three children and there is a ten-year age gap between him and his next sibling. His elder brother is Akili Roberson who has played college football. His elder sister, Arnique Jelks, is an interior designer. Harden was nicknamed Lucky by his mother because Willis had multiple miscarriages before giving birth to him. Raising her children in Compton, Willis encouraged them to pursue sports to stay out of trouble.
Harden has been in romantic relationships with many high-profile celebrities, like Amber Rose, Khloe Kardashian, Brittany Renner, and Ashanti, among others. Currently, the 2018 NBA MVP is rumored to be in a relationship with model Jessyka Jenshel.
James Harden's career
James Harden started playing baseball after his mother Monja Willis encouraged her kids to pursue sports. A young James then turned to basketball and fell in love with the game. He soon became very good and always believed that he will one day play in the NBA. A few years later, he was a high school superstar and led his team to back-to-back state championships. Harden was also named a McDonald's All-American for his performances.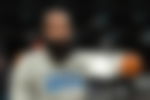 Harden's basketball coach Scott Pera was a huge reason behind the latter's success in high school. So Harden promised Pera that he will commit to whichever school he joins. After Pera joined Arizona State University as an assistant coach, Harden kept his promise and committed to the school. Harden's ascension continued in college where he caught the eyes of NBA teams. After two years, he declared for the NBA draft in 2009.
The Oklahoma City Thunder selected Harden as the 3rd pick of the draft. The Thunder already had young stars like Kevin Durant and Russell Westbrook in their ranks. So Harden had to earn his time and come off the bench. He did not start any game in his rookie season despite playing 76 games. Also, he started only 7 games in his three-year stint with the Thunder. In his third year, Harden won the Sixth-Man of the Year award averaging 16.8 points per game. However, his time at OKC came to an end after the Thunder lost the 2011-12 NBA Finals.
OKC could have had one of the best trios ever. But they were reluctant to give Harden a Max deal, and he was not ready to accept anything less. So the Thunder traded Harden to the Houston Rockets, which gave him the opportunity to showcase his full potential. In his first season with the Rockets, Harden erupted for 25.9 points per game, which was a massive jump from the previous year. He also made the All-Star Team for the first time in his career in the same season. Harden continued his offensive dominance and was unstoppable at times. In 2018, he was the scoring champion and also clinched the NBA MVP award. He won the scoring title in the next two seasons as well. However, he could not lead the Rockets to the NBA Finals.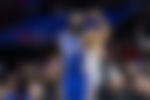 After spending nine seasons with the Rockets, Harden played for the Brooklyn Nets for less than two years. He then joined the Philadelphia 76ers in 2021 and has been an integral part of the team since then. Even though he is not his MVP self anymore, Harden is still a great playmaker who is averaging over 10 assists per game in the last five seasons. He was also the assists leader for the 2022-23 season.
James Harden's career stats
Regular season stats:
Games played - 1000
Points per game - 24.7
Assists per game - 7
Rebounds per game - 5.6
Playoffs stats:
Games played  - 157
Points per game - 22.9
Assists per game - 6.3
Rebounds per game - 5.5
James Harden's partnerships and endorsements
James Harden reportedly signed a 13-year $200 million worth deal with Adidas in 2015 after leaving Nike. It is the second largest Adidas deal in sports history, only behind soccer superstar Lionel Messi. Harden earns around $15 million per year from this deal. From his other endorsement deals and partnerships, he earns an estimated $30 million a year in total. Some of the biggest endorsement and partnership deals of Harden are as follows:
Body Armor




Beats Electronics



Amazon


EA Sports


Gopuff



State Farm




Stance Socks
James Harden's investments
James Harden has made some major investments with his investment firm 13 Endeavours. According to reports, he has invested big in Mitchell & Ness, Jackpot, Art of Sport, Workstream, Pura, etc. In 2014, he reportedly invested $60 million in BodyArmor. Then in 2021, Coca-Cola acquired the energy drink brand which gave Harden a whopping 4000% return on investment. Furthermore, he also has a small stake in the Houston Dynamo of MLS with an investment of $15 million in 2019. In 2021, Harden purchased a minority stake in luxury retailer Saks.
James Harden's major achievements and awards
NBA Most Valuable Player (2018)




10× NBA All-Star (2013–2022)




6× All-NBA First Team (2014, 2015, 2017–2020)




NBA Sixth Man of the Year (2012)




3× NBA scoring champion (2018–2020)




2× NBA assists leader (2017, 2023)




All-NBA Third Team (2013)




NBA 75th Anniversary Team




NBA All-Rookie Second Team (2010)
James Harden's contract details
James Harden signed a two-year $68 million contract with the Philadelphia 76ers in 2022. With this, he agreed to receive $33 million for the 2022-23 season and $35 million for the 2023-24 season.
James Harden's charity and foundation
James Harden and his mother Monja Willis founded the "3 The Harden Way" foundation. The foundation aims to provide higher education to children in need. He also established the "Impact 13 Foundation", which is on a mission to help people with socio-economic disadvantages and empower women and the youth in the fields of education, entrepreneurship, the arts, fashion, and sports.
James Harden's car collection
James Harden has a great car collection and has been seen in some of his luxury rides from time to time. Some of the most dazzling cars in his collection are the Rolls-Royce Wraith, the Range Rover Autobiography, the Bentley Bentayga, a Mercedes-Benz S-Class Saloon, and a yellow Chevrolet Camaro SS.
ADVERTISEMENT
Article continues below this ad
James Harden's house
James Harden is one of the biggest fashion icons in the NBA right now. So when it came to his mansion, he did not play around. In 2019, the 10-time NBA All-Star shelled out $10 million to buy a luxury property in Houston that required three years to build. The estate spans over 3.5 acres with 8 bedrooms and 7.5 bathrooms. The grand two-storied mansion has a gym, a theatre, a library, a game room, and a wine room, among other amenities. The house also has a large outdoor garden and an infinity swimming pool.
Social media accounts
ADVERTISEMENT
Article continues below this ad
| | |
| --- | --- |
| Full Name | James Edward Harden Jr. |
| Popular Name | James Harden |
| Birth Date | August 26, 1989 |
| Birth Place | Los Angeles, California |
| Age | 33 |
| Height | 6′ 5″ (1.96 m) |
| Weight | 220 lbs (100 kg) |
| Parents | James Harden Sr. and Monja Willis |
| Siblings | Akili Roberson and Arnique Jelks |
| Nationality | American |
| Ethnicity | African American |
| Net Worth | $165 million |
| Salary | $33 million |
| Relationship/Marital Status | Single |
| Profession | Basketball player |
| Team | Philadelphia 76ers |